JoJo Fletcher Of The 'Bachelorette' Just Launched A Clothing Line & It's Already SO Popular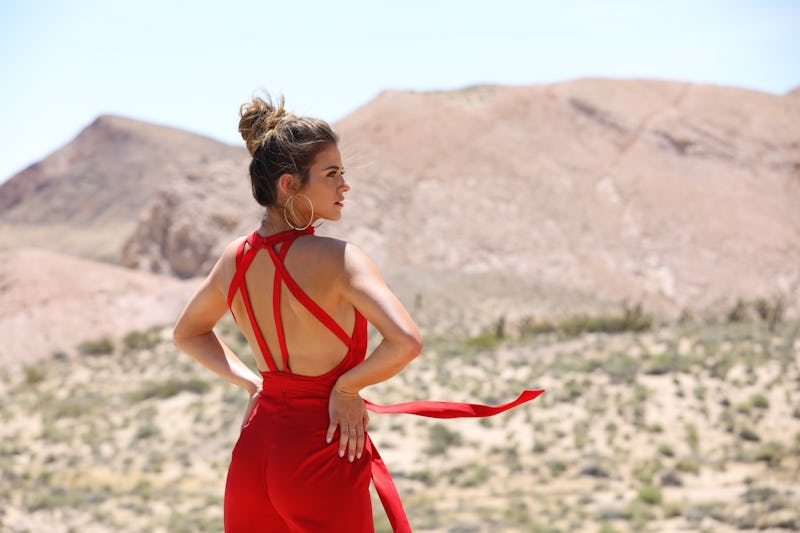 Fletch
If you're a fan of the Bachelorette, then you're going to love this new bit of fashion news. Former Bachelorette star Joelle "JoJo" Fletcher just launched her Fletch fashion brand, and it's already poised to sell out. But how much does the Fletch collection cost? The selection will accommodate most price points.
The collection launched on June 13 at noon ET, and it's a lineup of flirty, minimalist, and sophisticated pieces that run towards the feminine. From silk spaghetti strap camis, to open back red jumpsuits, to frilly floral ruched tops, it has a wide range of pieces and styles.
"I created Fletch to help every girl feel even more badass and beautiful than they already are," said Fletcher in a press release. "Clothes are such an easy and fun way to express yourself, and I wanted to create a line of signature pieces that I'd want to wear all summer long and at an affordable price. Every piece has my heart and soul woven into it and I can't wait to see girls rocking them!"
The debut collection for the label consists of 20 pieces, and will feature a custom star print and vintage floral theme, and move through a dreamy color palette of periwinkle blue, blush pinks, navy, and red.
But when you have a collection that tackles everything from statement eveningwear, to bodysuits, to cut-off denim shorts, then you're going to have a wide range of prices to accompany those staples. Which is a plus, because then it can capture all sorts of different budget points.
As of right now, the collection ranges between $34 to $148. When the site opened its digital doors at noon there were so many people ready to browse that a digital cue formed, showing you just how fast these classic pieces might go.
In an effort to get ahead of some of the customer questions before the launch, Fletcher hopped onto her brand's Instagram account the day prior to answer some commonly asked questions — including how much a person should be prepared to drop if they want to make a dress theirs.
"It is a range of prices! The first collection will be around $30-$150 depending on the piece," Fletcher shared. "It was really important to us to make high quality clothing at an affordable price."
To give you a better idea on what you can shop and how much it will set you back, take a look at some of the selection below. While the trendier pieces like the jumpsuits and dresses are definitely more expensive, it still sits in a mid-range budget.
If you're looking for a feminine and fresh closet update, this new collection has you covered.