MAC's New Rollerwheel Liquid Eyeliner Is Like Cat Eye Training Wheels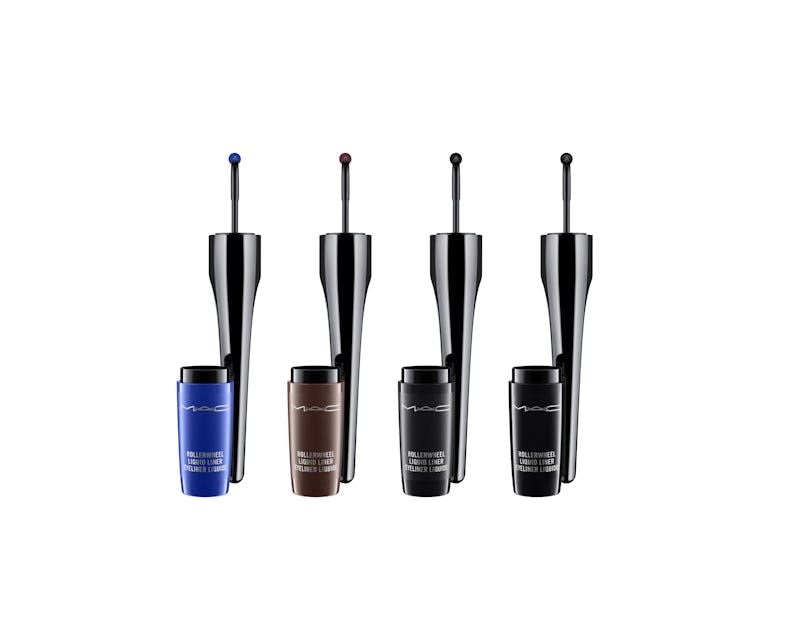 Courtesy of MAC Cosmetics
Most of my makeup-obsessed friends can't live without lipstick and mascara. Me? I can't exist without lip gloss and eyeliner. I have an out-of-control collection of black liners in all iterations — from gel or cream pots to felt tip pens to kohl pencils. MAC's Rollerwheel liquid eyeliner, which resembles a pizza cutter and promises precision or geometric lining that hugs the lashline, has captured my attention and aroused my curiosity since it first appeared on online a few months back. This is a serious eyeliner innovation. Leave it to MAC to reinvent the wheel... the liquid eyeliner wheel, that is!
Global Senior MAC makeup artist Ashley Rudder test-drove and teased the liner back in February. Now, the brand has confirmed, via a press release received by Bustle, that the Rollerwheel liner is arriving next month.
The limited edition liquid liner will cost $21 and be available online as of Aug. 17. It will cruise into MAC stores and counters on Sept. 14 and will be on sale through Oct. 26. I have already made multiple reminders in my calendar and will be stocking up.
The brand deems the Rollerwheel like "training wheels" for liquid lining, thanks to the spinning disk applicator, which absorbs just the right amount of product and offers a continuous, smooth, and even color. There are four shades and a range of finishes.
I admit that the Rollerwheel looks a bit intimidating to use, even for an experienced black liquid liner lover such as myself. Something resembling a pizza cutter isn't normally what I'd use near the delicate eye region. But I'm sure it has been carefully crafted to be safe for use and I'm therefore game.
It's truly a new way to do the flick. I tend to gravitated towards felt tip pens when drawing my flick. But I will try any new method, technique, or tool.... such as this. I cannot wait to get my mitts on it.
Something tells me the Rollerwheel will take some practice getting used to. But you know what they say about practice, right? It makes perfect. Liquid lining and flicks are never an exact science, so it's always fine to test new methods of getting them.
The shades are Rollin' Black Shine, which is shiny. There is On A Roll Black, which is matte. Rollerwheel Brown is warm, while Roller Royaler is royal blue.
Hot wheels, baby!