Miss Spa's 24k Gold Sheet Mask Is So Affordable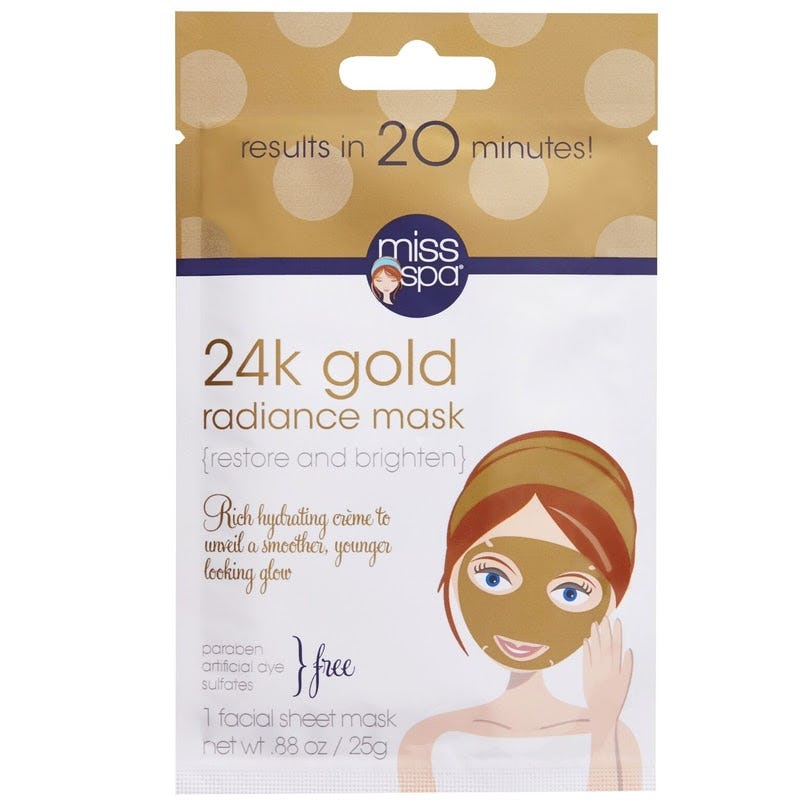 Miss Spa
If your resolution is skincare related, then you're in luck. Miss Spa created three new sheet masks for all different skin concerns. The brand already has a variety of different masking options, but this is definitely their best launch yet. How much is Miss Spa's 24k Gold Mask? Once you realize how affordable this skincare item is, you'll want to run out and stock up as soon as possible.
Sheet masks were one of the biggest skincare trends of 2016. There's one for everything — hydrating, exfoliating, pore-tightening. As if you didn't already have enough amazing options from the brand, Miss Spa created three more. These could just be their best yet too. Available now at Target stores and online, there's now the 24k Gold Radiance Mask, Oxygenating Bubble Mask, and the Charcoal Clarifying Mask.
Not only are the sheet masks readily available, but the price is incredible. The drugstore items are $4 each. This is not a drill! That means that you can get all three new additions for under $15. It doesn't get much more affordable than that, especially for 24k Gold. All of them only take 20 minutes per mask too, so it's easy to slip these into your nightly routine.
You really can't beat this skincare brand. All three of these masks are now permanent additions to the line, so you won't have to worry about not being able to get them. Here are the benefits of every single one.
1. 24K Gold Radiance Mask
Miss Spa Restore and Brighten 24k Gold Radiance Mask, $4, Target
This mask uses gold to improve blood circulation, oat kernel extract as an exfoliant, and white willow bark extract as an astringent.
2. Oxygenating Bubble Mask
Miss Spa Recover and Refine Oxygenating Bubble Mask, $4, Target
If you've got tired looking skin, then this is the one for you. Once you put it on, it actually bubbles up to hydrate and re-energize the skin.
3. Charcoal Clarifying Mask
Miss Spa Clean and Reveal Clarifying Charcoal Mask, $4, Target
Charcoal is the skin's best friend, but that's not the only benefit of this mask. On top of bamboo charcoal that absorbs impurities, it also has white willow bark extract as an astringent and burdock root extract as an anti-oxidant and anti-inflammatory.
No matter which one you choose, you really can't go wrong with these new masks.