Pat McGrath's MatteTrance Collection Is An Investment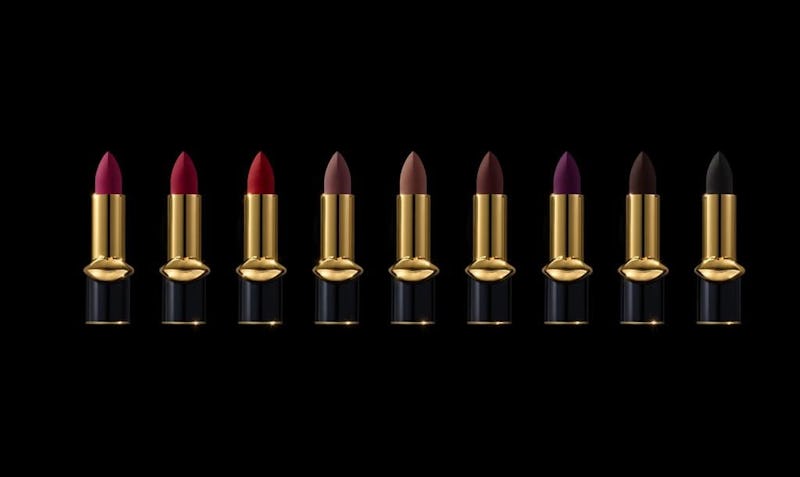 The mother of all Pat McGrath launches is upon. The makeup artist has been translating her signature runway and editorial beauty looks created for models and fashion houses for the rest of us via her eponymous brand. McGrath's LUST: MatteTrance lipsticks look to be the makeup maven's most accessible and most wearable product.
The matte McGrath lippies arrive on her site on Wednesday, Jul. 19, with the pre-sale set for Thursday, Jul. 13, and come in a variety of richly pigmented, smoothly-textured shades. The lippies will be available as singles and trios.
You also have the option to grab the entire collection for a matte lipstick wardrobe that is akin to a closet full of Louboutins. How much is the full vault?
The MatteTrance: Everything set rings up at $275, which likely falls outside of many people's budgets. But if you are a lipstick lover, appreciate how glam you look after a swipe of luxe color across your lips, and accept that Pat McGrath is essentially the Holy Grail of MUAs, then it's worth scrimping and saving in order to procure the entire collection.
There are nine tubes in the kit, which shakes out to about $31 per shade, which is typical of a pricy lippie. Usually, once you find perfect prestige lipsticks, you stick with them and use them till there is either a nub or nothing left.
The collection boasts a varied shade range, with a vampy purple, several rich reds, and a pair of pinky nudes.
The gold lip detail on the case is everything.
The color selection is evidenced by these swatches. If you opt to invest in the full kit, you have a tube for every mood.
And you have a tube for every skintone. This is how the LUST: MatteTrance shades translate on fair skin.
Check the shades out on the medium tone.
Gorgeous — that's the McGrath mattes on dark tones.
Here's another piece of intel that could influence your decision to purchase the full kit — the brand offers free domestic shipping. The singles are $38 and the trios are $95, BTW.