Apple's New iPad Offers More Bang For Your Buck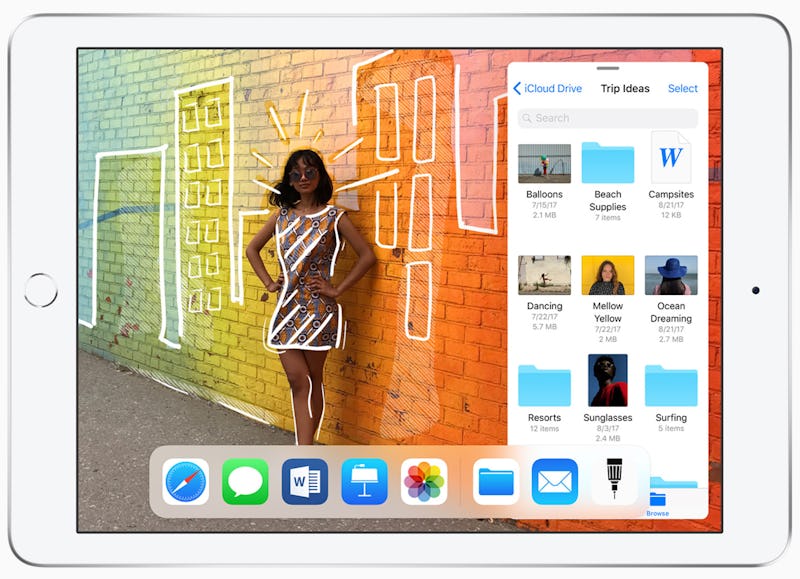 Apple
If you've heard the buzz about Apple releasing a new model of its iPad, you're probably wondering one thing: how much is the new iPad, and when can you get it? At an Apple event promoting the company's role in supporting innovative education efforts on Mar. 27, Apple CEO Tim Cook confirmed that a new 9.7 inch iPad with Apple Pencil support will be available to the public as soon as later this week — and with a price tag that won't break the bank, especially for schools.
As part of an on-going initiative to bring iPads into the classroom, Apple is offering its new device at two different price points: The new iPad is available to consumers for $329, and available to schools for a discounted price of $299. The Apple Pencil (which is an optional addition — this new iPad just supports the software, unlike previous models) will be priced at $99 for consumers, and a discounted price of $89 for schools.
The iPad will include all of the bells and whistles you've come to expect from upgraded Apple devices: Touch ID, HD FaceTime camera, a 10-hour battery life, an 8-megapixel rear camera, LTE option, and Apple's A10 Fusion chip will all be included in the device, ensuring its their fastest-running model yet. Additionally, it will feature numerous software updates as well, that will benefit schools and teachers: During classroom use, the Apple Pencil will allow students and teachers to interact with Pages, Numbers, and other scholastic apps in a more intuitive fashion. Apple's also made it easy for one device to hold multiple accounts so that students can share the tablet without issue. They're also easily managed by teachers, so that they can review the students accounts and keep track of their progress, by using an administrator type account.
The increased AR capabilities are also going rock the classroom experience for students using this iPad. While augmented reality might sound like all fun and games, AR use with scholastic programs makes learning on a tablet tangible and accessible, allowing students to be hands-on in a way that's not even possible IRL. Things that were only possible for students with strong stomachs, like dissecting a frog, and things that were only possible for students able to attend field trips, like exploring the sky, are now handheld possibilities with AR enriched programming on the new iPad. This technology opens up the classroom, creating endless opportunities for learning that are far more interesting and engaging than any classroom before. According to Apple's vice president of product marketing, Greg Joswiak, there are over 200,000 Apple apps that are specifically made for education, so the new 9.7 iPad is aiming to take full advantage of those apps, making this iteration the most educationally geared device on the market, which is already crowded with competitors like the Chrome Book.
Extracurricularly, the new iPad and Apple Pencil will make a great sketching duo, perfect for a variety of creative endeavors, both professional and casual. The Retina display offers a vivid color presentation that will make sketching on paper seem lackluster in comparison. You can excel in graphic design, illustration and photo editing, all within the portable bounds of 9.7 inches. And of course, streaming your favorite movies and TV shows will be faster than ever, with a picture quality that makes a small screen experience, no small experience.
Starting in June 2018, Apple will release ClassKit API which will be available in iOS 11.4., to streamline the educational capabilities of the tablet. A new Schoolwork cloud-based application will allow teachers to post assignments and distribute "handouts" in paperless fashion — hopefully making roller backpacks and early Scoliosis a thing of the past.