You're Going To Want To Blow Your ENTIRE Summer Fashion Budget On The Vans x Marvel Collection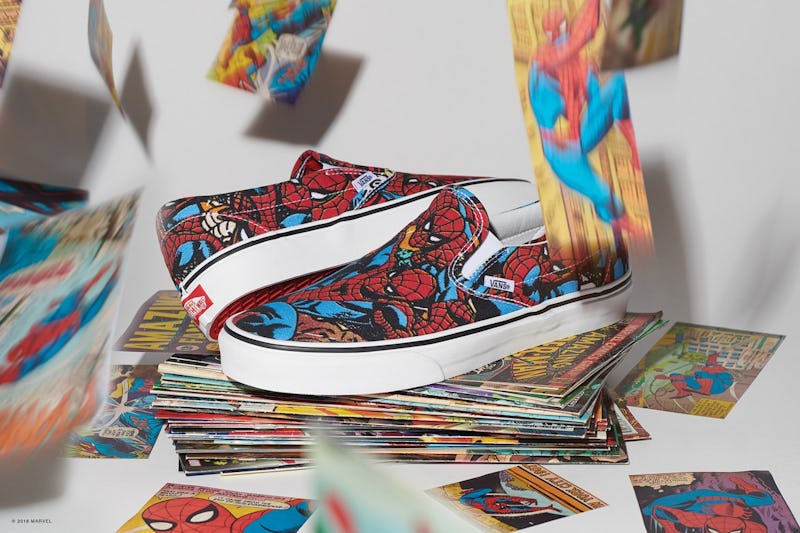 Courtesy of Vans
Get ready to engage your inner superhero and/or alter ego and to whip out that wallet. The Vans x Marvel collection arrives Friday, June 8 at Vans retailers globally and it's a blockbuster collab. It's "the sequel" to the 2013 partnership between the sneaker and comic book titans — only this time, it's super-sized. There are over 70 styles across footwear, like slip-ons and sneakers, apparel, like tees, and accessories, like backpacks.
You will be able to proudly display your love for the characters in the Marvel Universe via your person. Beloved characters such as Iron Man, The Hulk, Deadpool, Black Panther, and The Avengers are featured on the kicks and more!
The prices for the Vans x Marvel collection are TBA and will likely be made public when the collection goes on sale. However, we know that there are many silhouettes and styles when it comes to Vans sneakers and those usually cost anywhere from $50 to $75. It really depends on the style and the pop culture licensing tie-in!
Therefore, it's a fair assumption that the Marvel collection will fall in or around that affordable price range — perhaps it will be slightly increased due to the highly stylized imagery.
You will want to blow your entire summer fashion budget on this collection by scooping up multiple pieces and pairs.
The brand's tees and hoodies are usually $25 to $65. So, our best and most educated guess is that the entire collection will cost from $25 to $125 — give or take a few bucks!
Bustle reached out to Vans regarding the pricing.
Check out the detail on those sneakers. The Spider-Man slip-on looks like the page of a comic book come to life. The splash of rich red is so bold and packs quite the punch. Think of how awesome it will look when paired with a monochromatic outfit. That Old Skool kick with the blue toebox, green sole, and silver wings and laces is a total reimaging. It takes inspo from several characters — Captain America, Iron Man, and The Hulk. Are you in love yet? Yeah, you should be! The Hulk slip-on with the iconic Vans checkerboard pattern is another "OMG!"-inducing style. His green toes appear to be bursting out of the shoe in a nod to how the character morphs when he is angry!
There are so many styles and looks to choose from with this extensive collection. While pops of color and stunning graphics define Vans x Marvel, there are other elements to, well, marvel at! The slip-on has a snazzy leather look and a red inside sole.
If you prefer a classic lace-up version, you have options, as well. Because who doesn't want to wear their fave superheroes on their sneaks?
The latest Vans x Marvel collection certainly offers something to fit a variety of personal styles. The footwear is vivid and action-packed with this range.
The little ones and mini comic book fans in your life can also enjoy this range. There are childrens' shoes, too. The surf-driven collection features flip flops and slides. It's never too early or too soon to help your fave kid cultivate their personal style and to develop a love for the Marvel Universe.
What's best about the Vans x Marvel collection is that it caters to all levels of Marvel fandom. If you are a diehard, a collector, and a reader of all the graphic novels and series, you will appreciate the attention to detail. If you simply like the movie franchises, the basic origin stories, and the visuals or are more a casual fan, you can still rock anything in the assortment.
For reference and consideration, here's a screen grab of the typical price range for Vans products.
Oh, and one other thing. Vans Customs is offering three exclusive Vans x Marvel prints. That means you can make your own designs as of the June 8 drop date, as well.
Sign up here for more info on the collab. When it finally arrives, you can display your allegiance to the Marvel universe via your feet and beyond.