Universal Standard's New Collection Goes Up To Size 40 — And It's Affordable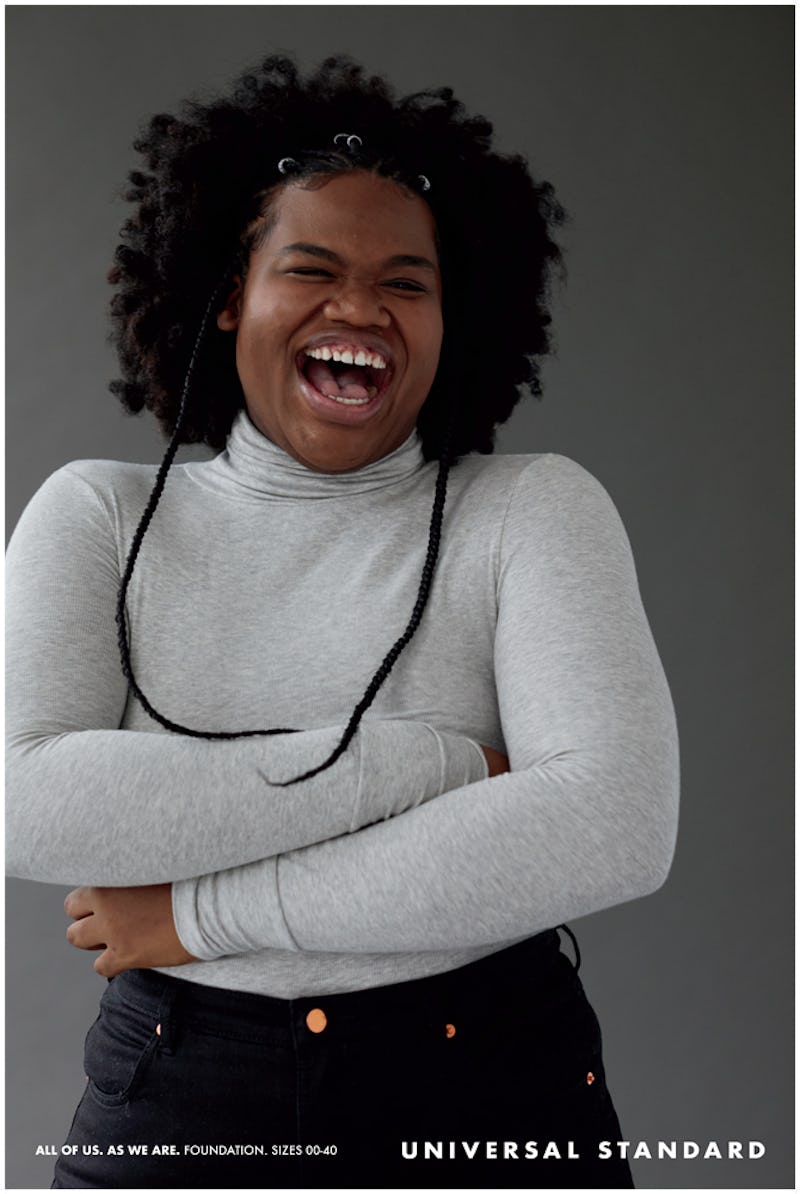 Courtesy of Universal Standard
Universal Standard, which specializes in downtown chic, is once again laying the "Foundation" for inclusive fashion and removing the barrier to entry. The Universal Standard Foundation Collection offers unprecedented sizing — it features sizes 00 to 40. That's an extension and an upgrade — as Universal Standard previously offered sizes 6 to 32, along with petites. The brand's mission is not to merely erase but to obliterate the division line and to create an entry point into fashion for those who previously lacked one due to size standards.
Founders ​​Polina Veksler and Alexandra Waldman devised the brand as a solution to a prevalent fashion problem — who arbitrarily defines sizes and therefore grants and thus prevents the privilege and freedom of dressing with quality and style?
Universal Standard isn't simply inclusive with expanded sizing. Prices for the Foundation Collection start as low as $35 and go up to $200, making it affordable, as well. Inclusivity is its ethos in all aspects.
The Foundation Collection is seven pieces strong and is available exclusively at the brand's downtown NYC store through Wednesday, Oct. 17. It will be then available for purchase via the brand's site and sales platform beginning Thursday, Oct. 18.
The collection can be purchased individually or in two kits — a four-piece kit or the entire seven-piece kit.
The brand has engineered each piece proportionally. Translation: A Size 00 garment will fit just as beautifully as a Size 40. The larger sizes are not afterthoughts or lazily crafted. The attention to detail is paramount in every size. Foundation embraces women of all sizes and is ultimately full of elevated essentials and contemporary classics that don't sacrifice one ounce of style.
More specifically, the Foundation Collection is a small but focused assortment of soft layering basics that can be worn together or with other pieces already in your closet.
Universal Standard has set out to be the most inclusive brand in fashion and they are pretty much achieving that goal with the Foundation Collection.
"We're erasing arbitrary lines of the past in favor of a future in which women, regardless of size, can shop from the same rack," Waldman said in the press release received by Bustle. "We founded Universal Standard with the singular goal of leveling the playing field and allowing all women to have equal access to style, quality, and fit." Again, the brand is serious about removing the barrier to entry in fashion.
The campaign imagery is equally as awe-inspiring and patently real. It features 35 individuals who have been "foundational" in shaping and inspiring the brand. That includes the founders, who also appear.
Veksler enthused, "Together with our team, we are weaving a tapestry of inclusivity, connectivity, and representation. We're aiming to show all of US. As we are. Through the campaign and the collection, we are showing the industry what fashion really looks like and we hope others will follow this example."
If you were not previously familiar with Universal Standard, its bedrock is the notion of "Fashion Freedom." Quality and fashionability are foremost and the standard —whether it's a size 6 or a size 32.
Inclusivity is not a trend — it is the new Standard and a Universal one at that.