Here's How Much Money Super Bowl Referees Could Be Making From The Big Game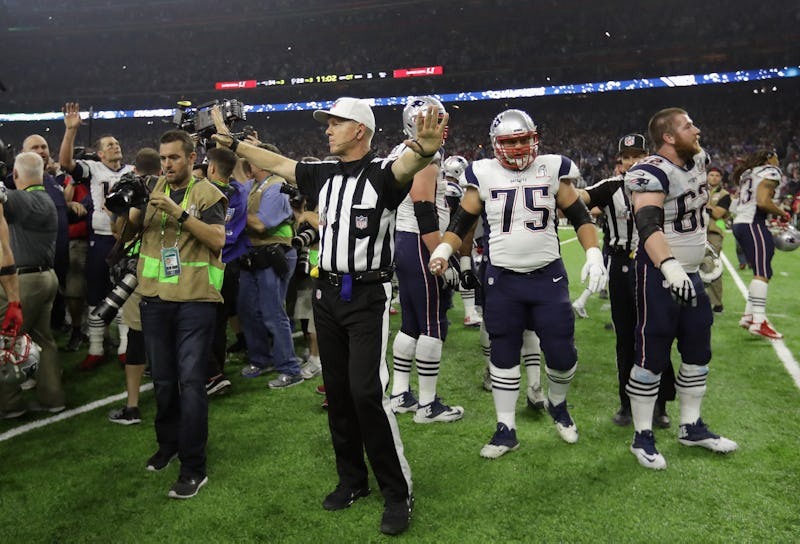 Ronald Martinez/Getty Images Sport/Getty Images
The 2018 Super Bowl will see the Philadelphia Eagles and New England Patriots square off with the Vince Lombardi trophy on the line. In addition to all the elite-level athletic competition, the big game also brings all the trivia, factoids, and points of interest. For example: have you ever wondered how much money Super Bowl referees make?
It's a slightly tricky question to answer, even though some related questions ― like how much extra money players make for winning the Super Bowl ― is a matter of pretty easily accessible public knowledge. Determining how much money referees bring in for officiating the single biggest football game of the year, however, is not. As such, it's not going to be possible to a definite, exact number.
According to multiple outlets, the average salary of an NFL official was reportedly $173,000 per year back in 2013, and was slated to increase to $201,000 by 2019. But the exact number of the extra salary they receive for playoff games, and indeed for the Super Bowl, is not known. Late last month, TIME Money reported that NFL refs earned $11,900, a five-figure bonus, for the Super Bowl back in 2001.
Needless to say, that figure has likely increased over the course of the subsequent 17 years, just like the bonuses the players receive have. Back in 2001, the players on the winning Super Bowl team reportedly netted themselves a bonus of $36,000 apiece, and in this year's championship game, the winners could reportedly take home $118,000.
As TIME Money's analysis noted, one way to try to get an approximate read on how much extra income Super Bowl refs earn would be to look at that percentage increase for the winning team's players ― a boost of approximately three times what they earned in 2001 ― and apply it to the referee's 2001 figure.
Of course, that's not an ironclad or scientific answer whatsoever, but it doesn't provide a useful point of comparison. If referee Super Bowl pay increased at the same reported rate that the winning players' pay did from 2001 to 2018, then they'd be making somewhere between $30,000 and $40,000 for their high-profile work on Sunday.
It's not as if the money is the only reward, however. For starters, although it might sound corny, there's the sense of professional accomplishment, or knowing they were picked to officiate the most important game of the year, ostensibly for their skill and talents in doing so. Only so many referees ever get to say they worked the Super Bowl, after all.
Also, something you might not have known is that referees also get Super Bowl rings, albeit not ones quite as extravagant or pricey as those of the winning players. Former NFL official Mike Pereira, now an in-game officiating analyst for Fox Sports, described the "pride" referees feel at wearing their rings back in 2014.
The Super Bowl ring. The officials get Super Bowl rings just like the players do. They aren't as big as the players' rings, but they are still valuable pieces of jewelry. These rings mean the world to the officials and they wear them with such pride. I know from time as the VP of Officiating for the NFL that the referees get stopped by people who see their rings and ask if it's a Super Bowl ring. The pride comes from within the officiating industry, because people know that these guys have officiated the biggest game of the year.
There will be plenty of incentives for this year's Super Bowl refs to give it their all this year ― beyond, of course, not wanting to blow a big call in front of millions upon millions of people. If you're curious to see the big game go down, it'll be starting at 6:30 p.m. ET on Sunday, Feb. 4.