Here's Why Hurricane Harvey's Worst Is Yet To Come For Texas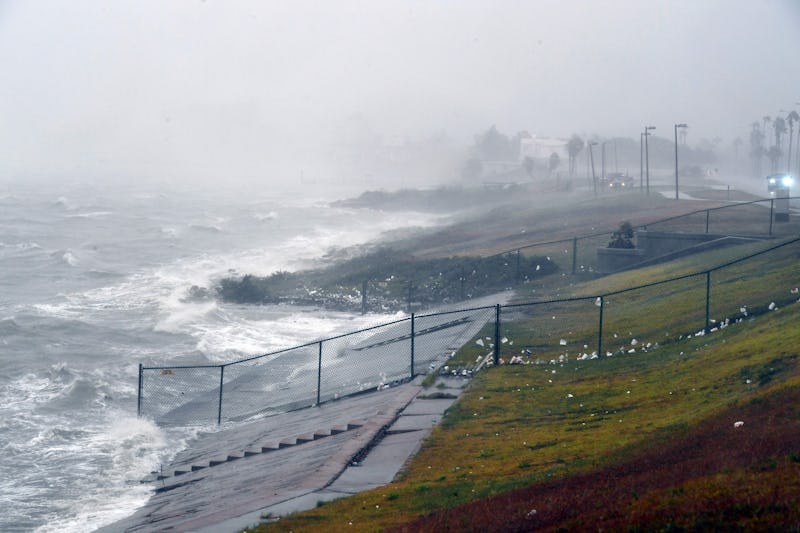 MARK RALSTON/AFP/Getty Images
Harvey downgraded to a Category 1 hurricane in the early hours of Saturday morning, and authorities have now shifted their attention to the torrential rain and flooding that it's expected to bring. As the state hit hardest by Hurricane Harvey, how much rain will Texas get?
According to the National Hurricane Center, Harvey could cause "catastrophic and life-threatening flooding." A Texas Coastal Ocean Observing Network station at Aransas Pass reported a 132 mph gust of wind on Friday night, as well as sustained winds of 102 mph.
On Saturday morning, The National Weather Service issued a flash flood watch until Tuesday evening. The advisory urged several counties to be on watch for flash-flooding, including: Austin, Brazoria, Brazos, Burleson, Chambers, Colorado, Fort Bend, Galveston, Grimes, Harris, Houston, Liberty, Madison, Matagorda, Montgomery, Polk, San Jacinto, Trinity, Walker, Waller, Washington and Wharton counties.
By 10AM EST on Saturday morning, Houston already had 3 inches of rain in some areas, and The National Weather Service warned that over a foot of rain could hit the city through Tuesday.
"This is going to be a major rainmaker. This is just day one. We anticipate four to five days of this, so we're asking people to stay off the roads if they don't need to be on the roads," Houston Mayor Sylvester Turner told CNN Saturday morning.
While Houston is already dealing with rainfalls, it's certainly not the only area of Texas already bracing itself for the rain. If you're wondering how bad it could get -- or how much rain Texans should expect, The National Hurricane Center has warned that some areas could face 40 inches of rain.
"Harvey is expected to produce total rain accumulations of 15 to 30 inches and isolated maximum amounts of 40 inches over the middle and upper Texas coast through next Wednesday," The National Hurricane Center reports.
According to the Electric Reliability Council of Texas, shortly after Hurricane Harvey first hit Rockport at 10 p.m. CDT, more than 211,000 people were without power on the Gulf Coast of Texas.
During a news conference on Friday, Texas Gov. Greg Abbott warned constituents of the potential danger of the storm, predicting that the potential flooding and torrential downpour could do as much, if not more harm to Texans than the landfall itself.
"I would urge people to strongly consider the evacuation process. There is a possibility, the probability, that a lot of people will go a long time without the basic necessities," Abbott said at the news conference.
So, circling back to the question of how much rain Texas will get, the answer is sadly, a lot. Possibly, as much as 40 inches in some areas.