This Is How Much Snow You Can Expect If You Live In The Northeast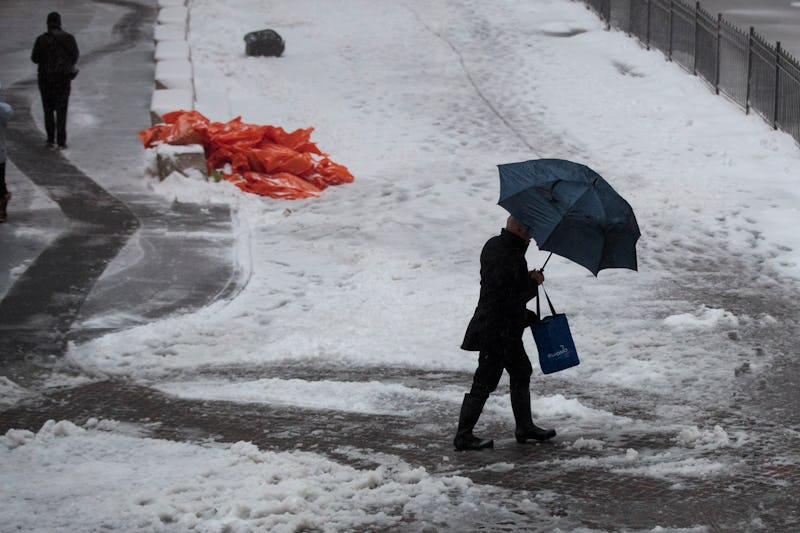 Drew Angerer/Getty Images News/Getty Images
Wind, rain, and even snow threatens to pummel a number of East Coast states as another major winter storms sweeps across the region this week. But how much snow will the latest winter storm bring? The second nor'easter to hit the northeast in less than a week could drop up to a foot of snow on major cities like Boston and New York City.
"A surface low pressure and associated frontal system is quickly transitioning into to a nor'easter and will spread snow to much of the northern Mid-Atlantic and Northeast today through the end of the week," the National Weather Service said in a forecast released Wednesday. Snow in areas west of the I-95 corridor could easily accumulate to more than one foot by Thursday evening, the weather service warned. Nearly 50 million people had been placed under various winter storm warnings and advisories issued for the swath of states between Maine and Maryland.
According to the Weather Channel, some two inches of snow had already been recorded early Wednesday in parts of Delaware and Connecticut; three inches accumulated in parts of Maryland and Pennsylvania; and up to four inches of snow were reported north of New York City. New York is forecast to see up to 12 inches of snow by Thursday, with as much as 18 inches expected in parts of neighboring New Jersey.
New Jersey isn't the only state forecasted to see up to 18 inches of snow by the time the latest winter storm blows through. Parts of Maine, Massachusetts, New Hampshire, and Pennsylvania's Poconos Mountains could also get buried under up to 18 inches, according to the Weather Channel. Forecasters for NBC News have warned that questions regarding where the storm's line between rain and snow will fall have made it difficult to predict snowfall totals and to expect snowfall numbers to rise if the storm moves southeast.
This storm comes less than a week after another Nor'easter brought high winds and flooding to parts of the East Coast, causing tens of thousands of people to lose power. According to Time, more than 90,000 customers —located mainly in Pennsylvania, New Jersey, and New York — were still without power by the time the second Nor'easter began to blow in early Wednesday. Although this second Nor'easter is not forecasted to be accompanied by winds as strong as its predecessor had, the snowfall is expected to be heavier and affect a larger area, USA Today has reported.
As a number of people opted to wait out the storm at home, travelers braced for delays and cancelations as the storm's impact on travel was already beginning to be felt Wednesday. More than 50 percent of flights at New Jersey's Newark Liberty International Airport had been cancelled by late Wednesday morning, according to FlightAware. In New York, LaGuardia Airport had seen 48 percent of its flights cancelled while John F. Kennedy International Airport had 41 percent cancelled.
Similarly, Amtrak announced a modified schedule for its Keystone Service between New York and Philadelphia and Harrisburg; its Empire Service between New York and Albany-Rensselaer; and regional northeast and Acela Express trains as the storm plays out, CNN reported. People across the East Coast region have been urged to stay home and travel only when necessary.
Although there remains some uncertainty over how much storm this winter storm might bring, forecasters have said it's better to error on the side of caution when it comes to preparation. Heavy snow and strong winds are expected to cause additional damage to trees and power lines weakened in last week's Nor'easter. The National Weather Service urges folks to monitor weather alerts and storm warnings for their area as this latest storm moves through.