The Estimated Price Of Meghan & Harry's Wedding Will Make Your Bank Account Weep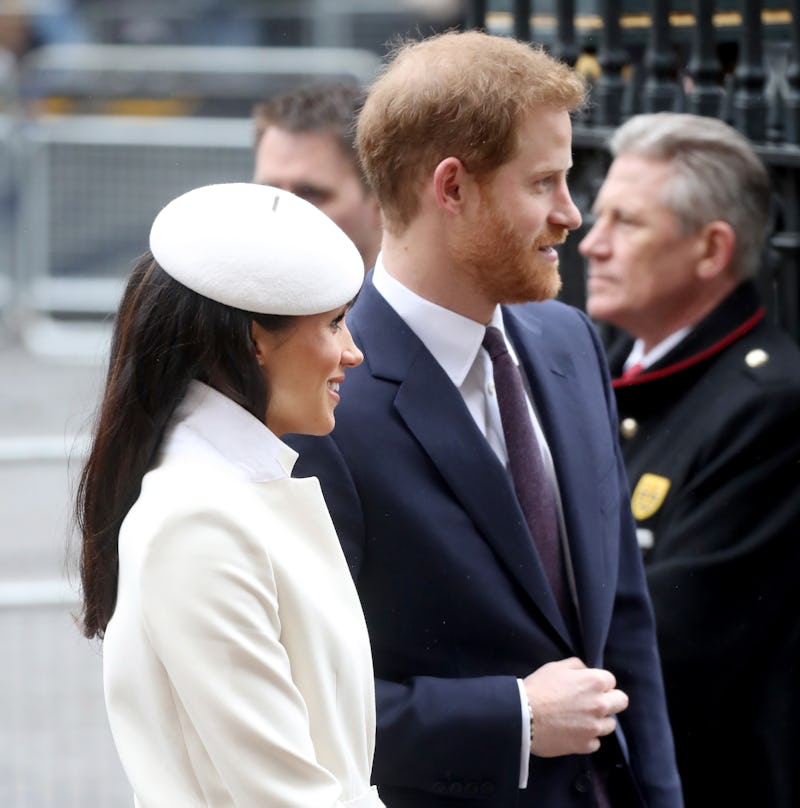 Chris Jackson/Getty Images Entertainment/Getty Images
This will likely come as a surprise to absolutely no one but weddings aren't cheap. Of course, Meghan Markle and Prince Harry's upcoming wedding will be no different. Just kidding, it will be completely different because the estimated budget for the Royal Wedding is — are you sitting down? You should probably be sitting down — $2,758,019 in American dollars, according to the wedding experts at UK-based wedding website Bridebook. As in multiple millions. As in almost three entire million dollars.
As someone who is currently in the process of planning a wedding, part of me is like, "Yeah, checks out. Weddings are expensive. Do you have any idea how much flowers apparently cost???" But a larger, more realistic part of me is hyperventilating at the idea of spending that much on a wedding.
While Kensington Palace hasn't released the actual wedding budget (Queen Elizabeth II wouldn't do Meghan and Harry like that), the wedding planning website Bridebook has broken down the estimated cost of the wedding for all of us norms to ooh and aah over.
The $2.7 million cost seems to pale in comparison to Prince William and Kate Middleton's 2011 wedding, which CBS News called one of the most expensive weddings of all time at $34 million. However, $32 million of Prince William and Kate Middleton's wedding budget reportedly paid for extra security for the event. So, the actual wedding only cost around $2 million. Also, Prince Harry and Meghan Markle are projected to have the same amount of security on their wedding day as well as at their honeymoon.
Meaning that $2,758,019 budget doesn't cover all of the cost of their wedding event.
How does one go about spending almost $3 million on a wedding? Well, you start by inviting a reported 800 guests to the ceremony and formal reception, 600 of which will attend a private reception later that evening. Oh, and you throw an open invitation to 2,000 members of the public to join in your special day. (I'm assuming my invite got lost in the mail?)
We all know food and alcohol is a big part of any wedding budget. Bridebook estimates the couple will spend about $273,000 US in drinks. That's on top of the $404,000 US they're expected to spend on food, chefs, and catering staff.
"We expect roughly 1,700 bottles of vintage champagne to be served throughout the day and at least 650 bottles of wine, whiskey and cocktails to accompany dinner and dancing," Bridebook explains on their post. "Serving such quality drinks to over 800 guests throughout the day doesn't come cheap, whether you have access to a royal cellar or not."
Hot tip for anyone who doesn't have access to the royal cellar: Costco has alcohol and it's inexpensive and pretty good.
My fiancé and I are trying to be as economical as possible but, again, weddings aren't cheap, y'all. However, we've managed to cut a few corners the royal couple is choosing to splurge on like foregoing wedding favors and not having trumpets. Yes, there is a "trumpets" section of Meghan Markle and Prince Harry's wedding budget and it is $127,000 US. (Who is playing these trumpets? Three Beyoncés???)
Here's the breakdown of some of the other costs, in US dollars:
The wedding dress: $420,000
Flowers: $155,000
Photography and videography: $24,000
Stationery: $28,000
Music: $420,000
Decoration and production: $183,000
Wedding rings: $8,500
Bridesmaid outfits: $7,500
Flower girl and page boy outfits: $2,400
Church fees: $250 (I mean...reasonable)
Groomswear: $11,000
Hair and makeup: $14,000
Entertainment: $21,000Wedding favors: $4,000
Toilets for guests: $49,000
Cake: $70,000
Honeymoon: $170,000
Their wedding costs about ten times what the average wedding in the U.K. costs. In the US, the average wedding runs about $35,329, as reported by Fortune. Definitely not cheap, but for context, that wouldn't even cover Meghan Markle and Prince Harry's budget for toilets for guests. THEIR TOILET BUDGET IS MORE THAN MOST PEOPLE'S ENTIRE WEDDING BUDGETS.
However, the royal couple won't have to take out a wedding loan for the event (something more and more couples are doing in the States): Kensington Palace will be paying for everything.