How Old You Have To Be To Compete In The Olympics Is Actually Surprising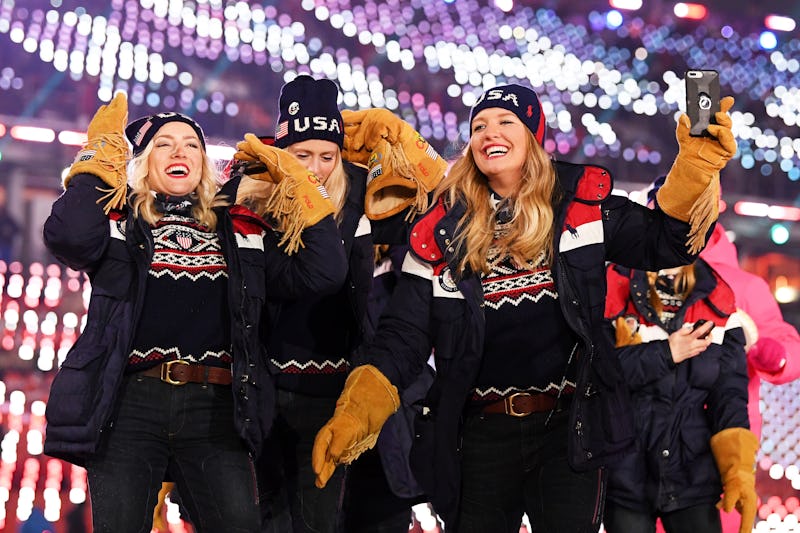 Matthias Hangst/Getty Images Sport/Getty Images
The 2018 Winter Olympics in PyeongChang are in full swing and people around the globe are watching as the athletes take to the world stage to compete. As you consume Olympics coverage, you may be wondering exactly how old Olympic athletes have to be to compete. Interestingly, there is actually no set age limit for the overall games, but, rather, there are age regulations in place for each sport.
According to Fansided, which researched the minimum required ages for each Olympic sport, the International Olympic Committee (IOC) does not set the age limits itself, but, rather, enforces the age limits set by other global bodies. As the IOC put it, (via Fansided) "there is no specific age limit for taking part in the Olympic Games. This depends on each International Sports Federation and the rules it lays down for its sport."
According to HelloGiggles, the youngest athlete at the 2018 Winter Olympics is Wu Meng — a 15-year-old halfpipe skier from China. There are also five other 15-year-old athletes competing at the games as well.
For the American team, the youngest competitor is Vincent Zhou, a 17-year-old figure skater. Another 17-year-old member of Team USA, Red Gerard, won the team's first gold medal of the games in the men's slopestyle snowboarding event on Saturday.
According to the aforementioned requirements list compiled by Fansided, there is quite a vast disparity in mandated minimum ages for various Olympics sports. For example, in Skeleton, participants can be as young as 14-years-old. However, in adult biathlon, the minimum age is 22. For curling, there appears to be no minimum age requirement.
On the flip side, the oldest Olympian at the 2018 games is Cheryl Bernard, a 51-year-old curler from Canada. According to NBC, While Bernard is an alternate for Canada's women's curling team, she still stands a chance to medal, as curling alternates are still eligible for team medals. The oldest non-alternate athlete at the games is Tomi Rantamaeki, a 49-year-old curler from Finland. In addition to Rantamaeki, there are a variety of other athletes in their 40s competing across a diverse array of sports at the 2018 Olympics, including hockey, bobsled, and speed skating, among others.
Age, particularly minimum age, has always been a much-highlighted topic at international sporting competitions, as teams have occasionally been accused of misrepresenting athletes' ages, something which is typically perceived as a way to gain advantage in a sport.
For example, back in 2010, the Chinese women's gymnastics team that competed at the 2000 Summer Olympics in Sydney, Australia, was stripped of its bronze medal after one of its members, Dong Fangxiao, was discovered to have been underage at 14 years — two years younger than the required 16-years-old.
Moreover, in 2011, China was again mired in a controversy about age, this time in the figure skating word. At the time, an article in the Associated Press reported that the ages of some of China's skaters differed on different websites, with one age being reported on skaters' International Skating Union bios and another reported on the Chinese Skating Association's site. China eventually cleared up the issue, saying that record keeping mistakes were responsible for the differently-reported ages.
Overall, age certainly is a significant factor at the Olympics and in other international sporting events, both because it helps set competition requirements and because it is certainly fascinating to watch people of all ages compete at the highest level. Many around the world will be closely watching as teenagers, middle-aged adults, and everyone in between come together to vie for coveted gold, silver, and bronze medals at the 2018 Winter Games.