I Went To My First Festival In 10 Year & Turns Out, Things Have REALLY Changed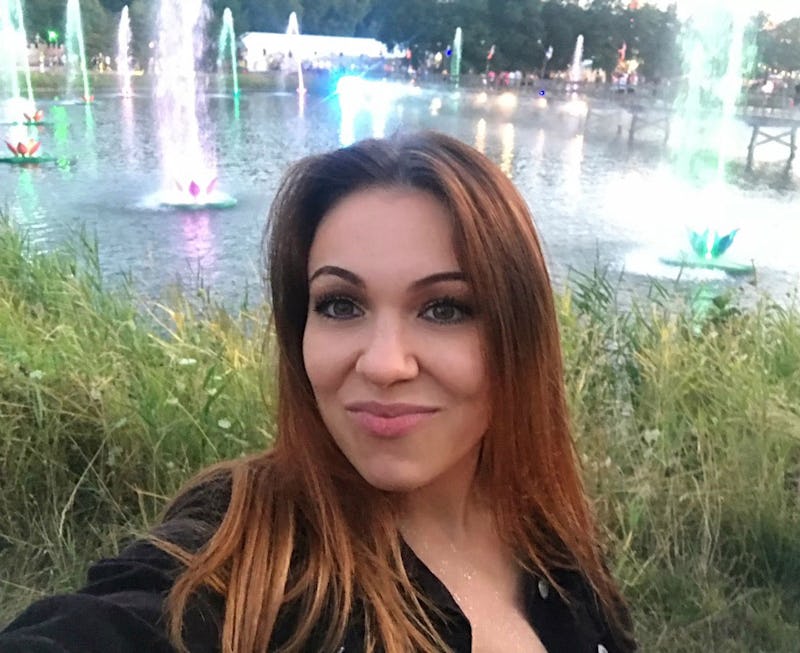 Nicola Agius
A festival is like Disneyland, but for adults. Well, that's what I used to think in my late teens and early twenties. Now though, I'm 31, and the thought of camping, not having access to clean toilets with loo roll, and having to dance non-stop from the early afternoon until the early morning is enough to give me anxiety. Thanks, but no thanks. So obviously, when I was invited to go to Tomorrowland, my first thought was hell no. I'm passed that. But how old is too old to go to a festival? I mean, 31's got to be too old, right?
Well, my fiancé certainly doesn't think so. He's 34 and was adamant that we check out Tomorrowland (a couple that raves together, stays together, apparently). It's one of the biggest music festivals in the world and usually sells out in minutes. After a fair bit of convincing on his part, off we went.
I don't know about you, but when I think of festivals, I picture wellies and ridiculously muddy fields. Urgh. However, when I googled Tomorrowland, nobody in the pictures online seemed to be wearing wellington boots, so I decided to take my chances and wore trainers, knowing full well how irritated I'd be if my Nikes got ruined as a result. Did the risk pay off? Much to my surprise, absolutely. There was honestly zero mud at this festival. And that was just the first of many surprises Tomorrowland had in store for me.
The last time I went to a festival was ten years ago, when I watched the likes of Chase & Status, Stanton Warriors, and Caspa & Rusko perform at Global Gathering in 2008 (wow, how was that a decade years ago?). Well, I'm pleased to report that festivals have come a long way since then, if Tomorrowland is anything to go by. The stages were incredible; one was a giant, rotating carousel that was three-storeys high, another had an under-the-sea theme with water being fired 40 feet into the air on either side. Meanwhile, another stage had a swimming pool (which I may or may not have jumped in) with a floating saxophonist. Remember when I said I used to think that festivals were like Disneyland but for adults? Well, I'm starting to believe that again.
Back when I used to go to festivals pretty regularly, the food on offer wasn't exactly great. Overpriced burgers and reheated chips were pretty much all that was up for grabs. So, I didn't have high expectations for Tomorrowland — that was until I booked tickets for a private party within the festival called B-EAT. This was an immersive experience, hosted by the Las Vegas Tourism Board (Sin City is the EDM capital right now, FYI), where ravers get to party while being served a four-course tasting menu cooked by some of the world's most famous chefs. I'd never heard of it until now, but tickets for last year's B-EAT sessions sold out within minutes. So, I wanted to find out for myself what all the fuss was about.
During my session, the legendary Masaharu Morimoto (who runs the restaurant Morimoto Las Vegas within the MGM Grand Hotel) was in charge of the open plan kitchen, which doubled up as DJ booth. His previous customers include Barack and Michelle Obama, as well as Mariah Carey. In other words, he's all that and then some when it comes to food. While raving to some pretty hardcore electronic music, he served us a sashimi waffle garden, seared wagyu beef, and tofu cheesecake. I know. I'm still struggling to believe this is the food I ate at a music festival. It was unbelievable.
I actually have coeliac disease so finding food that won't poison me can be a bit tricky. But I gave the B-EAT organisers a heads up before my session, and they ensured every dish I had was gluten free. This was a huge deal for me. Damn it Las Vegas Tourism Board, where were you in 2008? I genuinely can't believe how far festival food has come since then.
In addition to the amazing grub, epic stages, and awesome line-up (did I mentioned Craig David performed "Fill Me In"?), Tomorrowland had so much more on offer. There were fortune-tellers, floristry classes, free rides on a giant Ferris wheel, and not to mention lots of off-stage performers, ranging from actors on stilts to flame-throwers to mime artists. The whole experience was so unexpectedly fun. As for the nightmare of camping? I didn't camp. In fact, most people didn't. I stayed in a hotel which ran a free shuttle bus to and from the festival. But what about the loos I hear you ask? No complaints on that front either. There were proper toilets as opposed to portaloos, which were kept very clean throughout the festival.
At home, I can't lie, I always feel tired. But to my surprise, my pathetic energy levels weren't a problem at Tomorrowland. Maybe it was the adrenaline, maybe it was the music, I don't know, but I was up dancing until the end of the last performance. Oh, and on the contrary to what I initially thought, I was far from the oldest person at Tomorrowland. There were people partying in their fifties as well as people in their early twenties. In fact, I noticed one of the DJs even brought his dad along!
I'm not sure if this is what all festivals are like now, but if it is, then the concept of being too old to go to a festival is just plain daft. I'm a person that is always tired (thank you, coeliac disease), hates being in crowds, and am not really an outdoorsy kind of gal. Yet, when Tomorrowland was over, I was gutted it wasn't on for another day.
So, I guess, same time next year? That goes for you too, Morimoto!