How One Woman's Company Is Fostering Community In The Most Collaborative Way Possible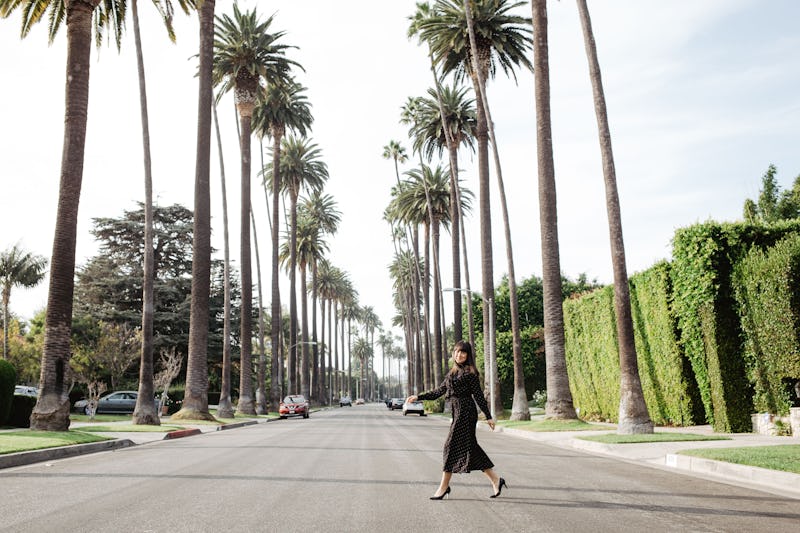 Valerie Vogt
Here at Bustle, we believe that in order to truly live your best life, you have to begin by learning about — and learning from — the women who paved the way. That's why we teamed up with Lexus to highlight some incredible women who are pioneering their industries, their careers, and most importantly, their communities.
Creativity and business don't always go hand-in-hand. The flexibility required to create original ideas can often feel stifled by rigid corporate goals and business objectives. That's not to say that the two can't coexist — the combination may just require a little bit of extra help. That's where Sonja Rasula comes in.
With the intent to bridge the disconnect between small creative businesses and consumers, Rasula created what is now Unique Markets — the largest indoor "buy local" shopping event in the country. By establishing a shopping event where entrepreneurs, designers, and artists can showcase their products in one central location, Rasula kickstarted a way to take these companies to the next level — all while helping the public discover and support local business.
Rasula went on to open The Unique Space — a fresh combination of work space and event rental space — in 2014.
With a mission to help as many people as possible, Rasula is passionate about connecting people, inspiring creativity, and fostering community growth. Read on to learn more about what inspires her, how she finds her own creativity, and why community is at the heart of everything she does.
1. Her Inspiration For Unique Markets Came From the 2008 Election
After attending journalism school, Rasula worked as a writer, editor, and eventually as a creative director before landing her dream job as a designer on a popular television show about home design and decor. But after getting cut from the show, she decided to take a hiatus from the working world and dedicate herself to volunteering during the 2008 election.
"After registering voters, writing voter guides, and really getting to know this city and the community leaders, I was inspired," Rasula says. "I wanted to take more of a leadership role within the community, not as a leader in some corporation again. So when I came up with the idea for Unique Markets, I went for it!"
2. She Used Her 401k To Fund Her First Market
Rasula isn't afraid to hustle. When she first came up with the idea of Unique Market, she had trouble getting people to understand the concept and take it seriously.
"I never really wanted investors anyway, so I used my 401k to fund the first market," Rasula says.
When she ran into difficulty getting vendors to sign on for her first event, she started reaching out to designers personally to sell them on her idea.
"Some of those people who took a chance on me back then are still doing the show ten years later."
3. Community Is At The Heart Of Everything She Does
With The Unique Space, Rasula's goal was to create a working environment that was both beautiful and comfortable so that people working in the building would actually want to spend time there, and also invite others into the space. The layout is designed for collaboration, with an beautiful, large kitchen that's perfect for hosting events and fostering social interaction.
"Most days around lunch time, you'll find the kitchen filled with people chatting and cooking lunch," Rasula says. "We also host workshops, wine tastings, and other events throughout the year to get people collaborating and interacting."
Encouraging and creating networking opportunities — both professional and personal — is important to Rasula.
"The best part [of my job] is hearing stories of how people met through an event at the space and went on to work together to create amazing projects and even businesses! It's all about creating experiences and opportunities for people to engage, connect, and meet IRL."
4. She Believes In The Power Of Local Business
The mission of Unique Markets and The Unique Space is to help small businesses thrive. And when small, local businesses are successful and growing, that has an undeniable positive impact on the community.
"When you purchase from a local business, that business pays local taxes that get spent on services and infrastructure that will benefit you and the community," Rasula says. "And as the business scales and has to produce more, local businesses hire more people, creating new local jobs."
Entrepreneurship is also an incredible way to give individuals autonomy, no matter their background.
"I hope my work will help people see that whether they work high up in tech or they don't have a college degree, they can follow their dreams and be a small business owner, an artist, a creator — they can make their own rules," Rasula says. "You create the world you want to live in!"
5. Her Best Advice To Aspiring Creatives? Collaborate.
When it comes to others looking to start their own small business or creative venture, Rasula believes in the power of working together.
"My best advice would be to align yourself with others doing similar things or who are like-minded and also just starting off," she says. "You will help one another grow and you'll all support and promote each other like a family."
This post is sponsored by the first-ever Lexus UX.