New Photos Of The 'Love Island' Villa Indicate There's Major Drama To Come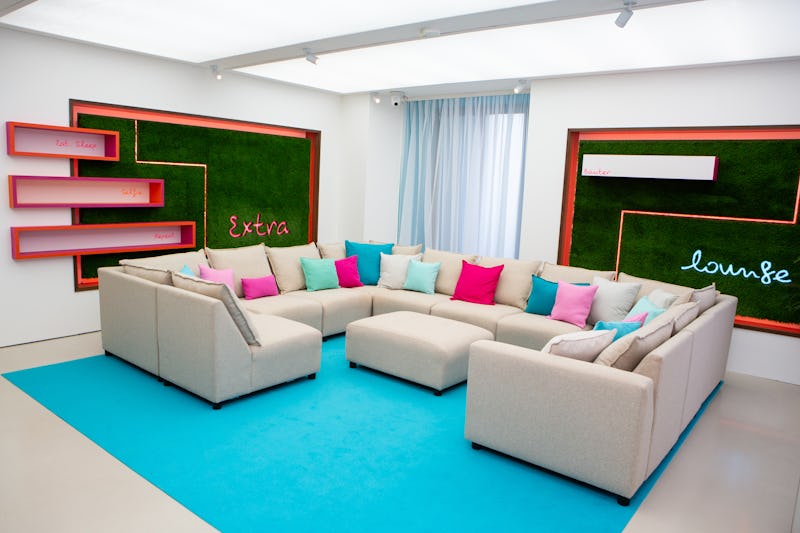 Love Island/ITV2
Those of us who are missing Kem and Amber, who long for bikinis, grafting, and gossip, are counting down to the next season of Love Island kicking off. It all starts on June 4 at 9 p.m.on ITV2, and I'm seriously excited. I've researched the contestants and cancelled every plan I have for the foreseeable future, and I'm ready. Desperate for further news on the show, you can imagine I was thrilled to see the pictures of the new and improved Love Island villa in Majorca. It's the same one as last year, in Sant llorenç des Cardassar, but has undergone a bit of a revamp.
So pleased, in fact, that I found a feng shui expert, and asked her what she, too, makes of the Love Island set-up. What does she think of the fun neon touches? (I'm obsessed with the signs saying "get grafting" and the "Yasss Queen" sign by the hairdryer). The abundance of hair straighteners? That insanely oversized couch? Good vibes, bad vibes, or no vibes at all? And now I've heard what she's had to say, I'm even more excited for the show —and planning on redecorating my house.
The new villa is certainly bold, and totally designed for fun and naughtiness. The use of colour in the staircase and entrance hall is enough to make me want to wear sunglasses just looking at the photos, and as for the bedroom: that is going to be one vividly coloured slumber party.
Jan Cisek is a feng shui expert with 30 years of experience. "The colours are happy, highly contrastive, and stimulating, with high energy. The bedroom looks a bit clinical with a white, clean look — which can only evoke some rebellious "dirty/naughty" thoughts and behaviours," he tells us. "The pop artwork behind the beds is fun, child-like, happy, as well as encouraging and permissive of anything."
He also notes that, "there is not a great deal of private, intimate space which for obvious reasons is a good design. It will encourage people to be creative and adventurous to find that private and tacked away space.
"From feng shui and environmental psychology perspective, homes need private and safe spaces to foster love and affection, but when it comes to TV shows we want to see everything. Depending on individuals, more introspective types will want to escape from that space and open spaces around the house will encourage that feeling. Extroverts will flourish," Cisek says.
The bathroom in the villa is one I can only dream of, and nothing has been neglected by the decorating team. "The triangle shapes in the hair-drying room are representative of the 'fire' element which boosts passion and beauty as well as erotism. Metaphorically speaking, triangles can encourage love triangles," Cisek says.
Fans will know that the pool is a big deal, and check out the hot tub, too. But as part of the new rules to Love Island this year, according to The Telegraph, there's to be no masturbation or total nudity. Even though there are some rumours this year will be more tame than others, you can still expect some scandal though, as Cisek says the pool's shape is relevant. "The T shape of the pool is great. It encourages polarity and tribal behaviour. The behaviours will become polarised and contradictory."
The whole outdoor space is gorgeous and perfect for chilling out in, holiday style. Cisek says it's going to be much needed. "The outside will offer a relief for the 'tension' inside."
Cisek's thoughts on the overall design have me seriously excited. "The overall design is quite angular/square as opposed to curvilinear/round, which should encourage some good conflict. Sharp corners, straight lines, and angles promote tension because they are perceived as harsh, agitating, and hard as opposed to round and oval shapes which are perceived as more caring, safe, sentimental, romantic and harmonious."
Tension and drama all round? Hurry up, June 4.