Irma Has Been Upgraded To A "Catastrophic" Category 5 Hurricane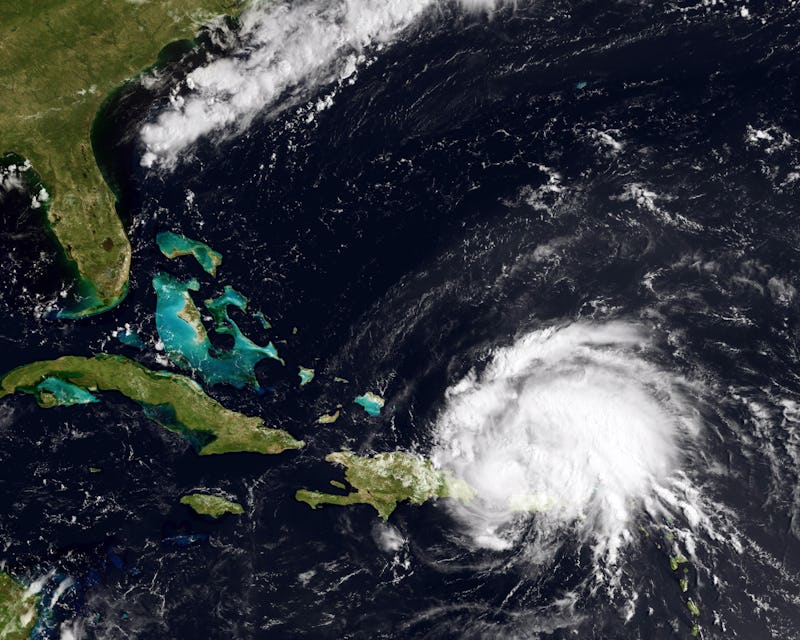 Handout/Getty Images News/Getty Images
Those hunkering down for Hurricane Irma in the easternmost Caribbean islands, the Leeward Islands, have now even more reason to be concerned. Hurricane Irma was upgraded to a powerful Category 5 storm with sustained winds of 175 mph — far above the cusp for the strongest classification. According to the National Hurricane Center, any hurricane with winds above 157 mph is considered a Category 5, one in which "catastrophic damage will occur."
The public advisories released from the hurricane center explain that the dangerous hurricane-strength winds stretch some 45 miles from the eye of the storm, and tropical storm-strength winds reach an amazing 140 miles out. The National Oceanic and Atmospheric Administration and the U.S. Air Force have sent aircraft out to track the storm, finding that "Irma continues to strengthen and maximum sustained winds have increased to near 175 miles per hour with higher gusts." And it's likely to stay that way, according to the advisory:
Irma is an extremely dangerous category 5 hurricane on the Saffir-Simpson Hurricane Wind Scale. Some fluctuations in intensity are likely during the next day or two, but Irma is forecast to remain a powerful category 4 or 5 hurricane during the next couple of days.
Those winds are most likely to affect where it first makes landfall: the Leeward Islands. That includes places like Antigua, Barbuda, and Saint Martin. There are already hurricane warnings in place for Puerto Rico and the U.S. Virgin Islands too, where effects will first be seen on Wednesday.
Storm surges could be as high as 11 feet for the U.S. Virgin Islands. Puerto Rico will see a more modest 2 to 4 feet, but the hurricane-strength winds will be something for the island to contend with on Wednesday. Tropical storm-strength winds could even arrive as early as Tuesday night. Heavy rains of up to 8 inches with scattered rainfalls of 12 inches could cause severe flooding too.
In essence, wherever Irma hits, destruction will be severe. According to the hurricane center, a Category 5 results in "catastrophic damage." "A high percentage of framed homes will be destroyed, with total roof failure and wall collapse," the agency explains. "Fallen trees and power poles will isolate residential areas. Power outages will last for weeks to possibly months. Most of the area will be uninhabitable for weeks or months."
That should come as sobering news to those in Florida, who are also wary of Irma's approach even if the storm's ultimate path remains unclear. According to The New York Times, there's still a chance the storm could head south of Cuba. Most predictions, though, including AccuWeather show Irma heading into the Gulf of Mexico, up main peninsula of Florida, or along the East Coast.
Florida is taking no chances. Gov. Rick Scott already declared a state of emergency on Monday. Now that Irma has been upgraded, that precaution may prove very prescient.