People Are Calling For A Boycott Of Ryanair After A Passenger Went On A Racist Rant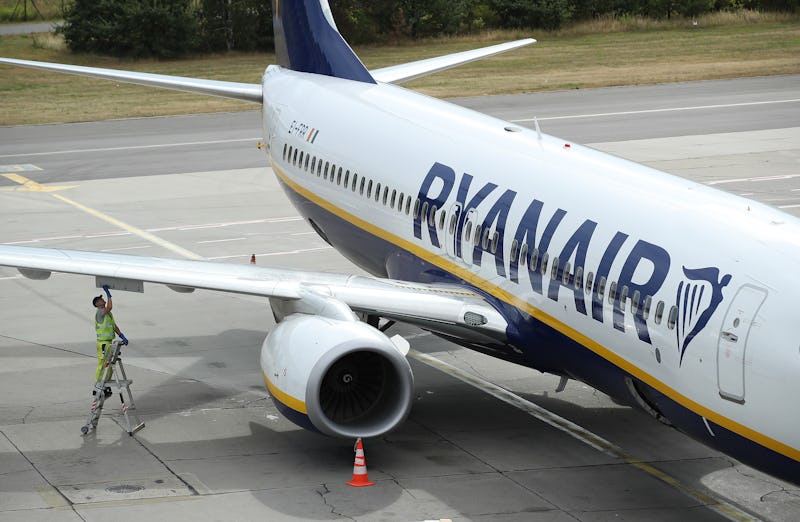 Sean Gallup/Getty Images News/Getty Images
Video of a male Ryanair passenger yelling racist insults at a woman and threatening to "push" her to another seat went viral over the weekend after being shared online by a fellow Ryanair passenger. But as disheartening as the incident is, it's Ryanair's handling of the racist rant that's sparked criticism and put the airline in the hot seat.
Passenger David Lawrence filmed a video on his phone showing a man yelling at a female passenger to move, causing the woman's daughter to angrily shout back that her mother is disabled and he should "give her a chance."
"I don't care whether she's f*cking disabled or not," the man can be heard yelling. "If I tell her to get out, she gets out."
The man continues to yell and berate the elderly woman, including calling her names. At one point in the video, he can be heard yelling at the woman, who is speaking English, "Don't talk to me in a foreign language." The man can also be heard threatening to get physical with the woman, who he appears to not want to have to sit next to. "If you don't go to another seat I'll push you to another seat," he tells her.
According to The Guardian, the incident happened Friday on Ryanair flight FR015 flying from Barcelona to London Stansted. And it's brought significant criticism down on Ryanair as airline staff opted not to remove the abusive passenger, but instead to ask the woman to change seats as the man had demanded. The airline has also come under fire for what many have characterized as a lack of response since the video went viral.
In a statement to Bustle, the airline says it reported the incident to Essex police but did not comment on whether it had a policy regarding disruptive passengers or if and how it trains its staff to handle such disruptions. "As this is now a police matter, we cannot comment further," a spokesperson for the airline tells Bustle.
In their terms and conditions, Ryanair states they can refuse carriage if a passenger's "mental or physical state or attitude, behaviour or demeanour, including your impairment from alcohol or drugs, presents a hazard or risk to yourself, to passengers, to crew, or to property."
In a separate section of their terms and service marked "conduct aboard aircraft," the airline also notes that they "may" take any measure they deem "reasonably necessary" to prevent the continuation of conduct that could "endanger the aircraft or any person or property on board" or "behave in a manner which we reasonably believe may cause or does cause discomfort, inconvenience, damage or injury to other passengers or the crew."
"You may be disembarked and refused onward carriage at any point, and may be prosecuted for offences committed on board the aircraft," Ryanair's terms and conditions read.
Amid criticism of how the airline handled the incident, many have called for a boycott. "Ok boycott @ryanair if they think it's OK for a racist man to abuse an elderly black woman and remain on the plane," British Labour Party politician and member of parliament David Lammy tweeted Saturday. "It's 63 years since Rosa Parks said 'No' to sitting on the back of the bus and we ain't going back."