'A Dog's Purpose' Will Bring The Tears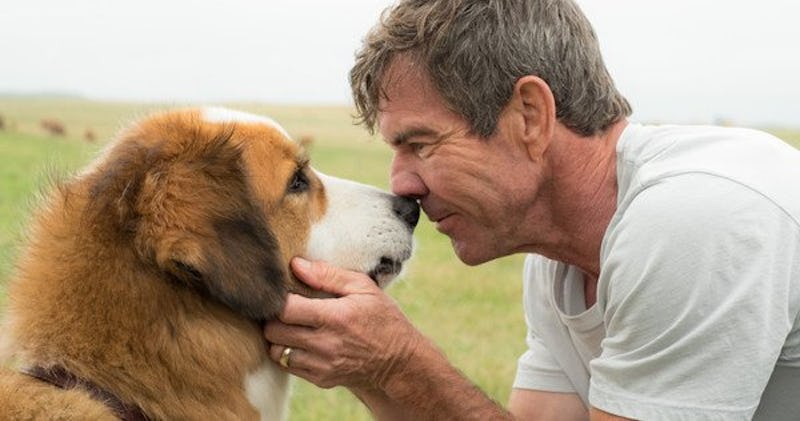 Universal Pictures
The one thing many of us can agree on is that Nicholas Sparks is pretty much the master of tearjerker stories. The movies made from his tales of love and loss, love and hard choices, love and amnesia, and love and other sad difficult stuff are the ultimate go-tos when you need to cry your eyes out and feel all your feelings. But there might be a new contender in the sad movies realm: A Dog's Purpose. And as the title might suggest, it's not about romantic love, but about the life-altering love between a pet and its person. But just how sad is A Dog's Purpose?
I think it's safe to say you'll want to double up on hankies for this one. A Dog's Purpose tells the tale of one dog's very long and exciting life (or lives) from the perspective of the dog itself, and it was based off of a book of the same name by W. Bruce Cameron. For many of us, even hearing "this is a movie about a dog" is enough to know that we'll probably cry, because, as Cameron said in an interview with CBS news, "When you adopt a dog, you have a lot of very good days and one very bad day."
As the trailer makes clear, it's no secret or spoiler that the titular dog in the story is more the "spirit" of one dog, who lives through many lives in many different dogs' bodies. Now, that means viewers get to see a variety of adorable dogs of different breeds — and in especially wonderful news, there's definitely major screen time for the puppy versions of the dogs. But yes, that also means that the movie includes dog deaths. As in multiple. As in, the heart wrenching sadness of watching a dog die will be repeated several times throughout this movie. At least we can thank the trailer for preparing us ahead of time, so that we can pack appropriately (a.k.a. bring waterproof mascara, multiple packages of tissues, and some water to stay hydrated).
And even the backstory about how Cameron came up with the story is enough to make you blame a whole pile of onions for your watery eyes. According to that interview with CBS, Cameron actually wrote A Dog's Purpose to help the woman he was in love with, Cathryn, get over the death of her own beloved dog, Ellie. "One day," Cameron said, Cathryn "turned to me and she said, 'I can never have another dog. I just can't do it.'" So he wrote her a whole book to help her grieve and lift her spirits. "With the book, I wanted both to comfort Cathryn and to convince her that the number one thing her dog would want is for her to get another dog," Cameron said.
Now, Cathryn and Cameron are married, they have a dog named Tucker, A Dog's Purpose and its sequel book are bestsellers, and the story is becoming a movie so that dog lovers around the world can share in the love and the heartbreak of having and losing a dog. And as a final emotional kicker, one of the incarnations of the main dog in the story is named...Ellie. Cue sniffles.
So yeah, I guess if you don't fall for treacly emotional beats, if Old Yeller did nothing to you, if dog movies just aren't your thing, then maybe you won't think A Dog's Purpose is that sad. But for everyone else, we'll be bawling our eyes out.