The 'Happy Death Day' Sequel Will Have Enough Funny Callbacks To Satisfy Fans Of the Original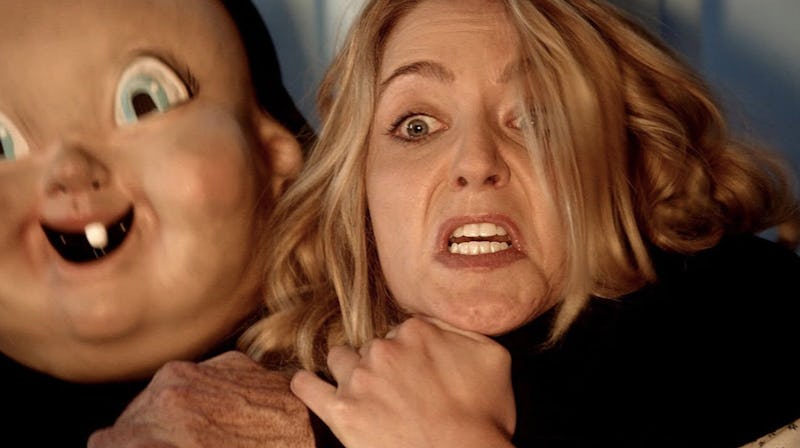 Universal Pictures
February is the prime month for Valentine's Day-friendly movies that are lighthearted and romantic. But the Happy Death Day sequel, Happy Death Day 2U, out Feb. 13, doesn't play by the rules. The awaited follow-up horror flick is the perfect date movie for those who love to be spooked. But if you're the kind of person who is really sensitive to horror, you probably want to know if Happy Death Day 2U is actually scary. Expect some gore, but at least there will be plenty of laughs to break up the creepy stuff.
The Happy Death Day movies aren't straight-up horror flicks. This one and the 2017 original tackle the genre with goofy humor and sarcastic wit. Think more Deadpool than Hereditary. The sequel will include plenty of intense moments, but you'll be laughing as much as you'll be screaming.
In the sequel, Tree (Jessica Rothe) finds herself experiencing the day of her birthday (and death day) all over again. The first movie reveals that her friend Lori was the original killer and is killed by Tree (a spoiler that already appears in the trailer for the sequel), there's now a new threat behind the creepy baby mask. Poor Tree can't catch a break.
But this time, Tree's not the only target. The killer wants her friends dead, too. To stop the loop, Tree's only option is to die multiple times in order to save her friends. Having to die over and over again doesn't quite sound fun, but Tree decides to make the best of the situation by coming up with absurd, humorous ways to do it. As seen in the trailer, one of her deaths is caused by jumping out of a plane, wearing a bikini and a huge grin.
Those scenes are fun for an audience to watch, and it turns out, the cast had just as much of a blast on set. In an interview with Flicks and the City, Rothe talked about reprising her role as Tree. "It is really a mind trip to step back into the same day again and there are a couple of really fun callback moments that [director Chris Landon] has woven into the script," she said. And yes, you can still expect to hear 50 Cent's "In the Club" playing over and over again.
But aside from those callback moments that fans of the series will love, this sequel feels so much more intense because there's so much at stake. Unlike the first movie, where Tree was the only one under attack, this time, she carries the huge responsibility of having to protect her friends. "It's very rare to find emotional stakes like that in a horror film and Chris, again, I have to sing his praises because not only has he written this script that's so funny and dark and twisted, and amazing, but it also has truly, truly heartbreaking moments, and moments of intense connection," she said in the same interview.
Happy Death Day 2U is a funny, tongue-in-cheek take on horror, but that doesn't mean it won't leave your heart racing.