Here's Why 'Lore' Will Be Scarier Than Ever This Season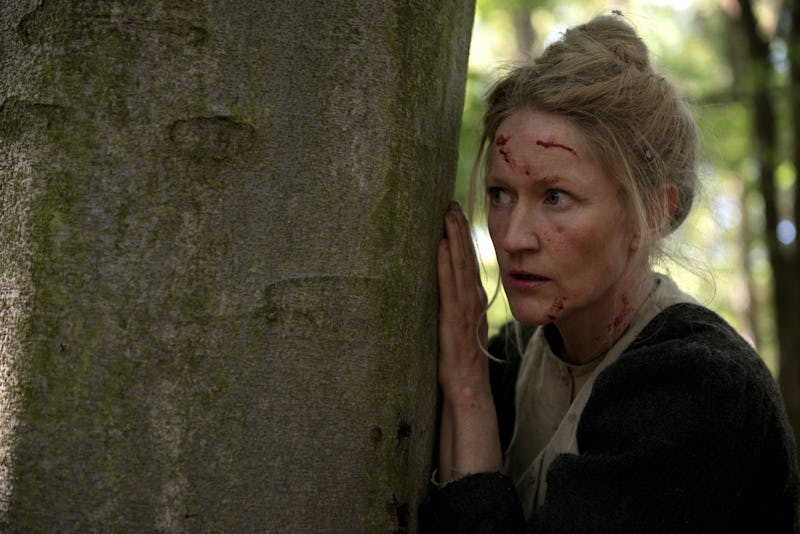 Julie Vrabelova
The scariest stories are true, according to the Amazon Prime show Lore, whose second season premieres Oct. 19 on the streaming platform. While Season 1 contained chilling stories about everything from werewolves in Germany to a haunted doll named Robert, Season 2 has six more unique tales to add to its anthology. So while it remains to be seen how scary Lore Season 2 is, it likely does contain some bone-chilling true tales.
The series is based on a popular podcast by Aaron Mahnke, who writes, hosts, and produces the audio show. And the fact that the podcast tells real-life stories makes it even spookier, because what's more terrifying than a story that has actually happened? The podcast is wildly popular and won the "Best of 2015" and "Best of 2016" iTunes awards as well as the Academy of Podcasters' "Best History Podcast 2016," per Lore's website.
Not only does the show have a five-star rating on iTunes, but it's now a franchise. In addition to the Amazon show, Mahnke also has a series of books, The World of Lore, which boasts three volumes: Monstrous Creatures, Wicked Mortals, and Dreadful Places. In other words, Lore is a big deal, and Season 2 promises to be no exception.
While Amazon Prime's first season received tepid reviews, its second one promises to be vastly different. "[P]eople really enjoyed [Season 1] but felt that following the podcast exactly was a bit distracting," Lore executive producer Gale Anne Hurd told IGN. "And rather than having narration, they really wanted it to unfold in a way that follows one central story that's completely character-driven." For that reason, there will be no Mahnke voice-over this year, which was a big part of Season 1, per IGN. This will distance the show from the podcast, as its similarities were one of the anthology's main critiques.
Another change this season? More financial backing. "Amazon was hoping we were going to go more cinematic, with a greater scope," Hurd said in the same IGN piece. "As you can probably tell, [Amazon] upped the budget this season in service of much longer episodes." More money will likely translate into better special effects and extravagant set designs, but hopefully this also means bigger scares.
Those aren't the only changes this season. Sean Crouch replaced Glen Morgan as Lore's showrunner this season, per Deadline. And it looks like Crouch had a grandiose vision for Season 2, telling Metro, "When I went to Amazon, I said, 'I would love to turn this into a show that I can't watch with my kids.' I want them to have that experience when they're 13, not when they're seven." The fact that Season 2 won't be kid-friendly is an excellent indication that audiences are in for some serious scares. "It's still set in the unscripted world, but it's all a narrative now," Crouch continued. "We're trying to make it scarier. Sure, we have more money and the production value is great, but it's all a smaller, simpler story."
So how will this "completely character-driven" new season shake out? According to the trailer, Lore Season 2 follows a girl whose lips are sewn shut, an accused witch, a rocket launch, and more. "This season is full horror," Crouch said in a Lore teaser. "Every single one of these stories is based in history." Episode 3, for instance, is called "Hinterkaifeck: Ghosts in the Attic" and follows a German family who was found murdered. The story's basis in reality makes it that much more terrifying. But is it scary enough? Thankfully, horror and Lore fans alike will only have to wait until Friday to decide for themselves whether Season 2 is appropriately spooky.