How Stormy Daniels' Life Has Changed Since Taking On Trump Is Hard To Imagine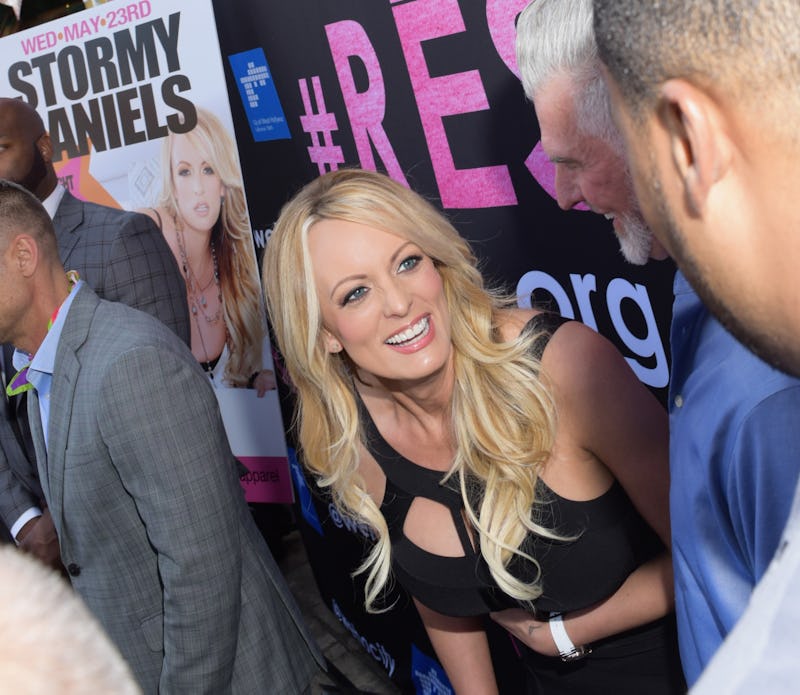 Tara Ziemba/Getty Images Entertainment/Getty Images
Life for an adult film director suing the president for defamation was never what you'd call average. But since taking on Trump, Stormy Daniels' life has changed dramatically, and not necessarily for the better, as she explains to Vogue's Amy Chozick.
Daniels alleges to have had an affair with the president in 2006, shortly after first lady Melania Trump gave birth to their son, Barron. She also claims that then-candidate Trump paid her hush money during the 2016 campaign to keep her story under wraps — a claim that the president's former lawyer, Michael Cohen backed up when he plead guilty to multiple campaign finance violations last week, indirectly referencing Trump as a co-conspirator. Trump has denied the affair as well any implication of legal wrongdoing as a result of Cohen's confession. But as the legal drama surrounding Daniels' alleged affair with Trump has escalated, so too has her public vilification.
According to Daniels, her former fans, white working-class men, who possibly voted for Trump in 2016, have abandoned her. "My fan base is completely different," she told Vogue. "Those guys are just gone." Also gone, are the merchandise sales she used to make with those same fans. In the past few months "I've sold like five naked pictures" she said. "I'm like, What is happening?"
Instead, Daniels' life is being threatened by people who want her to back down from her role as the president's main adversary in the court of public opinion. According to her, whenever she takes a few days off her strip-club tour, men wearing red trucker hats start showing up at her home in Texas because they want her to keep quiet. She said she regularly receives death threats, notes mailed to the clubs she's scheduled to perform at, and suspicious substances found in the gifts sent to her dressing room.
She apparently hired three bodyguards to provide security when she travels, because her safety is so often in jeopardy. "We've been at restaurants when we order food and it's taken too long or somebody was watching and we've had to leave—like that," she said in her interview. "That's why I'm so skinny!"
When a man attempted to take a photograph of Daniels' seven-year-old daughter, Daniels had to take her out of school and get her a tutor instead. In addition to targeting her family, the dangers have extended to being literally hunted down, she says. "We've been in a couple car chases," she told Chozick. "We've had people put notes under the door, which means they know what hotel I'm in, which means we've had to change hotels in the middle of the night."
Daniels, born Stephanie Clifford, has found herself as what she describes as "the lesser of two evils." "Trump or Stormy?" she says in the interview. "Well, if I have to pick one, she's got better hair." She and her lawyer, Michael Avenatti, have proven to be the perfect team ("Thelma & Louise" they say, in the interview), deftly manipulating headlines and media narratives to keep Daniels' case at the forefront of the Trump administration's many crises.
The threats and harassment Daniels is dealing with as an accuser lie in stark contrast to the security of the president, the accused, who some say would have already been indicted were it not for his office. But they are also emblematic of life as a woman in the porn industry, according to Vogue. Alana Evans, a fellow adult-film star told Chozick, "If Stormy prevails and wins that lawsuit, she will absolutely go on with her life, but she will always be looking over her shoulder."