The Groundbreaking Way The 2018 Winter Olympics Will Combat Sexual Assault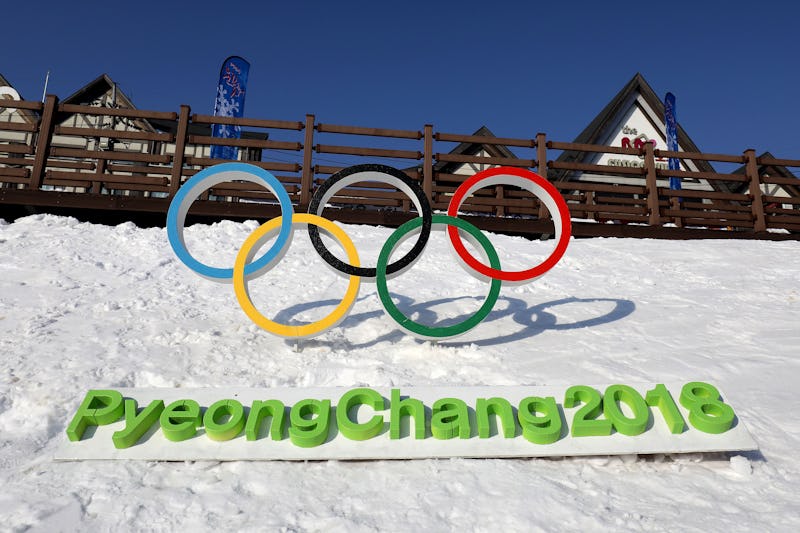 Chung Sung-Jun/Getty Images Sport/Getty Images
From the film industry to sports, women have sparked a discussion around combatting sexual assault across the globe. After a former USA Gymnastics doctor who'd worked with the team for four Olympic Games admitted in court last year that he used his position to sexually abuse underage girls, athletes' safety became even more of a concern. The international sports community began taking sexual harassment and assault more seriously in recent years, and clear steps are being taken to combat sexual assault at the 2018 Winter Games in Pyeongchang, South Korea.
For starters, four sexual violence counseling centers will be set up at the 2018 Games to provide counseling, medical care, legal advice, and help making a police report, according to Mic. It'll be the first time in the history of the Olympics that those resources will be available — and not just for athletes, but for anyone in the area during the Winter Games. Kwon Eun-jin, head of women's welfare at the Gangwon-do Provincial Office, told Mic that her Korean province will pay for the centers.
"We heard from the International Olympic Committee that 1.2 million people — athletes, press, and operation personnel — will be coming to the Pyeongchang Olympics," she told Mic through a translator. "That number is huge. So, we thought a clinic to address sexual violence, sexual harassment and prostitution was necessary."
As for the International Olympic Committee (IOC), it had updated its consensus statement on abuse in 2015 with research on the different types of abuse, how abusers target athletes, and the impact of that abuse on athletes. The following year, the organization created a framework for safeguarding athletes for the first time ahead of the 2016 Summer Olympics in Rio de Janeiro.
The framework for the 2018 Winter Games states that an IOC safeguarding officer will be at the Olympic Village again this year to document reports of abuse, determine whether a follow-up is necessary, and decide whether to turn reports over to the IOC Disciplinary Commission and/or local authorities. A section of the IOC's integrity and compliance hotline was also designated to address harassment and abuse ahead of 2016. According to the hotline's website, people who call can request that their report remain anonymous. The safeguarding officer will handle all reports of harassment and abuse, according to the framework.
As for preventing abuse at the Games, the IOC plans to hand out educational materials concerning abuse to all athletes and their entourages to raise awareness. A free online course titled "Safeguarding Athletes from Harassment and Abuse" is also available as part of the IOC's Athlete Learning Gateway alongside courses on sports medicine, sports nutrition, and sports psychology. Notably, that 45-minute course is not mandatory, but is "strongly recommended" for athletes, coaches, and organization members, the IOC tells Bustle via email.
In November, the committee also released a toolkit for National Olympic Committees (NOCs) and International Federations (IFs) to better protect athletes from harassment and abuse, as each country's Olympic committee is responsible for establishing and enforcing its own policies. The 106-page document recommends that sports organizations update their code of ethics to reflect that abuse won't be tolerated and to institute policies that combat abuse, create channels for athletes to report abuse, and determine who is responsible for assessing those reports.
"Safeguarding athletes should be ingrained into the psyche and governance of all sports organisations," HRH Prince Feisal, chair of the IOC prevention of harassment and abuse in sport working group, says in the document. "By following the steps in this toolkit, we hope that all sports organisations will implement policies and procedures which are effective, and have a true long-lasting positive impact on athlete wellbeing."
The increased attention to sexual harassment and abuse began before Larry Nassar pled guilty to charges that he sexually abused underage girls while serving as a USA Gymnastics team doctor, but his trial brought more attention to the abuse athletes may face while competing. Three members of the "Fierce Five" 2012 USA Gymnastics team and one new member of the 2016 USA Gymnastics team, along with more than 100 other women, accused Nassar of sexual assault. In her testimony before the court Jan. 19, Aly Raisman called out USA Gymnastics and the United States Olympic Committee for their failure to remove Nassar sooner. He was sentenced to 60 years in federal prison on child pornography charges in December and has not yet been sentenced on sexual misconduct charges.
Nassar wasn't the only bad seed in the world of Olympic sports, either. Former Canadian Olympic Committee (COC) president Marcel Aubut was also accused of sexual harassment and an independent probe found in 2016 that more than 100 staff members either experienced or witnessed harassment. "We should have done better," COC president Tricia Smith, who replaced Aubut after he stepped down in 2015, said at the time.
The IOC is also currently investigating allegations of sexual assault and harassment made against Alex Gilady, vice chairman of the panel overseeing the 2020 Tokyo Olympics. Gilady said in November that one of the accusations was "mainly correct" and apologized. "In each of these cases, there was no intention to harm, and if my conduct caused mental anguish, I am deeply sorry," he said.
As with attempts to eradicate sexual harassment and assault in any industry, real change takes time. The IOC's toolkit to better equip each country's Olympic committee to protect its athletes came out just three months before the 2018 opening ceremony, leaving little time for those organizations to evaluate and reshape how they handle reports of abuse ahead of the Winter Games. Nevertheless, more is being done to combat sexual assault in Pyeongchang than athletes saw at the last Winter Olympics in 2014.