The Story Of How The Alleged College Admissions Scam Unraveled Is So Wild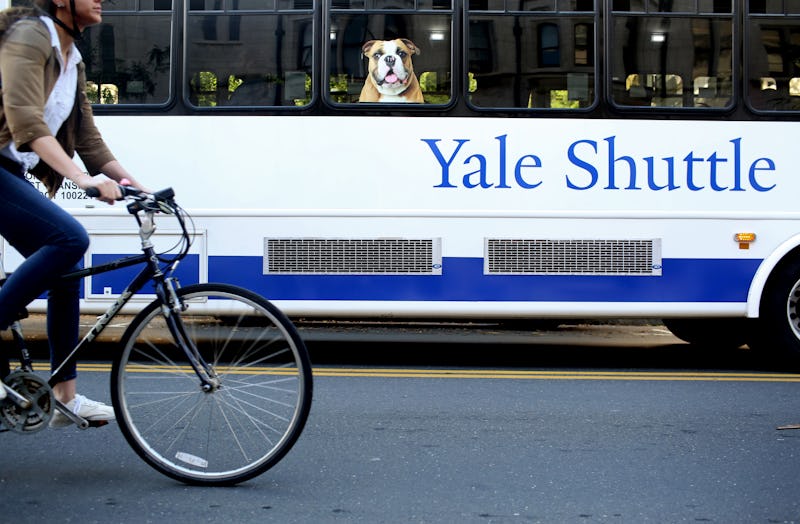 Yana Paskova/Getty Images News/Getty Images
A new report by The Wall Street Journal reveals how the college admissions scandal supposedly began — and the story is pretty wild. According to the publication, a financial executive named Morrie Tobin offered up information to federal authorities about an alleged bribery scheme with a Yale coach; he reportedly did this as a way to gain leniency for a securities fraud case investigation he was involved in. Tobin has not been charged in the admissions scandal, per the publication.
According to his profile on Bloomberg, Tobin has most recently worked as the executive vice-president of corporate development at Segami Images, Inc; he's also a Yale alum, per his bio. Bustle has reached out to Segami Images for comment from Tobin.
As for the Yale coach in question, former soccer coach Rudy Meredith, he has been charged with conspiracy to commit wire fraud, honest services wire fraud, and honest services wire fraud, according to NBC Connecticut. The Wall Street Journal further reports that Meredith has since pleaded guilty to two counts of wire fraud. As for Tobin, the publication notes that he has pleaded guilty to one count of conspiracy to commit securities fraud and one count of securities fraud. He will be sentenced in June.
According to The Wall Street Journal, Meredith and Tobin met in a hotel room in an apparent sting operation in April 2018, where Meredith allegedly told Tobin he would add Tobin's daughter to his "roster" of recruits in exchange for $450,000.
News of the college admissions scandal first broke Tuesday, when federal prosecutors charged 50 people, calling it the "largest college admissions scam ever prosecuted by the Department of Justice," per The New York Times. Of the 50 people charged, The Times reports that 33 of them were parents (including big names like Lori Loughlin and Felicity Huffman), 10 of them were coaches, and the rest were facilitators, employees, and individuals who were otherwise involved. No students were charged in the case. You can read the full list of people charged in the alleged scheme in this list by The New York Times here. Bustle has reached out to Loughlin and Huffman for comment.
Since the case broke, one coach has been fired, three have been placed on leave, and others are facing various disciplinary consequences. What's going to happen to those 33 parents will range, The New York Times reports, based upon how much they allegedly paid and whether or not they plead guilty to their charges.
The publication further explained that prison sentences, if it gets to that, will vary based on the level of payment allegedly exchanged. If a parent is convicted of fraudulent payments near the amount of $75,000, they might get 12-18 months in prison, but if a parent (like Loughlin) is convicted for paying closer to $500,000 in a fraudulent activity, that prison sentence could be more like 30 months.
Meanwhile, other parents who used the college counseling services of William Singer, the alleged ringleader of the scheme, have spoken out about how shocked they are with the whole situation. One big name is pro golfer Phil Mickelson, who used Singer's for-profit prep company and claimed that he never received any offers of bribery, per The New York Times. His daughter is now at Brown. To reporters on Thursday, via The Times, Mickelson said, "We're probably more shocked than anyone." Bustle has reached out to Singer for comment on the allegations.