How The Daughter Of Sandy Hook's Principal Is Taking On Trump, 140 Characters At A Time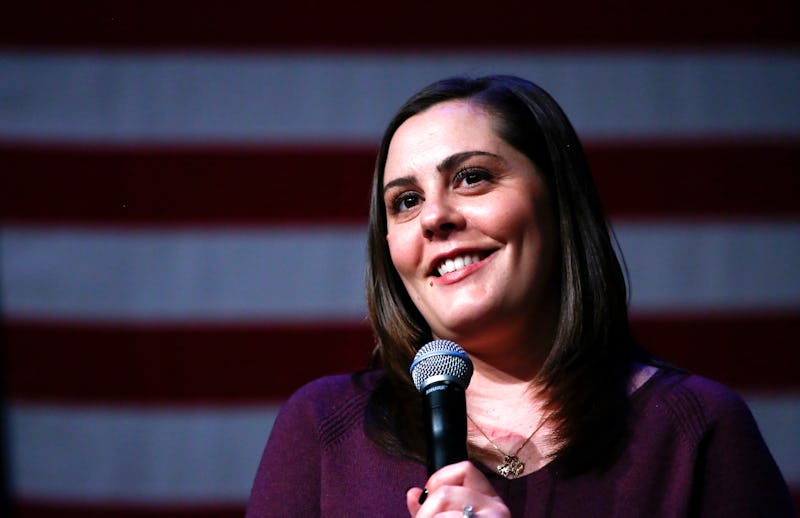 KENA BETANCUR/AFP/Getty Images
Erica Lafferty was sure the horrific shooting at Sandy Hook Elementary School that took the lives of 20 children and six educators — including her mom, Dawn Lafferty Hochsprung, the Principal of Sandy Hook Elementary School — would mark a turning point in America's debate over gun control. But reform has stalled, and nearly five years and more than 1,700 mass shootings later, she's using her anger to fuel the fight against the politicians who offer little more than thoughts and prayers to stem the epidemic.
"I can hear my mom's voice in my head, like 'Get up and do something, kid,'" Lafferty tells Bustle. "Wallowing in my sadness, wallowing in the fact that my mother was murdered nearly five years ago, isn't going to change anything. What will change something is me being the obnoxious girl on Twitter, harassing people to call their Senators, to speak up about this issue."
Lafferty's mother, Dawn, died lunging toward the shooter in an attempt to take him down and save her students. Lafferty is honoring her mother's legacy with speaking engagements around the country, rallying for change on behalf of Everytown for Gun Safety, where she serves as partnerships manager.
"I can hear like my mom's voice in my head, like 'Get up and do something, kid.'"
"What will help is me speaking out at rallies and signing petitions and putting myself out there regardless of the nastiness and hate that gets kicked back on me," she says. "All of that is absolutely worth it if I take part in helping to save at least one life."
As Americans woke up to news of the deadliest mass shooting in American history that took place late Sunday at Route 91 Harvest, a music festival, Lafferty took to Twitter, pressuring President Trump to take action beyond extending his "warmest condolences" to victims and their families. Absent an in-person meeting with most powerful person in America, Lafferty is speaking out about how she would change the nation's gun laws, starting with universal background checks on all gun sales, including firearms purchased online, at gun shows, and from private sellers.
"This is the second time in two years that we have heard the deadliest mass shooting in modern history — not even two years," she says. "That can change with law, that can change with executive order. The families that have been impacted by the shooting in Las Vegas deserve that."
On a visit to Las Vegas Wednesday, Trump commended the heroism of victims and first responders and pledged his "100 percent" support. Asked by a reporter about gun violence in America, Trump responded, "We're not going to talk about that today." It was a sentiment his press secretary, Sarah Huckabee Sanders, had expressed two days prior.
Those comments set off a familiar rallying cry among gun control advocates, including Everytown for Gun Safety and Moms Demand Action for Gun Sense in America, who say it's not too soon to talk about gun violence and point out that for many, it's too late.
"They are coming up on some of the worst days of their entire lives in having to bury family members, in having to recover from gunshot wounds, some not even able to recover because they've had life-altering injuries," Lafferty says of the families of the 58 people killed and of the nearly 500 people injured in the Las Vegas shooting. "It may be too soon for them to physically do something themselves, but it is absolutely not too soon for the rest of the country to rally around what stripped them of their lives and fight for them."
Late Wednesday night, Republican lawmakers signaled they would be willing to discuss a ban on bump stocks, the accessory found on firearms used by the Las Vegas shooter to modify his semi-automatic weapons into fully automatic ones. While modifying a semi-automatic gun into a fully-automatic is illegal, the accessories used to do it can be bought legally. (New, fully-automatic weapons have been banned for civilians since 1986; ones made prior to that date are legal to own but expensive to buy.) In response, the NRA called for a federal review to determine whether bump stocks comply with the law, signaling an openness to additional regulations while demonstrating a preference for seeing them developed by the Bureau of Alcohol, Tobacco and Firearms instead of lawmakers.
"When two mass shootings force you to delay a bill that would make those mass shootings harder to detect and stop, maybe it's a sign to let go of the bill once and for all."
Earlier this week, the House shelved a bill that would have made it easier to purchase gun silencers. Advocates had argued for it's potential to protect the hearing of firearms users. After the violence in Las Vegas, many pointed out that the sound of gunfire alerted hundreds of concert-goers to flee and helped law enforcement locate the shooter. This is at least the second time the bill stopped short of getting a hearing on the House floor: It had been scheduled for June 14, the day a gunman attacked a group of Republican lawmakers on an Alexandria baseball field.
"When two mass shootings force you to delay a bill that would make those mass shootings harder to detect and stop, maybe it's a sign to let go of the bill once and for all," Senate Minority Leader Chuck Schumer said Tuesday.
For Lafferty, changing the political landscape calls for a big public push, but she worries the steady stream of gun violence will leave lawmakers jaded and the public numb — something she struggles with herself.
"I'll hear the news and my first thought isn't, 'Oh my God, those poor families,'" Lafferty says. "It's how many, how many people were dead, how many people were injured. ... I have to fight for them to not become statistics."
As attention focuses on a shooter whose motive remains unclear, Lafferty is determined instead to remember the lives of the victims and the pain of their families. Together, she hopes, they can learn to live with their grief — and keep someone else from feeling their pain.