This Counseling Method Is Helping Liberals & Conservatives Tolerate Each Other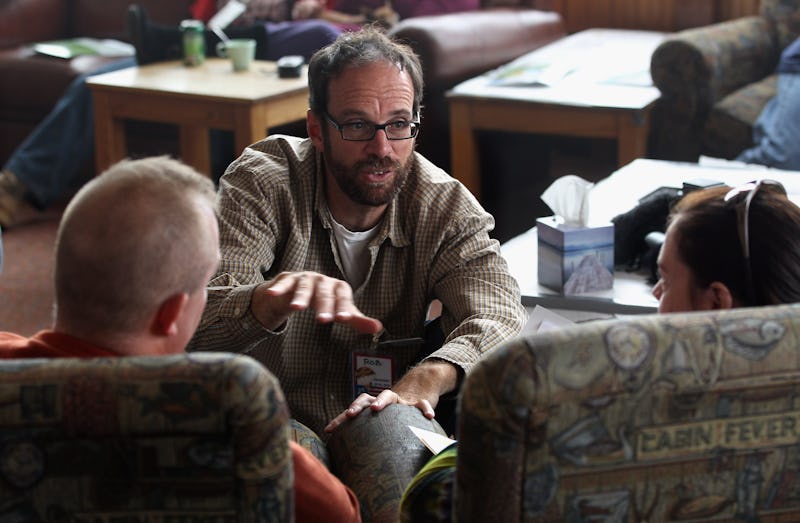 John Moore/Getty Images News/Getty Images
During and after the 2016 presidential race in the United States, various political and social analysts observed steep ideological chasms between Democrats and Republicans. Later on, their observations were corroborated by a study conducted in October by the Pew Research Center. Ultimately, the study suggested that the partisan division between liberals and conservatives was at its highest point in American history. Addressing this gap, one group is using a counseling method to bring Democrats and Republicans closer.
In a report published by NPR on Saturday, a group known as Better Angels is trying to bring liberals and conservatives to a common ground by using a well-known counseling method usually reserved for disgruntled couples. In other words, a technique traditionally employed to save marriages is being repurposed to bridge the deepest political divides in America. And the results suggest it's working.
The report detailed one of the sessions held by the organizers in Brentwood, Tennessee, where six Republicans sat in an inner circle and seven Democrats sat in an outer circle surrounding their conservative peers.
In this session, the inner group reportedly voiced their views to each other while the external group quietly listened and took notes. A facilitator from the group asked the inner group to ask each other about aspects of their ideological peers that unsettled them. The conversation went on.
In doing so, Better Angels used the fishbowl counseling technique. As its primary goal, the fishbowl technique is meant to provide an honest group discussion where two sub-groups form. The inner circle is the group that talks while the outer circle is the group that listens and can ask questions later on. The outer group cannot interrupt the inner circle's conversation and can only take notes while the members talk to each other. The inner group is supposed to carry an honest conversation among itself. The idea behind the fishbowl approach is to offer an alternative to fiery debates and controversial panel discussions where tempers may flare.
The main philosophy that seems to be guiding Better Angels is one directed at unity. The group's "pledge" details four points. Firstly, the network says that it commits to understanding a political position before judging it. Secondly, the group seeks to engage with opponents as opposed to ostracizing them. Thirdly, it says that it supports "leaders and policies aiming to bring us together rather than divide us."
Lastly, Better Angels says it commits to using social media to impart thoughtful empathy and "not anger and mistrust." In similar fashion to Better Angels, websites like Brooklyn-based Kialo are trying to facilitate self-proclaimed "thoughtful" discussions for divisive questions, such as "is gender a social construct?"
Better Angels' pledge may help bring people closer in a country where liberals find pro-Donald Trump fans repulsive, according to a a July Pew Research Center study. At least 47 percent of liberals said that they would feel a "strain" on their friendship if they found out that their friend supported Trump. On the conservative end of the political spectrum, the repulsion expressed by right-leaning Americans seemed to be lower with 13 percent saying they would feel negatively toward a pro-Hillary Clinton friend.
According to the report, the group has conducted 40 workshops across the politically fragmented American landscape since 2016. And it doesn't seem to have plans to put a pause to it efforts. Some of its attendees have even expressed changes in their political paradigms. One of the participants of the group from Ohio, Greg Smith, told NPR that Better Angels' workshops positively changed his views. "I was what one might consider a real hardcore conservative. And just kind of immovable," he said.
Through the workshops, Smith met a Muslim and formed a friendship with him. Now they both socialize together with plans to visit each other's places of worship. "It's been an eye-opener. I've actually changed my viewpoint of some people, even President Obama," Smith said. Perhaps with Better Angels' continued efforts, ideological adherences may soften and common themes of humanity may bring Americans closer.