How The GOP Health Care Bill Would Make Sure Poor Women Stay Poor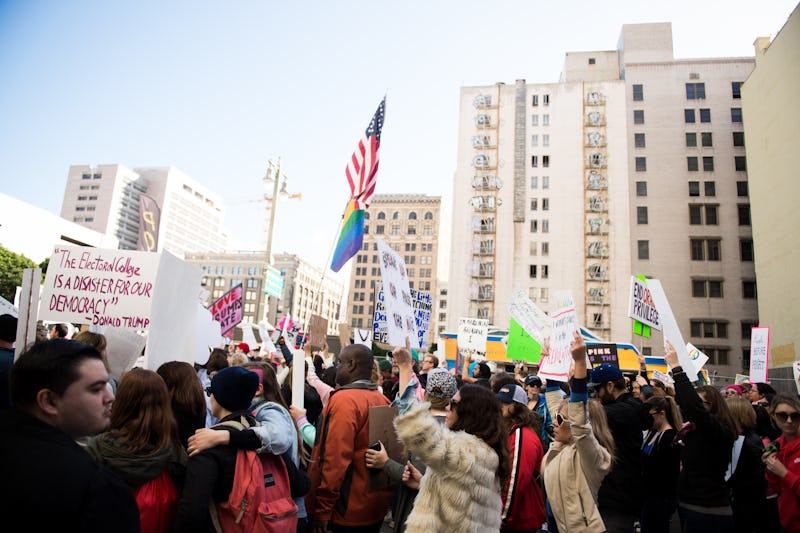 Emma McIntyre/Getty Images Entertainment/Getty Images
There are plenty of concerns about the Senate version of the Obamacare repeal bill, but perhaps one of the most alarming aspects is how the health care bill would disproportionately impact low-income women. The 142-page draft of the Better Care Reconciliation Act of 2017 (BRCA) contains language that would make huge cuts to Medicaid, pull federal funding from Planned Parenthood clinics for a year, and gut requirements for insurance companies to cover maternity care and emergency services.
Undoubtedly, the effects of these changes will affect the lives of many Americans, regardless of gender, race, sexual orientation, or even class. However, the proposed cuts to Medicaid combined with defunding Planned Parenthood for a whole year (at least) would place a huge economic burden on working class women, a demographic that already struggles for mobility.
According to the Planned Parenthood website, in one year alone, Planned Parenthood centers provide birth control for nearly 2 million people, over 310,000 breast exams, over 4.2 million STD tests and nearly 295,000 Pap tests. Cutting funding, even just for a year, will greatly cut into all of these services.
According to a May report from the Congressional Budget Office, removing federal funds from Planned Parenthood would cause as many as 15 percent of low-income and rural women to lose access to birth control, cancer screenings, and any form of family planning.
In effect, the GOP health care bill would block Medicaid from reimbursing Planned Parenthood for health care services for low-income women, which would force as many as 2.5 million patients to seek out health care elsewhere. This deals a huge financial blow to women with no affordable nearby clinics, as well as women with no money for out-of-pocket costs. Unfortunately, there is a lot of overlap between these two groups.
In a Huffington Post report, Kathleen Sebelius, the former Secretary of Health and Human Services shared her concern over the effects of restricting women's health care access, most notably in the inevitable uptick in unplanned pregnancies.
"In the seven years since the Affordable Care Act has been passed, women have had access to contraception, including the whole range of services that the FDA has authorized. And when teenagers for the first time could qualify for preventive care, which included contraception, the numbers of unplanned pregnancies and the numbers of abortions and the numbers of teen pregnancies have dropped dramatically in this country," she said.
The findings from a 2010 paper from Boston University suggest a link between unplanned pregnancies and a 25 percent decreased chance of labor force participation. In effect, these findings suggest that unplanned pregnancies play a large role in women's sustained income inequality.
A 2012 study from Brookings Institute backed up these claims, also suggesting that unplanned pregnancies contribute to generational poverty, and limit women's education opportunities.
While considering the economic repercussions the GOP health care bill presents for women, it's also worth recognizing that as many as 45 percent of pregnancies in the U.S. are unplanned, according to a 2016 report from Guttmacher Institute.
The health care bill also includes a mandate that will no longer require insurance companies to cover maternity leave and emergency services. Which means that women who become pregnant could potentially lose their jobs if they can't get help with childcare in the months following the birth. Cutting emergency services affects employees across the board, particularly low income employees who can't pay out of pocket. However, it will place yet another burden on women in the workforce who statistically get paid less.
While the health care bill will affect millions of Americans, regardless of gender, it's particularly scary to reflect on what this bill could mean for women — particularly low-income women — across the nation.