How The WNBA Started A Movement For LGBTQ Inclusivity In Professional Sports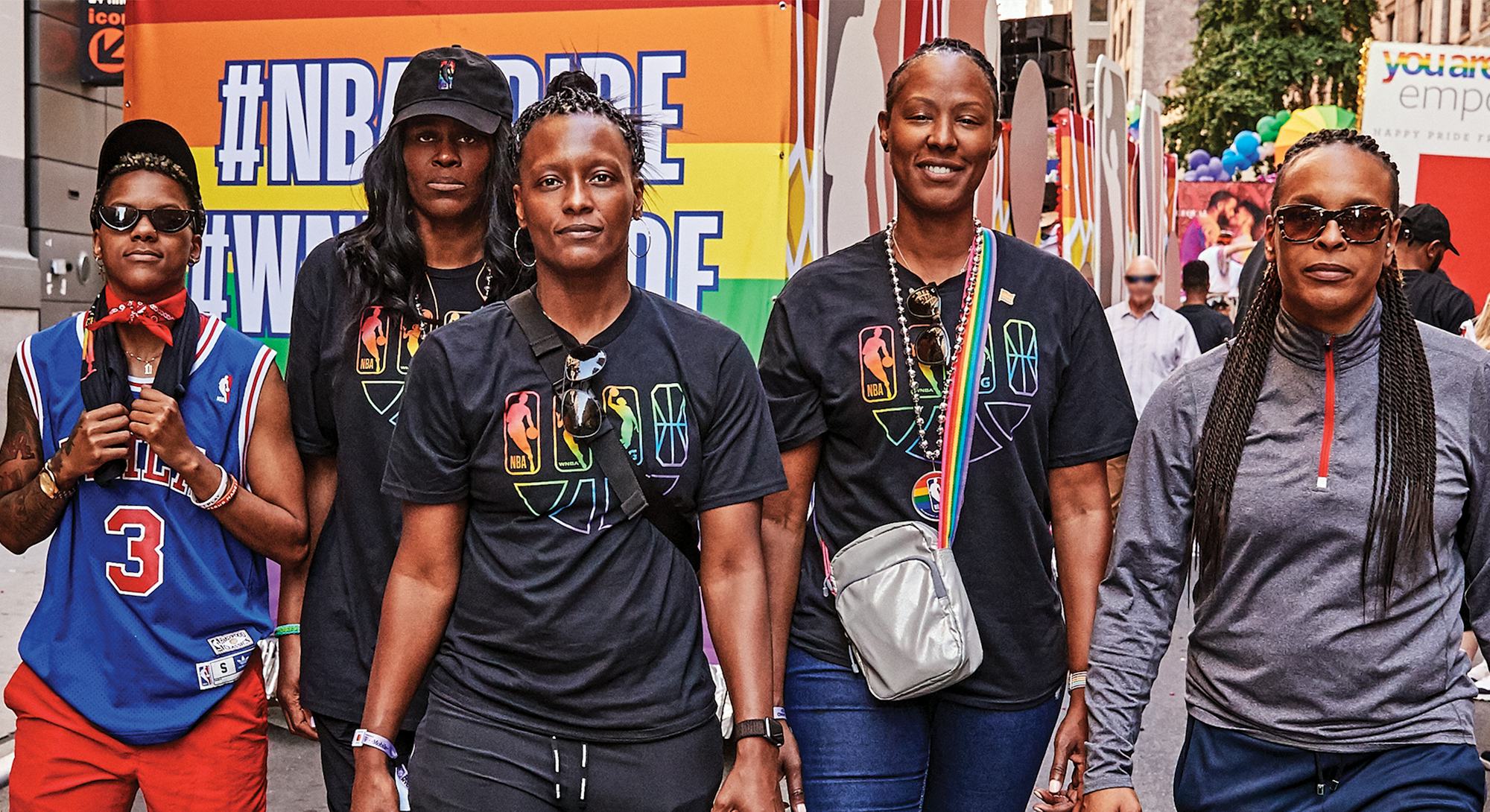 From left to right: Courtney Williams of the Connecticut Sun, former WNBA player Taj McWilliams-Franklin, former WNBA player Ashley Battle, former WNBA player Chamique Holdsclaw, and former WNBA player Teresa Weatherspoon. Photo: Pete Williams/Bustle.
This June, some of the biggest teams in professional sports participated in Pride Month for the first time ever. Over two-thirds of NBA teams, including the Boston Celtics and Los Angeles Lakers as well as every WNBA team, hosted events that catered to LGBTQ fans throughout the year, and all but two professional baseball teams held events that recognized a community making up a sizable portion of the population.
These efforts proved successful: One baseball team's Pride Night was its most attended home game since 2012, with the team reporting 12,000 fans were there specifically to celebrate the special event. And sure, while an increase in ticket sales is nothing to sneeze at, the most noteworthy accomplishment can't be overlooked: A hopeful trend of inclusivity is emerging within professional sports, and women are leading the charge ― specifically the Women's National Basketball Association, aka the WNBA or, more affectionately, "the W."
"What's so amazing about the W is that we just show support for any type of person," Stefanie Dolson of the Chicago Sky tells Bustle. "I think we have been trailblazers when it comes to showing support for the LGBTQ community."
Dolson is right: WNBA teams have hosted LGBTQ-focused events since the earliest days of the league's more than 20-year history, and in 2014, alongside a major cosmetics brand, the WNBA launched WNBA Pride as a new national platform celebrating inclusion and equality while combating anti-LGBTQ bias. In 2016, the WNBA and NBA began marching together in the New York City Pride March, making both leagues the first pro sports leagues ever to march in NYC Pride. The following year, the WNBA's New York Liberty became the first professional sports team to march with its own dedicated float, and it wasn't until 2018 that other prominent leagues followed suit by participating in the march.
In this year's WorldPride celebration — which coincided with the 50th anniversary of the historic LGBTQ Stonewall Riots the week of June 28, 1969 — the WNBA's presence was even more prominent. Millions of onlookers lined the streets of the parade route, celebrating with cheers as the league's float drove by. Marching alongside and aboard the float were current and former WNBA and NBA players who are openly LGBTQ or allies, and throughout the march's route players ushered in a celebratory energy as they waved rainbow and trans flags and tossed out Pride-themed towels to attendees cheering their names. Among the march participants and attendees, the energy in the air felt like a meaningful high point after more than two decades of the WNBA's unwavering and increasing support for the LGBTQ community.
It was in 2001, just five years after the league's launch, that WNBA teams started openly courting LGBTQ fans with community-based acknowledgments and celebrations. The Los Angeles Sparks was the first team in any professional sports league to create space for LGBTQ fans during the nationally celebrated Pride month of June. The Phoenix Mercury and Minnesota Lynx soon followed with their own Pride recognitions, and by 2014, all 12 teams were hosting annual Pride games as part of a national campaign celebrating inclusion and equality while combating anti-LGBTQ bias.
These days, the impact of the WNBA has extended beyond the court. Several current and former players have participated in Jr. NBA Coaches Forums, which create space for youth basketball coaches to speak candidly about inclusivity in youth sports, plus give tangible steps for coaches to ensure they're creating safe and inclusive environments for their athletes. Just in giving these programs a place to exist, the WNBA has paved the way for players to welcome a fandom of inclusivity, and fans such as Mika Brown have taken notice.
"[The players are] using their platforms for all the right reasons," says Brown, who's been watching the WNBA since its launch in 1996. "They've been given this audience, and instead of doing what some other athletes do and using it for self-gain, they're stepping out into the community and they're showing their faces — and I think they're saving lives because of it."
Brown could very well be right. Like any professional athlete, WNBA players have had to grapple with how they use their individual platforms. Natasha Cloud of the Washington Mystics, for one, recently spoke out about gun violence, staging a media blackout to raise awareness for shootings happening around Washington D.C. "I think as a professional athlete, we inherit some responsibilities whether we like to take on those roles or not," she says. "Coming out, that kind of makes you an ambassador for a community and a public figure for that community. So that was always in my mind as well: Being a strong role model, being secure in myself and in my relationship, to represent a larger community."
For figures such as Chamique Holdsclaw, former WNBA Rookie of the Year (1999), All-Star (1999–2003, 2005) and All-Time Scoring champion (2002), watching a new generation of players like Cloud bring their whole selves to the game is telling of a new, bigger movement that wasn't as prominent while she was playing in the league.
"They inspire me," she tells Bustle among the excitement at WorldPride. "They are who they are. It sends chills through my body." Holdsclaw came out in 2012 and has since been active in speaking on LGBTQ issues as part of the WNBA family. "It's just important to be given the opportunity to show my face, to share my journey and story, and hopefully inspire others and use my platform to create understanding," she says, almost alluding to a previous generation where today's level of visibility and acceptance wasn't always the case.
In the past, LGBTQ athletes have been concerned about coming out for fear of losing opportunities and facing discrimination. But with cultural competency and social acceptance on the rise, Cloud says she feels the pull to show up not just for herself, but for young women who can see themselves in her and her basketball peers.
"At the end of the day, I'm much bigger than just my relationship and my sexual preference," Cloud says. "So yes, I think it's huge for us to be out and be open, and to live in my truth, but we have a lot more to give than just our relationships and being out."
Atlanta Hawks forward Jabari Parker also participated in WorldPride alongside the WNBA, where he says he sees the women of the league as brave.
"They're at the forefront of this," Parker says. "They make it cool to wear it across their chest, and it's a great thing for everybody. I'm proud to say that women are a lot stronger when it comes to this kind of thing, so I applaud the WNBA."
Brown echoed Parker's sentiments from a fan perspective. "I think they're giving little girls and little boys everywhere role models, and I think it's brave," she says. "They're being really brave in a time when it's not so easy to be brave."
Instead of closeting LGBTQ players and coaches and ostracizing LGBTQ fans, the league has not only embraced the community, but offered the kind of support that has never before been afforded to professional athletes and their audiences. And although other leagues have followed in the WNBA's historic footsteps — like offering Pride nights every June — the WNBA's history of actions and events that cater to both LGBTQ people and allies is only being improved upon in the present. With a new generation of players feeling more and more comfortable to be open and expressive about who they are as human beings, fans are feeling a personal connection to the game they may have not been been afforded elsewhere ever before.
Cloud sums it up best: "I feel like the WNBA is for everyone to just be themselves, and within our league you can find a diverse bunch of women that fit every type of criteria," she says. "I've always felt our league was super inclusive of everyone and accepting of everyone." And with this kind of acceptance and inclusion happening in the present, it's nearly impossible not to be excited about the future of the league.
This post is sponsored by the WNBA.