8 Hacks For Dealing With That Negative Thought That Won't Get Out Of Your Head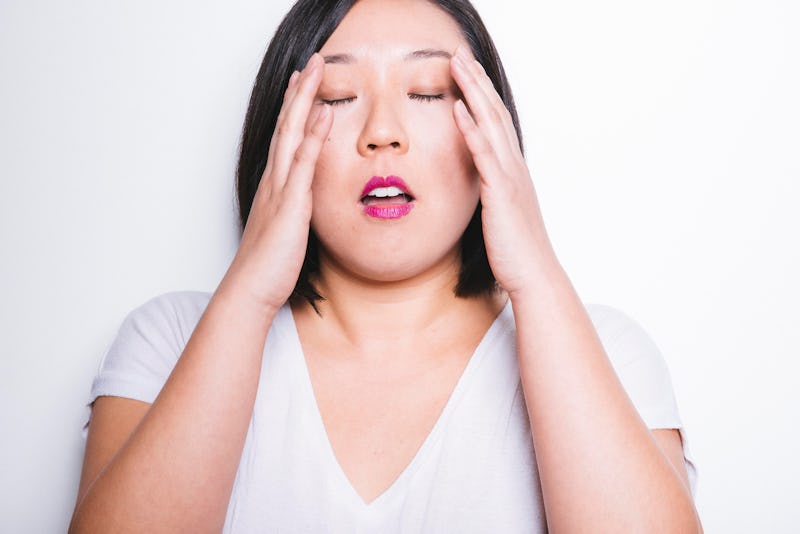 BDG Media, Inc.
Ever lie awake at night and surprise yourself with a thought that you just can't shake? Dealing with stressful thoughts can feel super isolating, but it turns out, it's really common. It's something that almost everyone has to go through, and there are lots of techniques to make it easier.
"Intrusive thoughts are thoughts that come into our consciousness or awareness that we don't want, don't, like, or cause us distress," Joshua Klapow, Ph.D. Clinical Psychologist and Host of The Web Radio show, tells Bustle. "They are thoughts that 'break' into our experience without our desire for them to be there." It's upsetting in and of itself to have a thought you feel that you can't control, but it can be particularly distressing due to the nature of these thoughts.
"Everyone experiences intrusive thoughts," Dr. Klapow says. "From the thought of an exam paper that is due, to the thought of an argument you had with your partner, to the thought of a car crash you witnessed — they can be irritating to horrific [and] they represent something — an experience that is having an impact on you." But while they can't be prevented completely, there are techniques you can use to help them happen less and to make them less distressing when they do happen.
Here are eight ways to actually deal with intrusive thoughts, according to experts.