6 Ways You Can Be A Gun Control Advocate After The Las Vegas Attack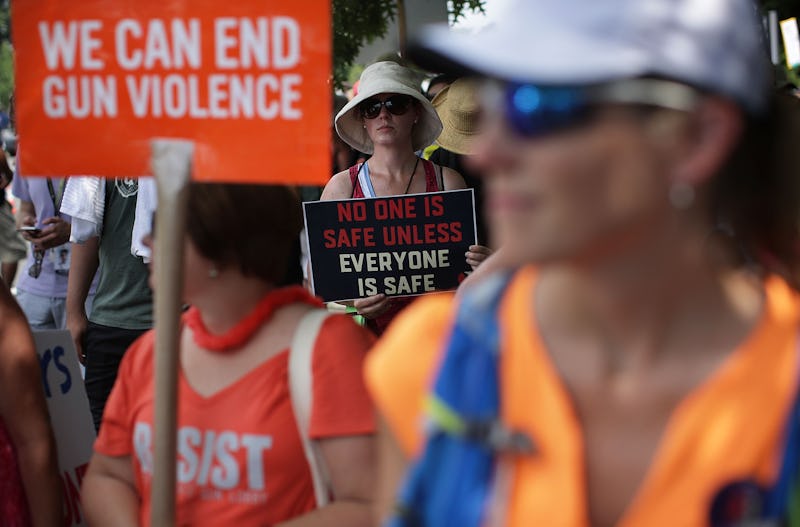 Alex Wong/Getty Images News/Getty Images
In the wake of the tragic mass shooting in Las Vegas that killed at least 59 people and injured hundreds, many people are demanding increased gun control in the the United States. If you want to take action, but are not sure how to advocate for gun control after the Las Vegas attack, there are many ways you can contribute your time and resources — whether it's through working with a gun control organization, contacting government officials, or donating funds, among other strategies.
Following the shooting in Vegas, many people, including members of the public as well as television hosts, like Jimmy Kimmel, made impassioned pleas with their fellow Americans and with government officials to take action to curb gun violence. Indeed, as Kimmel pointed out, even in the wake of extreme tragedy, the federal government often does little, if anything, to improve gun control measures. For example, Kimmel noted that, in the days following last year's Pulse Nightclub shooting in Orlando, 56 Senators voted against closing gun purchase loopholes, a move which would have made gun sales safer. Moreover, this week the House of Representatives is scheduled to vote on a bill that would ease restrictions on the sale of silencers for guns.
If you, like Kimmel and many others, are frustrated with the state of gun control in the United States and want to do something to advocate for changes, there are many ways in which you can contribute right now.