This Is How You Apply For 'Shipwrecked', Because The Sharks & Tigers Need New Recruits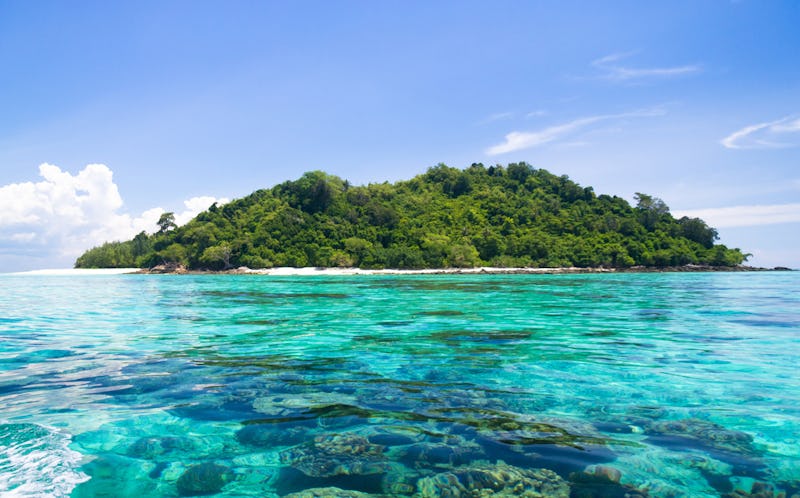 Vibrant Image Studio/Shutterstock
It's official, 2018 really is the year of TV nostalgia. Who Wants To Be A Millionaire? is on the telly again, the cast of Dawson's Creek have reunited (at least for the show's 20th anniversary celebrations), and just when we thought things couldn't get any better, Channel 4 announced the return of Shipwrecked. Yes, the broadcaster really is relaunching its iconic '00s reality show, and you can apply to be on Shipwrecked, too. What a time to be alive.
After months of a rumoured return, Channel 4 has confirmed that the hit series, which once made for essential Sunday morning viewing, is set to make a comeback after a seven-year break. And what's more? You have a chance to be a part of it all as applications for the new series are now officially open. But show bosses warn that you need to submit your entry as soon as possible because "it's a competition, and the competition is fierce." Crikey.
Opening up about the relaunch, executive producer Neale Simpson admitted he can't wait to start casting. He said:
"These incredible islands are waiting to welcome the next generation of Tigers and Sharks. Shipwrecked has always been known for its richly diverse and remarkable characters and we can't wait to meet the new islanders bringing hedonism, heroism, heart, and hilarity to our paradise island adventure."
Much like the original, the new revamped Shipwrecked will centre around two rivals — Shark Island and Tiger Island. Over the course of the series, the tribes will go head-to-head in a battle to win over new arrivals. The largest group at the end of the season will be crowned winners, although it's not yet been confirmed if a cash prize is involved.
There are changes in store, however. As both tribes are tasked with using their creativity and skills to make their camp the biggest and best, they will stumble across secrets, hidden treasures, and even tempting traps that could change everything.
The decision to make a reboot arguably comes after the creators of the original show witnessed the success of ITV's Love Island and saw a window to cash in on the current wave of reality TV mania among millennials — particularly for those set in a tropical location. Not that I, or anyone else who loves the show, is complaining in the slightest. In fact, it looks like it's the best news the internet has heard all day, including Love Island's very own Olivia Buckland:
Shipwrecked all began way back in 2000 on Channel 4 when it became one of the earliest British reality TV shows to win over millennials. After three seasons, it went off air in late 2001 before returning to T4 in 2006. There, it continued with the ever-so-slightly different name Shipwrecked: Battle of The Islands, which saw rival tribes compete to take home a generous £100,000 cash prize. Despite outcries from fans, the final episode aired in 2012 on Channel 4's sister channel E4, with the last ever series titled Shipwrecked: The Island.
Avid fans will know that the original show brought us the likes of TV presenters Jeff Brazier, Chloe Everton, and Sarah-Jane Crawford, who, believe it or not, all made their TV debut on the third season of Shipwrecked. Meanwhile, contestant Mark Byron went on to audition for X Factor in 2011 before entering the Big Brother house in 2014. Now, you have the chance to follow in their footsteps and possibly kick-start your own TV career via the show. All you have to do is be "totally extra, have strong opinions, and the ability to hold your own," as stated in the official application criteria.
Good luck.