You Officially Have Two Days Left To Apply For The Obamas' Fellowship Program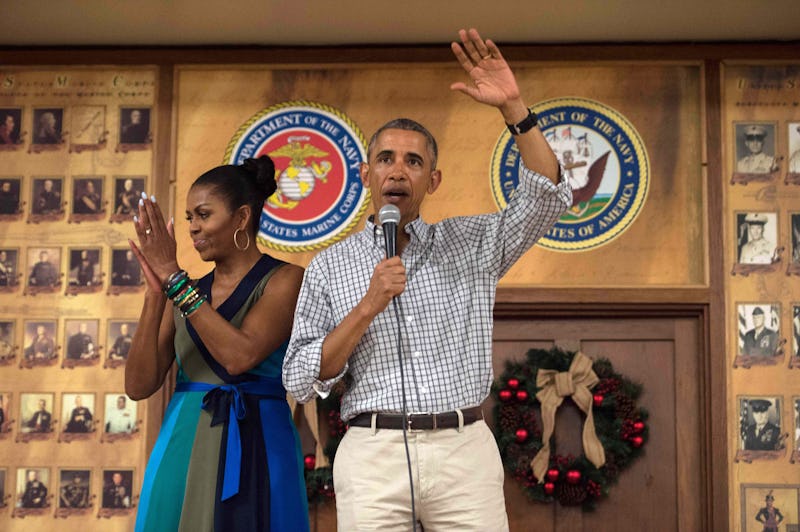 NICHOLAS KAMM/AFP/Getty Images
If you've ever dreamed of working with the Obamas, here's your chance: The Obama Foundation is currently seeking fellowship applicants for their inaugural program group. Any civic-minded individuals who want to "inspire and empower people to change the world" have until this Friday, October 6 at 6 p.m. CT to apply for the fellowship group.
What is the Obama Foundation Fellowship all about? According to the foundation's website, its goal is to give community leaders-in-the-making the resources, training, and leadership development they need to enact change within their communities and around the world. The inaugural class of fellows will receive individual mentorship and opportunities to participate in events focused on changing the landscape of civic engagement. The program is not a full-time commitment, but at the website states, "active and engaged participation is key."
While the fellowship is unpaid, the Obama Foundation will pay for its fellows' expenses for the four in-person gatherings during the program. Support for securing visas for international fellows will also be provided. In addition to personal coaching and access to some incredible resources, fellows of this inaugural class will also have the opportunity to shape what the program looks like for fellowship classes to come. Also, you get to work/see/be near Barack and Michelle Obama, which is arguably a program benefit in itself.
Who are they looking to be a part of this two-year fellowship program? Twenty "good humans," as the website states. Having "a strong moral character" is listed as one of the key factors of an ideal candidate. Expertise-wise, they want people age 18 and older who are "organizers, inventors, artists, entrepreneurs, journalists, and more." They're seeking a diverse group of fellows whose experience and perspective will help solve community problems in creative ways.
If you're at "a tipping point" in your career, this fellowship is for also you. While not suited for people who have "already gained global recognition for [their] work or if [their] civic innovation work has just begun," it's ideal for individuals who have started to gain some recognition and would use the fellowship to keep the momentum going. The program will also help connect people who don't already have a wide network of voices and resources. Not sure if you fit the criteria? They encourage that you apply and "make sure to articulate how the resources of the Fellowship would uniquely impact your work."
If you're not quite fellowship ready but still want in on working with the Obamas, you can also sign up for the Obama Foundation newsletter to get updates on the additional future programming you can participate in. One recently announced initiative is the Obama Foundation Summit, which will be held on October 31 and November 1. In a very 2008, hope-filled video, Barack Obama announced the summit, which came in part as a response to the desire for young leaders to have an opportunity to meet with each other.
Whether you're planning on applying for the internship or not, we could also use a little bit of career advice from the former POTUS. One piece of advice President Obama gave his summer interns was to "worry less about what you want to be and more about what you want to do." At Oregon State University's 2012 graduation, Michelle Obama gave this advice in her commencement address, applicable to your work and just your life in general:
"Being successful isn't about being impressive, it's about being inspired. And that's what it means to be your true self. It means looking inside yourself and being honest about what you truly enjoy doing. Because graduates, I can promise you that you will never be happy plodding through someone else's idea of success. Success is only meaningful — and enjoyable — if it feels like your own."
As for the Obama Fellowship, applicants will be notified applicants in February 2018. Good luck!