These Lessons From 'RuPaul's Drag Race' Alums Are Shockingly Applicable To Your Real Life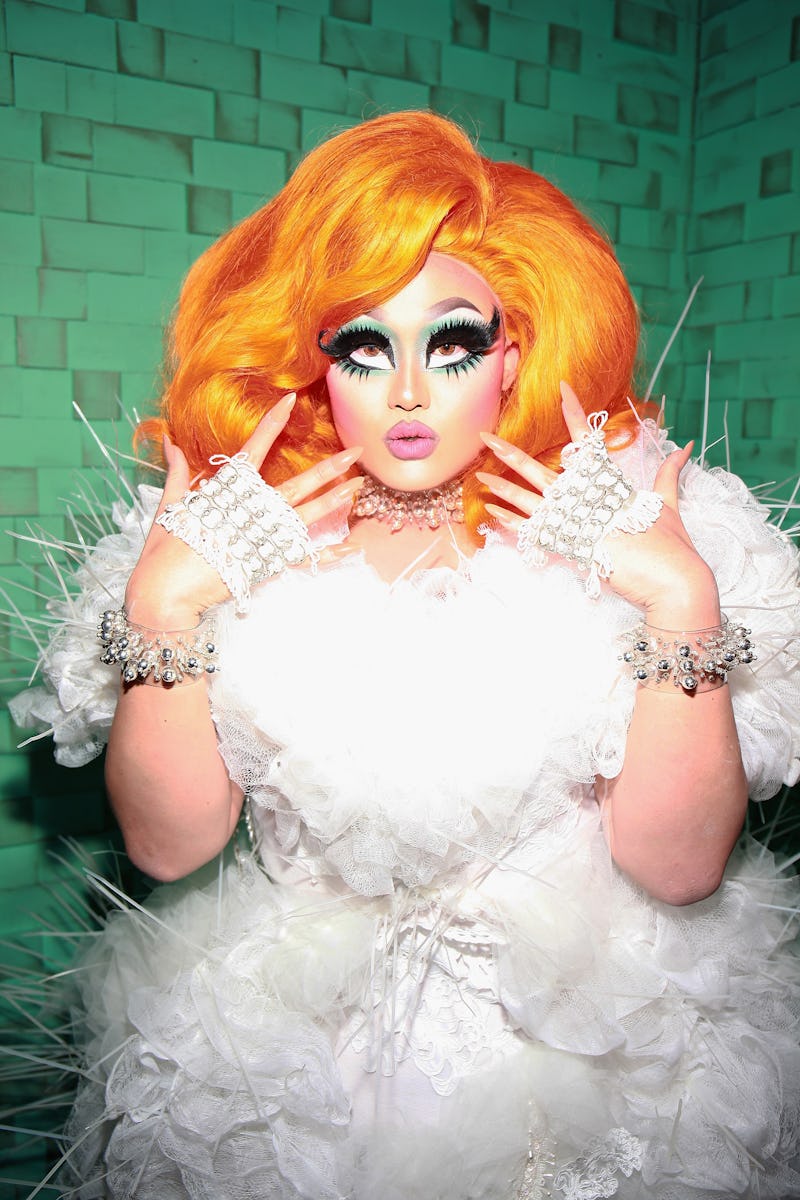 Santiago Felipe/Getty Images Entertainment/Getty Images
Year after year on RuPaul's Drag Race, we've seen the queens do it all. From fashion design, to makeup, dance, comedy, music, and lip syncing for their lives, the Queens of the Emmy-winning show have proven themselves to be amongst some of the most versatile artists that culture has to offer. But having been through the judging ringer, what do the RuPaul's Drag Race queens think makes a great drag queen? It's way more than just being fishy.
At RuPaul's DragCon, held for the first time in New York City on September 9 and 10, queens and fans of all ages gathered for the furry pink carpet-lined extravaganza of lip synch challenges, walk-offs, gender parody, and tearful meet-ups with the icons of RuPaul Charles' divine brainchild. Queens of every specialty — from camp queens to comedy queens to aspiring queens— were all in attendance. As if the weekend couldn't get any more celebratory, the show pulled in three Creative Arts Emmy wins on Saturday night, including Mama Ru's second consecutive win for Host for a Reality/Reality-Competition Program.
With so many diverse queens under one roof, I wanted to find out which fundamentals successful queens prioritized, so I asked the queens of RuPaul's DragCon NYC — including Kim Chi, Alexis Michelle, Vivacious, and more — to share their first commandment of drag. And whether or not you're a queen yourself, in RPDR fashion, you'll probably learn something about yourself, too.
Sissy That Walk
Sporting a pink rendition of her iconic accessory head Ornacia, legendary ball queen and Season 6's resident mother Vivacious doesn't miss a beat. "Always walk the runway fiercely, honey. 'Cause if you can't do it right, nobody's gonna see you," she says. If you have any doubts, see Vivacious' own signature wiggle walk. I dare you not to attempt to copy it on your own commute to work.
Loosen Up
Before embarking on a creative endeavor, you often need to do something to get your willies out. "My number one commandment of drag is to smoke a lot of weed before you do it," says Season 5's Jade Jolie between laughs. Gesturing to her ensemble, a rainbow catsuit accented by a spiky shoulder harness, she offers, "You can't be a hodgepodge of rainbow without a little help."
Engage With People
For Season 7 alum and self-described "international celebrity housewife" Mrs. Kasha Davis, it's all about being accessible. "My number one commandment of drag is to be approachable," she says, "Talk to your fans out there on the Instagram and Snatch-chat and Twattir." After all, a queen must tend to her subjects.
Have A Damn Sense Of Humor
It can be easy to get in your head and get in your own way when you're creating something. Despite her offbeat sense of humor and some killer ventriloquist skills, some may argue that's what happened to Jaymes Mansfield in her run on Season 9. But when I ask her about her golden rule of drag, she tells me in her Betty Boop voice: "Just have fun, damnit."
Be Yourself
Season 6's acerbic comedienne Darienne Lake's tip is simple."My first commandment of drag is to be yourself. Express yourself exactly how you want to," she says. And just because one queen wears nails, that doesn't mean you have to. "Some queens don't wear boobs," says Lake pushing up her buxom natural chest, "I don't have to wear heels."
Have A Catchphrase
From Alaska's "HIEEEEEEEEEE!!!" to Alyssa Edwards' "I don't get cute, I get drop dead gorgeous," having a clever calling card is essential to installing yourself in the hearts of millions. Season 6's Joslyn Fox, channeling Lady Liberty, doles out her own sweet and appropriate catchphrase as a form of advice: "Always keep it foxy."
Hone Your Craft
Your dream son and 10-year-old runway-stomping prodigy Desmond is Amazing has yet to be cast on the show... but give him some time. The up-and-comer was just one of many kinder-queens at DragCon; though he was the only young queen to cut the opening ceremony ribbon with Mama Ru. Young as he is, he knows that practice makes perfect. "My number one rule for being a fierce queen is the runway… 'Cause my runway is perfection," he says with a snap. "I take runway lessons all the time, so I get better and better every day." *Signs up for runway lessons from Desmond.*
Indulge The Fantasy
Season 9's Alexis Michelle takes a page out of Madonna's book for her number one drag commandment. "In the words of Madge, express yourself. Drag is so much about letting out fantasies in your mind," she says. "If you don't let them out, it really takes a toll on your creative spirit. So live your truth, speak your truth, it's always worth it."
Commit To Your Dream, But Have A Sense Of Humor
With her extravagant, surreal and visionary looks, Kim Chi combined humor, glamour and fantasy in one total package on her season, and continues to do so post-show. Her number one drag commandment speaks just to that. "My number one commandment of drag is," says Kim, placing a bedazzled nail to her lip, "Get rich or die trying." Take it to the bank, honey.
Spread The Love
Season 5's Ivy Winters has a golden rule that speaks perfectly to why she was crowned Miss Congeniality of her RPDR class. "To me, drag is love and inspiration. If you're a drag queen, you have to spread the love," she says. Especially in an age with prominent politicians running on platforms of hate, her advice is more salient than ever. "Put great stuff into the world, and it will come back to you," offers Ivy.
Can I get an Amen?