How To Brush Curly Hair The Right Way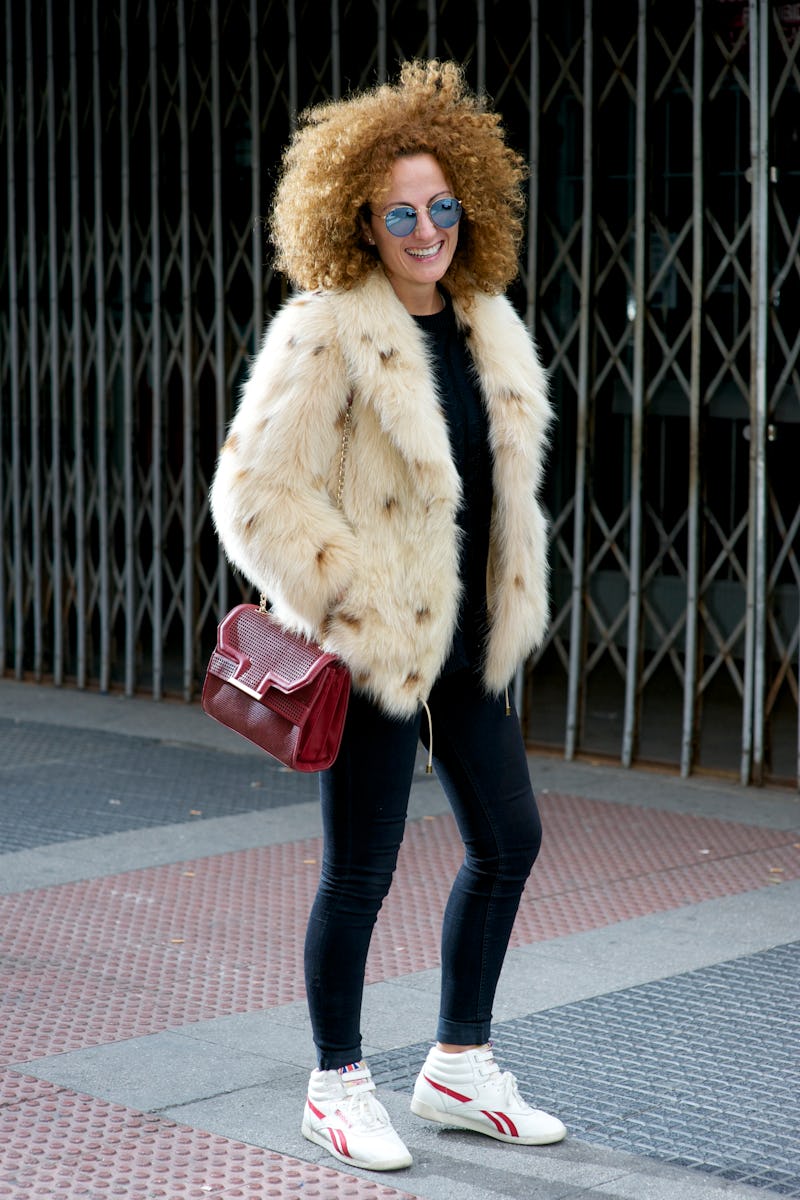 Juan Naharro Gimenez/Getty Images Entertainment/Getty Images
Take it from someone who knows: Brushing curly hair is pretty much impossible. No matter how hard you try (or what kind of brush you use), by the time you've managed to get from your roots to your ends you end up looking like a frizzed out version of Samara from The Ring. But not brushing it isn't really an option, either, otherwise you'll end up with one big, matted knot on top of your head, which makes even Samara's hairdo look desirable.
As it turns out, though, there is a right way to brush curly hair that won't leave you looking like you just came out of a Steven King film. "The correct way to brush curly hair is to section in the hair for control using a detangling brush," says editorial and celebrity stylist Michelle Swiney. "Working from the ends work your way up to the crown as brushing or combing any hair type of can cause breakage at the roots."
Since curly hair has different needs than straight or wavy hair, it makes sense that the same methods of care simply don't work. To find out what, exactly, your curly hair needs, here are Swiney's tips for how to brush it the right way. See ya later, horror movie hair.
1. Brush It Wet
You may think your hairbrush belongs in your blowdryer drawer, but you actually may be better off keeping it in the shower. "Curly hair is dry and brittle, combing it when it's not wet will lead to breakage and split ends," says Swiney. "It is best to brush curly hair while it is wet because it avoids frizz and flyaways." Plus, a brush in the shower means that you will always have a microphone on hand for shower karaoke.
2. Use The Right Kind Of Tools
De-Tangler, $10, TxturePRO
Just like with shampoos, conditioners and styling products, certain brushes are meant for certain types of hair. Swiney suggests using a detangler brush or a wide toothed comb, both of which are better for curly to coily hair. "The TxturePRO line is great for this type of hair due to its waved bristles," she says. "Detangling bristles glides throughout the hair smoothly avoiding tugging and snagging which leads to breakage."
3. Choose The Right Ingredients For Moisture
Avocado Oil And Shea Butter Nourishing Mask, $4, Amazon
Curly hair is prone to dryness (ugh) so it's important to use moisturizing products to keep your curls smooth and bouncy. For the best results, Swiney suggests choosing products that are made specifically for curly hair, and have ingredients like coconut oil, which seals in moisture, and avocado oil.
4. Deep Condition
Coconut and Monoi Moisture Milk Oil Cream, $14, Amazon
Deep conditioning is important for all types of hair, but it's even more important for curly girls because of the whole dryness thing. "I recommend using leave-in conditioners, and anti-frizz serums," says Swiney. "Design Essentials Coconut and Monoi is an excellent system for curly hair – I use this on my clients regularly." This also fight tangles before they happen, which can help you avoid any nasty knots in the future.
5. Try A De-tangler
No-Comb Detangling Spray Lightweight Curl Tamer, $14, Amazon
When all else fails (aka you've gone way, way too long without brushing your hair) use a wide-toothed comb and a detangling spray meant for curly hair, like this one from Devacurl, and you'll be good to go.