The 7 Workwear Pieces Chriselle Lim Swears By For Creating A Stylish Outfit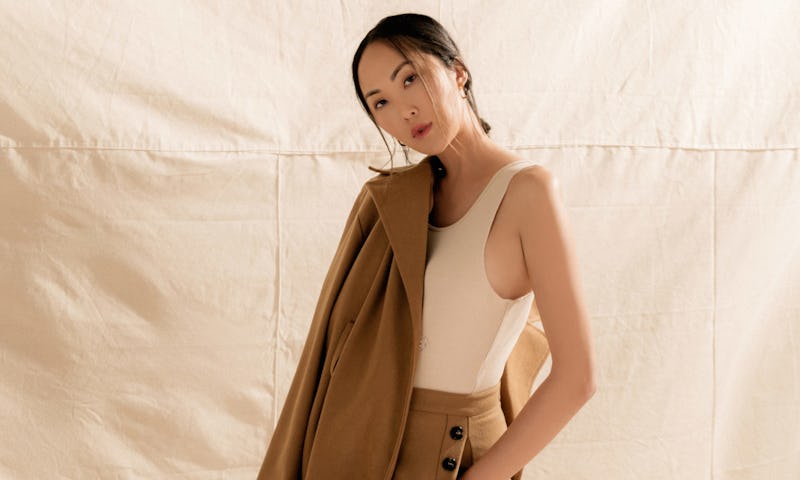 Chriselle Lim Collection
Figuring out how to build your work wardrobe can be super intimidating, especially if you just recently entered the workforce or are looking to make over your professional look. But who really wants to wear a stiff, stuffy suit or boring slacks every day? The good news is, you don't have to. Workwear can be cute and comfortable, according to Chriselle Lim, fashion influencer and founder of The Chriselle Lim Collection, a clothing line available exclusively at Nordstrom. She just launched her fall collection and she created it for the "working woman" in mind, regardless of what their day job is.
"Going into this collection, I knew I wanted to create something that real women could wear outside of just looking cute on the weekends or going on vacation... I wanted to create something that people could wear to work because everyone works, right?" Lim tells Bustle in the conference room of her office in downtown Los Angeles.
"I wanted to create something that was affordable, [made with] great material and quality, and that's super wearable for the working woman. [And] when I say working woman, I don't necessarily mean they have to go into an office because I think that whole idea of what work is has changed so much throughout the years," Lim explains. The second part of the brand's campaign features women who have all sorts of jobs, from a director who has to go into a traditional office to a full-time stay-at-home mom. "When I say working...it just means they're doing their thing [and] feeling good in what they're wearing," Lim says.
The fall collection is filled with "elevated classics" — as Lim calls them — that are super interchangeable and meant to go with every piece in your closet. "These are classics that you could re-wear over and over again. And also, a lot of the pieces we created, we made sure that you're able to wear it in multiple different ways. That was really important to me so people don't feel like they are wearing the same outfit all the time," Lim shares.
When designing the collection, Lim wanted to create only classics. Here are seven of the must-have pieces she included this season, plus her recommendations for other wardrobe staples.
1. A Classic V-Neck
Chriselle Lim's number one tip to creating a no-fail fall work wardrobe? Have a great classic base. They won't be the trendiest pieces in your closet, but "pieces you [can] wear under a blazer or with jeans" are key, Lim says. A t-shirt can sometimes be too casual, so a classic silk v-neck can be a good in-between, says Lim. "It feels really luxe and it's the most classic thing you can wear every single day where people won't even notice it's the same thing. You can wear it with many different outfits."
2. A Mock Turtleneck
"I love turtlenecks, but I hate looking suffocated," says Lim. For this reason, she suggests going with a mock neck version, which doesn't got as high up your neck as a traditional turtleneck. Lim suggests styling this one cropped with a pair of high-waisted pants or as is, tucked in for more of a sophisticated look.
3. A Matching Suit
"Every girl needs a good matching suit, whether it be a pant suit or a skirt suit," advises Lim. She suggests buying a whole set versus individual pieces: That way, you have an instant outfit you don't have to think about putting together, and can also wear them separately with other pieces in your closet.
4. A Classic Dress
Lim believes that a classic, comfortable, and easy-to-throw-on dress (like a wrap dress) is an absolutely must — you can wear it to a meeting, for a presentation, or to after-work drinks or dinner. This particular one from Lim's collection can be worn as a dress or opened up with pants as a coat.
5. A Trench Coat
"Every working girl needs at least one good oversized coat to just throw over [an outfit]," Lim shares. "Even if you're just going to the airport and you're wearing sweats, if you put on a trench coat, you'll look more polished."
6. A Good Oversized Tote
Lim believes that every working woman needs a good oversized tote to carry. Throw your laptop, your planner, your lunch, and whatever else you need to schelp from home to work and back in a sturdy, sleek tote, like this one from Everlane.
7. A Classic Mule
Chriselle Lim has a million pairs of shoes, but the ones she relies most on for work are "a good pair of pointed white and/or black mules." Because they have no backs, mules (like these from Reformation's new footwear collaboration with By Far) can be slipped on easily (and off underneath your desk, shhh) and go with virtually any outfit.