Here's How To Tell Your Member Of Congress How You Feel About Trump Separating Families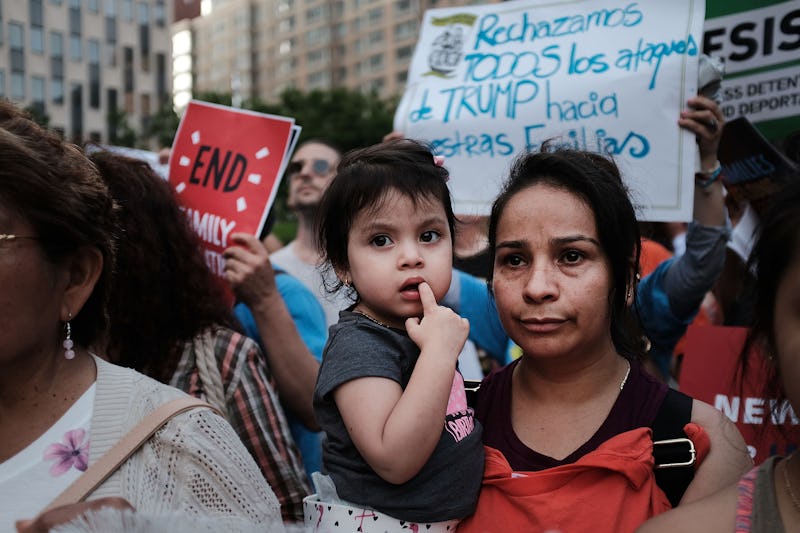 Spencer Platt/Getty Images News/Getty Images
Once again, the Trump administration has provoked anger by enforcing a policy that many are calling cruel and inhumane. This time, it's separating migrant families at the border and detaining children away from their parents, sometimes even in large cages. So, maybe you'd like to know how to call Congress about family separation and any other immigration policy that's bothering you.
This has been a common question lately, so numerous websites have made it very easy to find your senators or your representatives in the House. You can find out who represents you in the House of Representatives just by entering your zip code on the House website, and it will give you information about your representative — including how to reach him or her. If you want to call your senator, it's easiest just to call the U.S. Capitol Switchboard, the number for which is (202) 224-3121. Once you say which state you're registered in, they'll connect you to the right office.
If you'd rather search for your representatives in both houses at once, there's even a website for that. It's called Call My Congress, and all you have to do is enter your zip code. The app then spits out your representative and your two senators, along with their full contact details, their party affiliations, and even links to their voting records.
In an article on Attn:, a former congressional staffer explained that once you've found the information, the number you want to use is your representative's local office number, rather than their number in Washington. Constituents and their concerns are top of the priority list at the local offices, so you're most likely to have your voice heard if you call one of them.
The logistics of find the number and calling, then, are taken care of. But there's more to think about before you call your elected representative, if you want to have the greatest impact possible. The Natural Resources Defense Council laid out a list of tips, like noting what you want to say beforehand or even finding a script online, like the ones that the Indivisible group has put together. They note that you might have to wait a while to have your call actually get through to someone, but that it's well worth the effort. If you remember, you can call multiple times over several days rather than just once.
This time, Indivisible explained that during your call to your elected official, you can ask them to do whatever possible to stop the government from separating parents and children at the border. While ultimately it's a Trump administration policy that is behind the separations, you can ask your members of Congress to at least speak up about the situation. So far, even some Republicans have spoken out against the policy, as the New York Times reported.
Democratic Sen. Dianne Feinstein has introduced a bill seeking to limit these separations — and according to a tweet of hers, all Democratic senators support it. No Republican senators have signed on, so if you live in a state with one or more Republican senators, then you can lobby them to support the Feinstein bill.
According to a Department of Homeland Security statement, this Trump administration policy has left at least 2,000 migrant children separated from their parents. CNN reported that people across the country from both parties are outraged about the images and descriptions of strife and struggle coming out about the situation, and there's no better way to turn that outrage than into a call to one of your elected officials.