You Can Call The Lawmaker Who Called Women "Hosts"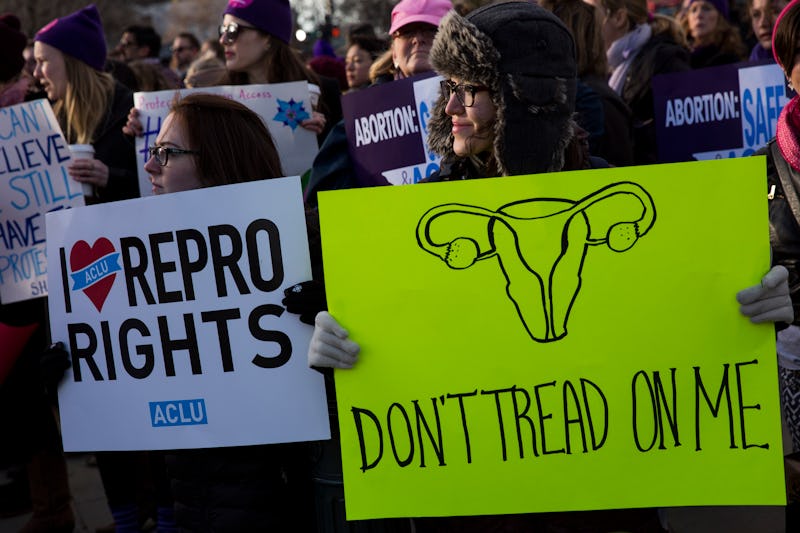 Drew Angerer/Getty Images News/Getty Images
An Oklahoma lawmaker both proposed extreme restrictions on abortion in the state and referred to pregnant women as "hosts." If you find this unacceptable, you can call Oklahoma Rep. Justin Humphrey and let him know that you're opposed to House Bill 1441.
Oklahoma's HB 1441 states that "No abortion shall be performed in this state without the written informed consent of the father of the fetus." There are supposedly exceptions to the policy for cases of rape or incest, or to save the pregnant person's life, but how these exceptions are granted is not clearly outlined in the bill.
Humphrey told the Intercept he drafted the bill because he was "wanting fathers to have to pay child support at the beginning." I mean, that's one way to do it, but there are plenty of other ways to get fathers to help support their children financially without restricting women's reproductive rights.
But what really got to a lot of people was how Humphrey described pregnant women. "I feel like it is a separate — what I call them is, is you're a 'host,'" he told the Intercept on Feb. 8. "And you know when you enter into a relationship you're going to be that host and so, you know, if you pre-know that then take all precautions and don't get pregnant."
And when people took issue with him calling women "hosts," Humphrey stood by his words, saying he didn't know a better term and that he didn't mean to offend anyone, the Washington Post reported. He could've just used the term "pregnant women," but even if Humphrey had done that, the fact remains that HB 1441 is extremely restrictive to women's reproductive rights.
HB 1441 was tabled without comment on Feb. 8, but it will be on the House Public Health Committee's agenda on Feb. 14. Here's how you can contact Humphrey and let him know just what you think about his bill and his offensive words:
If you want to call Humphrey, his Oklahoma capitol phone number is (405) 557-7382. You can also contact his administrative assistant, LaToya Alexander at (405) 557-7382. There is one more number listed for Humphrey on his campaign website that you could try as well: 580-239-0470.
Humphrey represents District 19 of Oklahoma, which includes Atoka, Bryan, Choctaw, and Pushmataha counties. If you want to check if you live within his district, here's a map of it. You can also contact Humphrey through his Facebook page, or by email through this form.
If you really want to get creative, feel free to send Humphrey snail mail at his capitol address. Hopefully he gets the message that women are more than "hosts" — we're human beings, and we can also be a threat to his political career.