How To Call Your Representatives For Gun Control Reform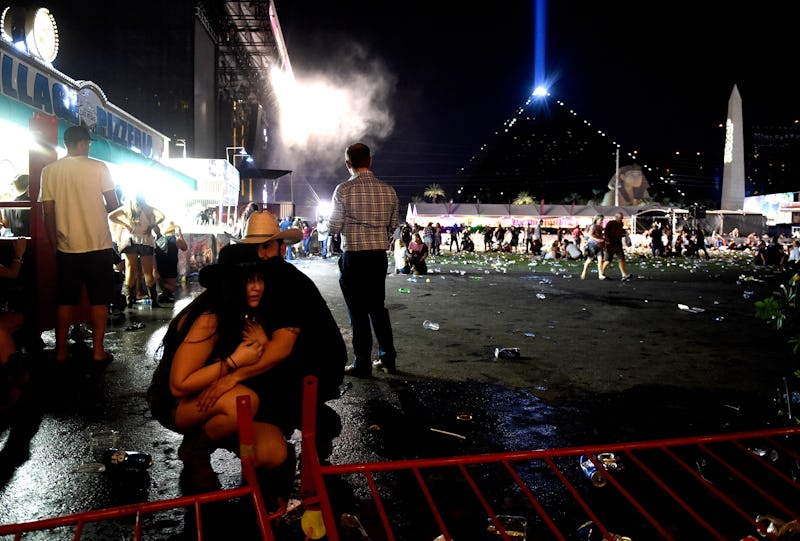 David Becker/Getty Images News/Getty Images
The tragic shooting in Las Vegas, Nevada, on Sunday, Oct. 1 — the largest mass shooting in modern U.S. history — is another devastating result of America's lax gun laws. If you're feeling helpless, it's a good time to learn how to call your representative for gun control reform.
As The Washington Post has reported, at least 50 people have been killed and more than 400 have been injured as a result of the attack carried out by a shooter staying at the nearby Mandalay Bay hotel. When a SWAT team descended on the shooter's room at the casino, they found him deceased from an alleged self-inflicted gunshot wound. Police also recovered more than 10 rifles that the shooter used to fire on concert-goers attending a country music festival on the Las Vegas strip; they have yet to determine a motive.
On Twitter, former Secretary of State Hillary Clinton urged for stricter gun control laws.
Our grief isn't enough. We can and must put politics aside, stand up to the NRA, and work together to try to stop this from happening again.
Among those calling for gun control reform is Clark County Sheriff Joe Lombardo, who in a 2016 interview with the Las Vegas Sun said that there is no practical reason for anyone to possess high-capacity magazines.
"I'm a very avid hunter, I was in the military myself, and there's no need to have a high-capacity magazine for any practical reason," Lombardo said during a recent interview with the Sun.
To the contrary, the dangers posed by such magazines are obvious. Lombardo says the time it takes for suspects to change magazines gives potential victims an opportunity to escape and law enforcement officials an opportunity to safely fire back. That being the case, the fewer times a shooter has to switch out magazines, the fewer the chances for people to get away and authorities to get a protected shot.
If you want to add your voice to the list of people asking for laws that make it harder to obtain assault rifles, here's how to call your representatives about gun control reform.
How To Contact Your Reps About Gun Control Reform
First, if you don't know who you senators and reps are, the group Everytown for Gun Safety makes is easy to find out. Just fill out the form, and they'll find your senator and rep for you so you can let them know how you feel about gun control reform.
[S]end an overwhelming message of opposition to Congress. Call your senators and tell them you OPPOSE concealed carry reciprocity.
When you reach a staff member or a voicemail box, please tell them the following things: 1. Tell them your name, and that you're a constituent. 2. Tell them to vote NO on Senate Bill 446, what they call "concealed carry reciprocity".
Let them know that you're not OK with the fact that those living in the U.S. are 25 times more likely to die as a result of gun violence than people living in other developed countries. You can also text your support by texting ACT to the number 64433.
Another way to make your voice heard is to harness the power of social media and tweet at Congress to ask them to support gun control reform. The form from Everytown can set up the tweet for you, you just need to add your congressperson's Twitter handle.
If there is any doubt that gun violence is a problem, consider these facts compiled by Vox:
the U.S. has 4.4 percent of the world's population, but almost half of the civilian-owned guns around the world
the U.S. has far more deaths from gun violence than any other developed nation in the world
there have been more than 1,300 mass shootings since Sandy Hook
on average, there is more than one mass shooting for each day in the U.S.
states with more guns have more gun deaths, while states with tighter gun control laws have fewer gun-related deaths
support for gun ownership has sharply increased since the early '90s
It's time to let your Congress members know where you stand on gun control reform. To paraphrase the words of Clinton, we must put politics aside and unite to stop this from happening again. Because, it literally happens every single day.