How To Call Your Senator To Protest The Graham-Cassidy Health Care Bill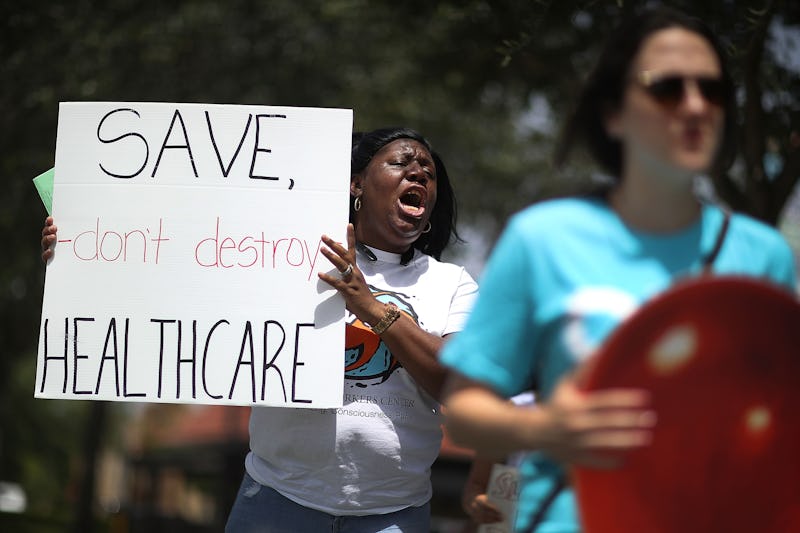 Joe Raedle/Getty Images News/Getty Images
With just days left to legally work on repealing the Affordable Care Act, also known as Obamacare, Senate Republicans hope to vote on repealing and replacing the law before Sept. 30. The new partisan iteration of health care reform has been dubbed the Graham-Cassidy bill, after the two senators who submitted it on Sept. 13. If you don't want the ACA repealed and replaced, it's important to call your senator to protest the Graham-Cassidy bill and let them know.
This latest Republican-backed effort, authored by Sens. Lindsay Graham of South Carolina and Bill Cassidy of Louisiana, is yet another attempt to repeal and replace Obamacare — a landmark law which, according to the Department of Health and Human Services, expanded coverage to more than 17 million people. This last-ditch effort could leave as many as 32 million people without health care coverage, according to a report issued by the Center on Budget and Policy Priorities (the Congressional Budget Office has not yet issued its own evaluation).
If so many as three Republicans vote against it, the bill is expected to fail. Sen. Rand Paul of Kentucky has already firmly and vocally expressed his opposition. Among other reasons, the senator said on Twitter that the Graham-Cassidy bill still keeps too much of Obamacare in tact for him to vote for it.
In sum, the bill seeks to reallocate federal spending on health care services and subsidies and, in turn, take the money saved and send it off to the states. After that, state governments can decide how to use the money, in theory opting to run their own health care services. The bill cuts the Obamacare-sanctioned medicaid expansion, eliminates guaranteed coverage for those with pre-existing conditions, and offers states the ability to waive mental health care coverage, according to a chart put together by NPR. It also offers tax cuts to the wealthy, blocks "federal reimbursements for care provided by Planned Parenthood" for one year, and puts the onus on local governments to fund what is currently covered under the Obamacare medicaid expansion.
Contacting your senator can be intimidating, but the potential for millions of people to lose affordable health care access is even scarier. If personally calling is too unsettling, or if you're unable to for any other reason, one method of reaching out is by using the text service Resistbot. Resistbot is a Facebook-messenger or text-based tool that tells you who your senator is and lets you communicate your message remotely, without even picking up a phone. You simply tell the bot what you want to say and it compiles a fax for you.
If you are able to call, you can start with the federal Senate directory. Simply look up your senators based on your state and begin calling. There are many different things you could say to whomever picks up the phone, or in some cases, in a voicemail, but the meat of the statement should remain the same. It should go something like:
Hi, I'm a constituent and my name is _____. I'm calling because I want Senator _____ to oppose the Graham-Cassidy bill. Like millions of others, I rely on the ACA to keep health care affordable, and repealing it puts me at risk. I want Senator _____ to vote against the Graham-Cassidy bill that's currently before Congress.
Kara Waite, an English professor from Massachusetts, has compiled an extensive document with tips and resources for contacting senators and representatives about a multitude of issues. It includes scripts, senatorial contact information, and even ways to reach political party leadership.
Even though it may feel insignificant or overwhelming, elected representatives are there to serve you, above all else — that's their job. In turn, it's your job to let them know what you think and how you want them to represent you in Congress. If you don't want your senator to support the Graham-Cassidy repeal-and-replace plan, make your voice heard.