How To Celebrate National Something On A Stick Day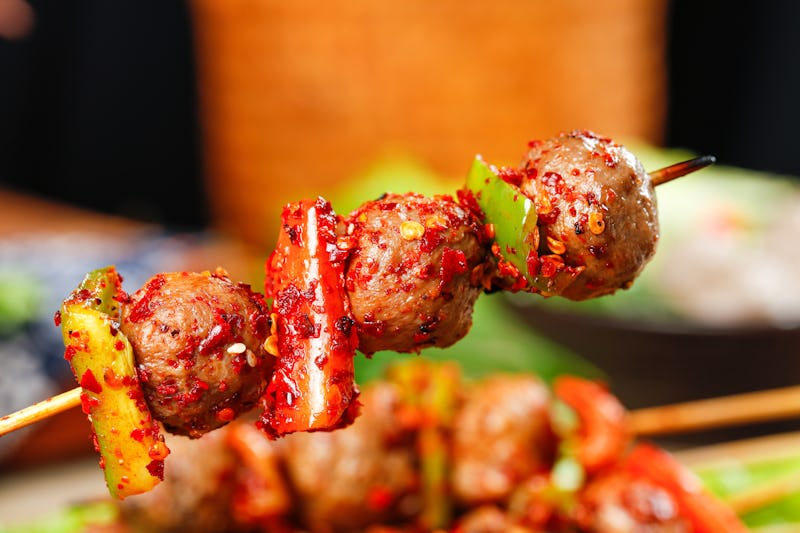 Hubei territory Network Technology Co., Ltd/ 500px/500px Asia/Getty Images
Did you know you could get Sriracha on a stick? What about pie, and why does everything seem to taste better on a stick anyway? Foods you can eat on a stick run the gamut from traditional (bacon) to ridiculous (scorpion), so you're sure to find something you love for National Something On A Stick Day Mar. 28.
I have a confession to make: I just had my first corndog on a stick last year. The idea of a hot dog on a stick wrapped in something made out of corn always sounded a little gross to me, but I went on a bike ride at the beach for a friend's birthday and she insisted we have corndogs for dinner. It was one of the best food decisions I've ever made.
Skewering food dates back to 17th century Greece, and today's fast-paced lifestyle has kept the food-on-a-stick trend both relevant and necessary. Pretty much any type of food can come on a stick, except maybe soup because I'm not sure how that would work (unless you make a soupsicle, which I suppose you could do with gazpacho).
This National Something On A Stick Day, hit up your favorite street food fair, or food truck, and get yourself a bouquet of skewered delicacies. While the options are endless, here's a few of the best things to eat to celebrate this epic day.