How To Celebrate World Emoji Day The Right Way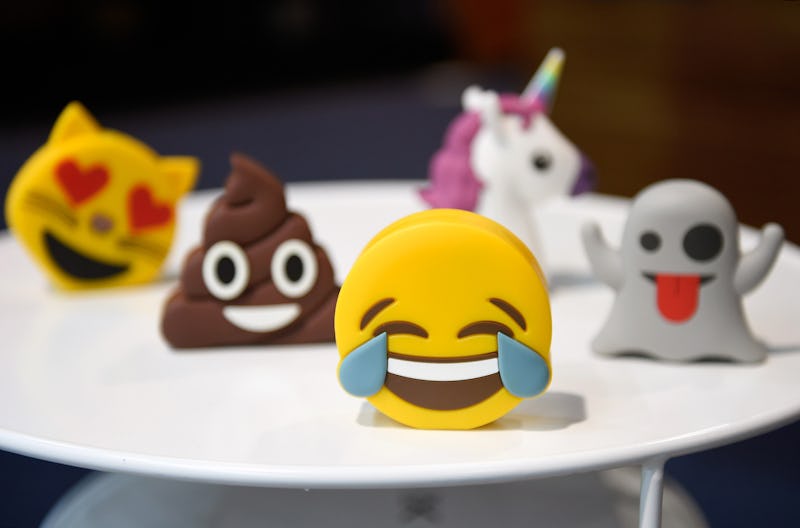 David Becker/Getty Images News/Getty Images
You guys, they've officially thought of everything. World Emoji Day is a thing, and whether you're inclined "observe" or not, you're going to have a emoji-filled day because the rest of the world is totally amped about it. Maybe it's the fact that this holiday is an international celebration, whereas most other favorites like ice cream and cheese only get a national holiday? Whatever the reason, any excuse to have a theme brighten your day, right? We're all just looking for an excuse to have fun. So, you know, you can't beat them, join them. Jul. 17, 2017 is the big day, so mark your calendar.
Yes, I think you should consider getting in on the holiday and giving it your all. Find a way to celebrate that feels authentic to you, but also fun. Because clearly, that's the point. In a time when everything that's going on in the world feels continually serious and grim, it's good to take advantage of every opportunity to have a laugh, be silly and spend your time doing something ridiculous. Like celebrating World Emoji Day — I mean, what's more ridiculous than a holiday celebrating a texting tool? Hold that thought, I'm sure I can think of a few: sorry, National Broccoli Rabe Day.
If you're sitting there thinking to yourself, "How the hell do I celebrate?" I've got a few ideas for you. Though if you live your life like every day is world emoji day, than you do you girl, and follow the beat of your own miniature animated drum set.
Go Silent
Well, kinda. All day, instead of using any words in your text messages, use emojis. You might want to warn your friends so they know what you're up to, otherwise they might worry that you've lost it.
Get Baking
If you're looking for an excuse to bake, World Emoji Day is your day. Pick your favorite emojis and turn them into sweet treats to share with your friends and family. It's a great opportunity to be creative and get crafty.
Transpose Something
Whether it's your favorite song, poem, quote, joke — transpose it into emojis and send it to your friends. See if any of them can decode it and guess what it says. It's a super fun game to play and you can go back and forth with it all day.
Get A 'Moji Mani
Treat yourself! Go get a manicure in honor of the epic manicured nail emoji. If you're feeling really festive, get your favorite emoji painted on your nails for some nail art flare.
Write An Ode
Which emoji is your ultimate favorite? Which one helps you communicate when words fail you? Which one has been in the number one spot in your favorites since you first started using emojis? Write an ode to that emoji and share it on social media to celebrate.