How To Change Your FB Pic To Support Refugees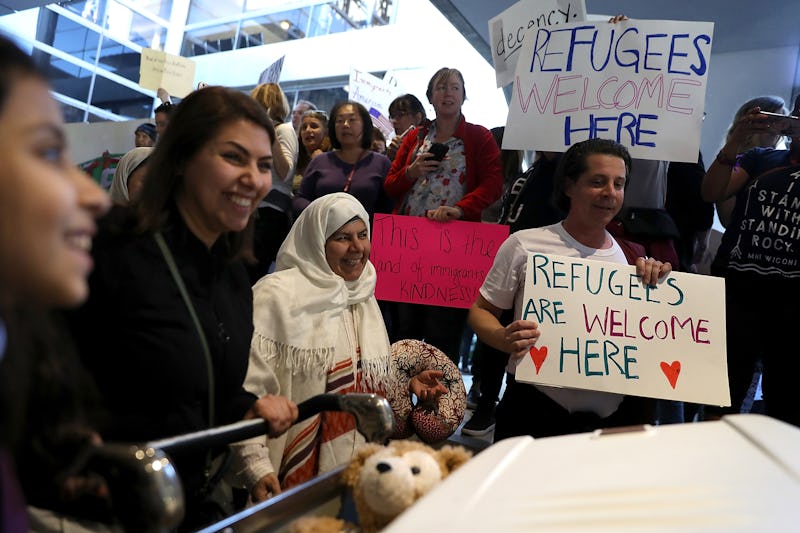 Justin Sullivan/Getty Images News/Getty Images
The days following Trump's order banning refugees and immigrants from seven Muslim-majority nations have been chaotic, and knowing where to start to resist the policy can be difficult. One very simple way to show your opposition to the travel ban is to change your Facebook profile pic to support refugees. There are a variety of overlays available online for free that allow to you express your support for refugees and immigrants affected by the ban.
Changing one's social media profile pic in response to global tragedies and major events has become incredibly common in the last couple of years. Critics have argued that the profile-filter trend amounts to nothing more than "slacktivism" — empty actions that don't equal real engagement with the social causes they're supposed to support. But as Michelle Hackman at Vox has pointed out, this type of social media activism might have more social impact than critics give it credit for. Although changing your Facebook profile pic to support a specific social cause isn't a replacement for protesting, donating, volunteering, or other activist labor, it does help make the cause more visible and bring it to more people's attention. Furthermore, when people take part in activism on social media, it doesn't necessarily replace more traditional, and more tangible, forms of engagement. A 2011 study from Georgetown University found, for example, that people who use social media to support social causes online are also more likely to join protests, volunteer, and engage in other more "hands on" activism than people who don't.
So go ahead and change your profile picture to support refugees, and then keep going. There are a lot of ways to support refugees and express your opposition to the travel ban, and it's a good idea to cast a wide net. Consider donating to organizations like the ACLU. Call your elected representatives and let them know where you stand. Join organizations to help refugees in your area. Attend a rally. Bustle has lots more ideas for you here.
Here's how to add some refugee-and-immigrant-support to your profile pic:
1. Choose an image.
Twibbon has a number of overlays pertaining to the support of refugees, which you can see if you search "refugee" on the website. The option above offers a simple banner that reads, "I welcome refugees" at the bottom of the profile image. Twibbon also has a #SupportRefugees overlay.
2. Login and edit the image.
To use the overlay, you'll have to login using either Facebook or Twitter. To change your Facebook profile, select "Add to Facebook." A window will pop up that will allow you to edit your profile pic. (The profile image you currently have on Facebook will show up automatically, but you have the option to select another image.)
3. Select "Add the Twibbon to Facebook."
The image will be uploaded to a Facebook album titled "Twibbon Photos." From there, you can set the photo as your profile pic.
iSupportCause also has options for profile overlays targeted specifically at immigrants, including one that allows you to select banners that read, "I Am An Immigrant," "I Stand With Immigrants," and "We Are All Immigrants."