Instagram's New Feature FINALLY Lets You Change Your Font In Stories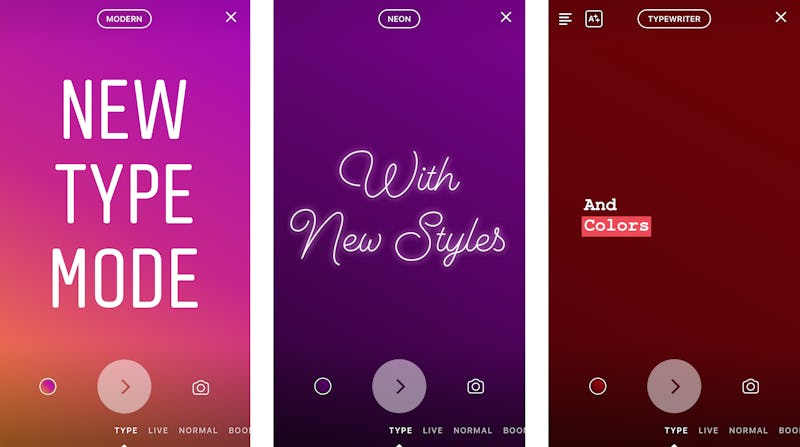 Instagram
I knew the first time I spent a full hour watching every last Instagram story on my feed that the app had put something special out into the world. As if it wasn't already cool enough to have a window into the lives of my favorite celebrities and influencers through Insta, I could now tag along with them through what seemed to be to be every last minute of their daily lives. And while I'm still not totally confident about putting my own Instagram stories out there for all of my followers to see, I definitely love watching others. And now, the app is taking them to an entirely new level: On Feb. 1, Instagram debuted an update that will make stories even more fun. If you've always wanted to know how to change your Instagram story font, thanks to Type Mode, you now can.
Instagrammers have already found lots of ways to incorporate text into their stories, but so far, there's only been one standard font available. If you wanted to try to shake up the look of the text, your best option was using the pen tool to scribble something a little prettier directly onto your story image — and you sort of had to be a little bit artistically inclined to attempt that. So, inspired by users' enthusiasm about text, Instagram launched their new stories feature, Type Mode, that — according to a representative from the app — allows users to "express themselves through a creative library of fonts and styles."
Just like all things Instagram, accessing and interacting with Type Mode is really easy and user-friendly. Let's take it step-by-step:
Open Camera Mode
Open the stories camera within the Instagram app as if you're going to take any other picture or video for a story. So far, business as usual.
Write Your Text
Tap the screen and type in your text. Say what you've gotta say! Your thoughts on the weather? A hilarious quip about The Bachelor? It's all fair game.
Customize
When you're finished writing, you'll notice a new button on the top of the screen that will allow you to change the font style. Choose your favorite (options include Modern, Neon, Typewriter, Strong, and more), then go ahead and customize background color and text color. The new update also gives you a chance to adjust your text's highlight color, which you can do by tapping the "A" box.
Add Final Flair
Finish up by adding a background photo via the camera icon, then feel free to add stickers and other creative flair as you normally would.
These new features can be applied to any photo or video, and like anything else you post to stories, the (cooler, funkier) text you send using Type Mode will disappear after 24 hours unless you pin it to your profile with Story Highlights. Just because it looks awesome doesn't mean it can last forever!
With expanded text capability now available via Instagram stories, I have to wonder how we'll continue to adjust the way we interact with the app. Will we see fewer static posts showing up in our feeds now that it's possible to build out more aesthetically pleasing captions for the images we share via stories? Will stories increasingly take the place of text-only text messages? (After all, why simply text your friend "I'm here!" when you can snap a picture of your assigned meeting place and tell them you've arrived in a typewriter-esque font? It feels kind of like a no brainer to me.)
Like any update, this awesome new Instagram update raises some questions about the ongoing evolution of our relationship with social media, but I think there's one thing that I, at least, can say without question: if you follow me on Instagram, you're about to see a lot more written musings about my meals.