You Can Finally Change Your Snapchat Font & Here's How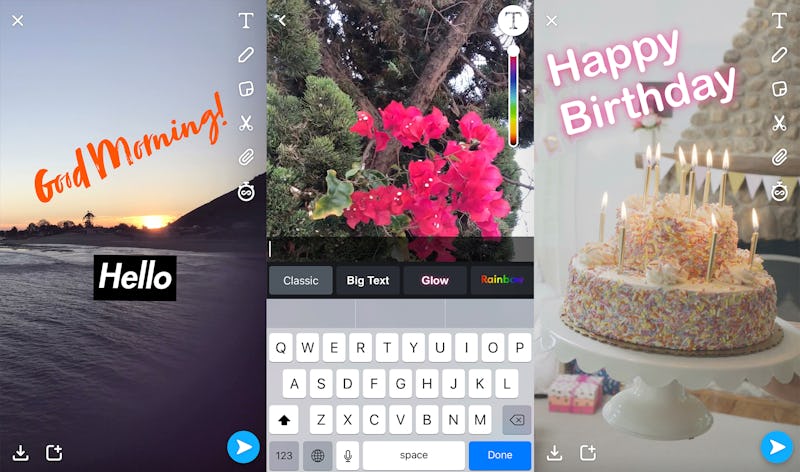 Snapchat
If you're an avid Snapchat user, you know that there seems to be an endless variety of filter and Lens options. One minute you can turn yourself into a puppy, the next you can speak in a wildly high voice, and the next you can bask in the kind of perfect lighting that you only wish your bathroom had. There are even Geofilters that are specific to your location! So many options! One part of the app that's been lacking in variety thus far, however, has been the font of the text you can use in Snaps — but that's about to change. I know you've been waiting for the day that you could switch things up there, so I'm going to tell you how to change your Snapchat font using new caption styles. I have a feeling it could totally change the way you Snap.
The Caption Styles feature will be available as of Feb. 8, just in time for you to really spruce up your Valentine's Day Snaps. Honestly, I couldn't have come up with better timing for this feature to be released. If you can't wait to get Snappin', here's a quick breakdown of how it works:
Snap Away
Open up the Snapchat app and take a still pic or short video as usual. Of course, you can transform into a puppy or flower-crowned fairy queen — whatever makes you feel fab.
Type Your Text
Write about your lunch, wish your pal a happy birthday, or borrow some sassy song lyrics to narrate your photo or video. As usual, you'll be able to tap on your Snap to call up a blinking cursor that will allow you to start typing — then type away!
Choose Your Caption Style
Here's where you can start swiping through the new Caption Styles options. Choices include Brush, Italic, Glow, Gradient, Rainbow, Fancy, Old English, and more.
Choose Another Caption Style
Yes, you read that right — you can actually use more than one of the new Caption Styles within the same Snap. Perfect your message by mixing and matching the text options however you'd like!
Share
The world needs to see your cool text! Send your Snap to a limited group, or add it to your Story for all of your contacts to enjoy. Everyone will be wondering how they can shake up their own font styles. Cool, right? Your Snapchat account is about to get even more personality.
In addition to Caption Styles, Snapchat debuted another new feature on Feb. 8 — the ability for users to make their own custom Lenses for events and parties! Here's how it works: By visiting your account settings within the app, you'll be able to purchase Lens templates starting as low as $9.99. You can then customize those Lenses to shout out to specific people and events. Select a duration of availability, as well as an availability radius, and guests at your next birthday party or bachelorette bash will have access to a custom frame for their Snaps that's slightly less complicated to obtain than the on-demand Geofilters that you're probably already familiar with (assuming you've been to even one wedding over the last two years). I have a feeling that these are going to be a huge hit at all kinds of events as soon as the word is out about them!
Between the new caption styles and custom Lenses, Snapchat just totally transformed your Snapping game. And why not share the exciting news with your friends actually using Snapchat? "Check out all these new fonts!" you can say... in all of the new fonts.
Can we call that meta?