You Can Make Your Own Customizable Snapchat Lens Now & Here's How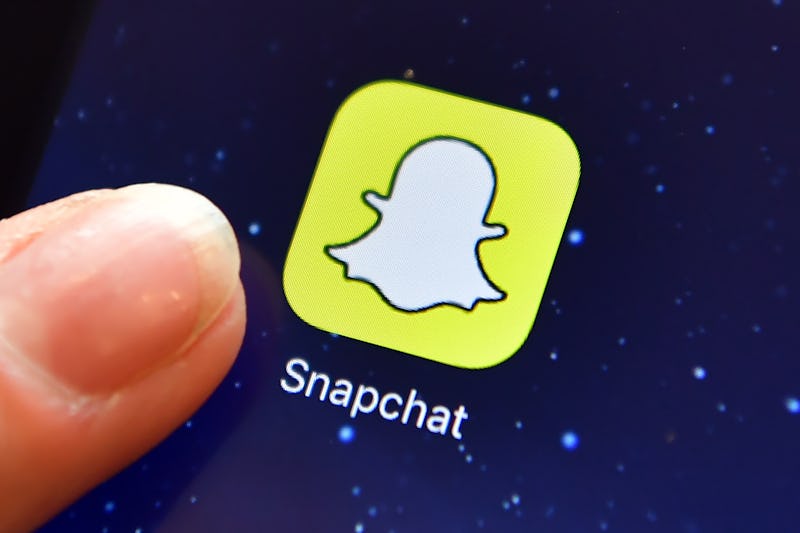 Carl Court/Getty Images News/Getty Images
When I found the Snapchat filter that allows you to superimpose an animation of a dancing chipmunk over a photo or video of yourself (and your mom and your husband and your friends, if you're me), I was fairly convinced that the app couldn't possibly get any better. As far as I was concerned, they'd reached the absolute peak of greatness at that point — and I was in no way mad about it. Snapchat is about to blow our collective minds all over again, though, with a new and totally customizable feature that's going to make your parties and events even more fun. Trust me — you're going to want to learn how to create your own Snapchat Lens filter.
A Snapchat Lens is insider Snapchat speak for what users often call face filters. The puppy faces, dancing hot dogs, the flower crowns — they all fall within this category. Now, starting on Feb. 8, you'll be able to make your very own. Sort of.
OK, so you won't be animating your own augmented reality any time soon — but you will be able to create personalized Lenses in honor of birthday parties, weddings, bachelorette parties, or even a casual Thursday night hang with friends. Similar to how you'd create your own Geofilter for an event, you can now make custom Lenses too.
The function rolls out for iOS in the U.S. first, but will become available to global and Android users soon.
Let's take the process step by step. It's really easy.
Go To Your Snapchat Settings
From the Snapchat app, access your settings by choosing your Bitmoji or the ghost icon from the top left corner and selecting the gear-shaped icon in the top right of the screen. Tap the "Filters and Lenses" option.
Choose A Lens Template
Snapchat is offering more than 150 face Lens templates that you can choose from in this menu. Pick your favorite!
Customize
Once you've selected your Lens template, you can add custom text that will make it personalized for your friends, family, and event. This is where you can give a shoutout to the birthday girl, a congratulations to the happy couple, or best wishes to the new graduate. Choose from several font and color options.
Add The Details
From here, you'll be prompted to add in the specifics of the event where you'd like the Lens to feature. Enter the time, as well as the location where you want other Snapchat users to be able to see what you've made. You can cover an area as small as your backyard or as large as a few city blocks.
Check Out
You'll need to check out three hours before your event starts in order to complete the process and ensure that the Lens will run on time. Prices start at $9.99 and vary based on location size, duration, and other factors.
Spread The Word!
Assuming you've completed the checkout process in time, your Lens will be up and running just as your event is getting started — and I'm sure your friends will want to know about it. Be sure to give them a heads-up about your creation so they can put it to good use!
This new personalized Lens feature is in addition to the previously available (and slightly more advanced) on-demand Geofilters, which you're probably familiar with if you've been to as many weddings as I have. The 150 Lens templates that rolled out on Feb. 8 will simply make the process of offering a fun Snapchat feature to guests at your party or event that much easier... and it should go without saying that a fun Snapchat feature for guests at your party or event is going to give people endless hours of entertainment.
Almost as much entertainment, perhaps, as recording a video of your unsuspecting friend sitting on the couch while a dancing chipmunk shakes its booty inches away.