How To Deal With Flight Anxiety, According To Experts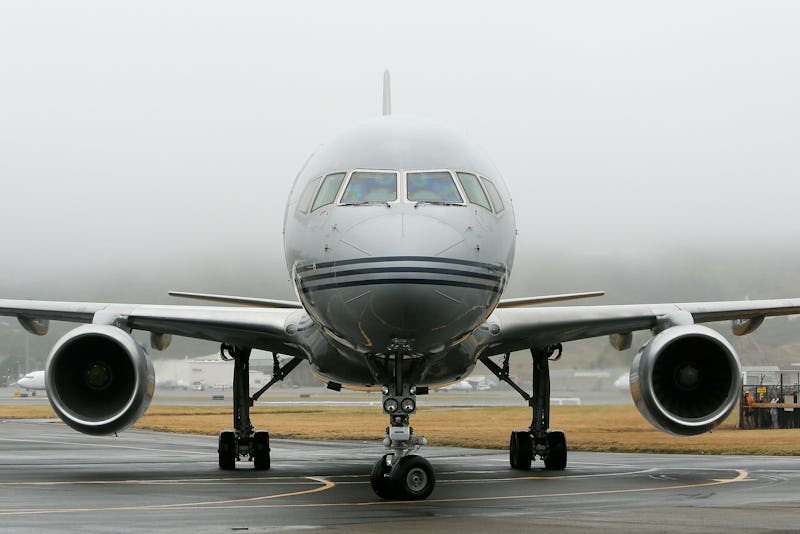 Hagen Hopkins/Getty Images Entertainment/Getty Images
Any kind of travel can be anxiety-inducing, but for people with dealing with flight anxiety, it can be truly scary. The Anxiety and Depression Association of America says flight anxiety usually involves several separate fears — people may afraid of being in an enclosed space or afraid of something bad happening in-air. "This fear can stem from a fear of not feeling in control," psychologist Barbara Cox, Ph.D., tells Bustle. "As with any fear, the symptoms can include physical symptoms as well as psychological systems – anything from tense muscles, chest pains, heart palpitations, stomach pains, dizziness, to impaired judgment, cloudy thinking, and worrisome thoughts about the future."
The recent news about a Southwest Airlines flight making an emergency landing due to an engine failure mid-flight is scary for anyone to read about, but for people with flight anxiety, it can be incredibly triggering. One woman died after a plane window broke, while seven people suffered minor injuries, according to PBS NewsHour. But it's important to note that flight fatalities are exceedingly rare in the U.S. — TIME points out that Tuesday's accident is the first fatal tragedy on a U.S. commercial airline in nine years. "Airplane crashes are much less common than car crashes, so when they do happen, they tend to be reported widely on media outlets, which makes them stand out in our minds," says Dr. Cox.
But of course, our fears aren't always based on rational facts, so it's valid if you're feeling even more anxious about flying following this news. Because flying isn't always avoidable, it's a good idea to have strategies to conquer it, in addition to speaking to a therapist if your flight anxiety is getting in the way of your everyday life. Here are seven things to keep in mind when you're anxious about flying.