7 Tips For Dealing With Thanksgiving When You're Sober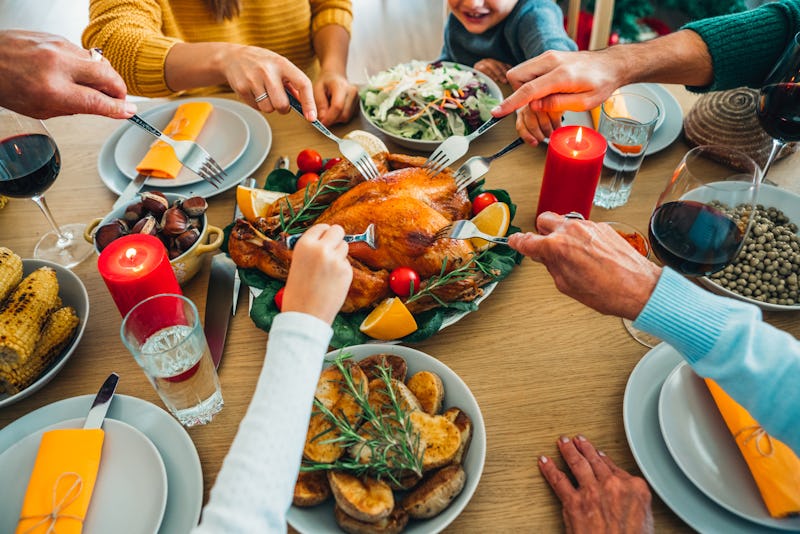 VioletaStoimenova/E+/Getty Images
Thanksgiving can be a time of togetherness and extremely good food, but if you don't drink, the holiday, like many, can be a challenge. Alcohol often plays a big role in Thanksgiving celebrations across the U.S., and navigating the holiday season without an alcoholic beverage in hand might feel difficult, particularly the first time around. However, experts tell Bustle that a bit of preparation can help you do Thanksgiving sober. As the sober person at every dinner party, I can attest that all it takes is some planning.
"It seems cliché, but your sobriety comes first, so put the oxygen mask on yourself before you put it on others," Emily Lynn Paulson, a certified recovery coach and author of Highlight Real: Finding Honesty & Recovery Beyond The Filtered Life, tells Bustle. Making other people comfortable has to come second — even if Grandma doesn't understand why you're refusing her holiday punch for the fifth time. With the proper preparation, sober Thanksgivings can be a blast, and serve as a year-round reminder that you don't need to have alcohol for a good holiday experience.
Here are seven tips for navigating a sober Thanksgiving successfully, whether you're hosting or celebrating as a guest.