Read This Before You Donate Any Clothes To Hurricane Irma Victims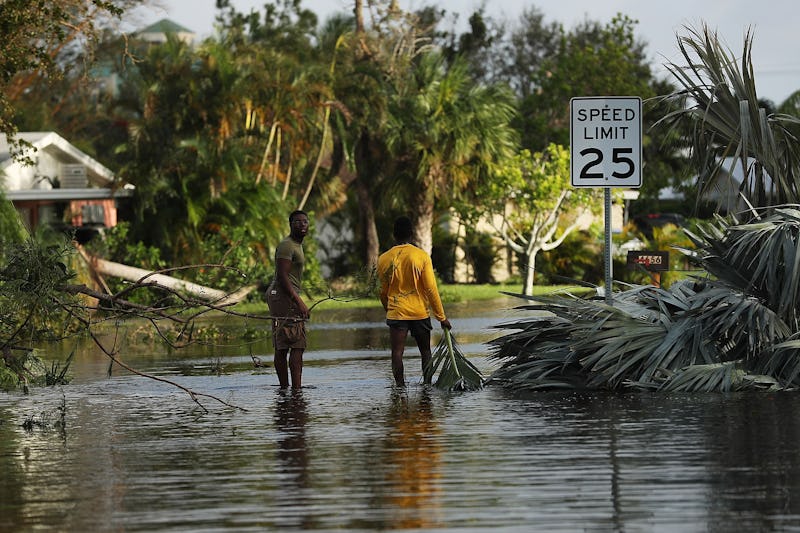 Spencer Platt/Getty Images News/Getty Images
The second hurricane to slam the United States in less than a month hit Florida this weekend, and Americans are preparing to mobilize a nationwide response. If you want to get in on the relief effort, there are a few simple guidelines to follow in order to make your contributions truly vital in the affected areas. You can donate clothes to Hurricane Irma victims, but you should make sure that you're doing it in the most responsible way possible.
As of Monday morning, Irma has been downgraded to tropical storm status as the system moves north toward Georgia and the Carolinas. However, the hurricane has already left its mark in Florida, and most of the state remains under a tropical storm watch. The recovery process is starting slowly and the needs on the ground right now aren't quite clear yet. But giving away your clothes may not the best way to help.
If Harvey was any indication, it's not the best idea to donate physical clothing to shelters right now — infact, the main shelter in Houston for hurricane victims was so overwhelmed by clothing donations that they had to turn donors away. Sorting through the tons of clothing took up volunteers, time, and space that could have been used for other purposes like cots or medical triage. Plus, while it may feel good to empty out your closet for charity, clothing may not be one of the most pressing needs on the ground in Florida right now.
To make your donation as effective as possible, it's really best to give money at this time. Just like for Harvey relief, donating to local charities that are on the ground in Florida is the most effective use of your resources. Those groups will know best the needs of the community, and they'll still be working with the people affected by this disaster long after the big name charity groups have left town.
The Needlework Guild is a good place to start — the charity provides clothes and school uniforms to impoverished students, and the demonstrated level of need is certain to rise after the storm. Global Giving is a national organization, but their purpose is to redistribute funds to local charities when disaster strikes (the foundation also has a great rating by Charity Navigator to back up its credibility). Lighthouse Ministries works in west-central Florida, one of the areas hit hardest by the hurricane, helping to get food and clothes to poor families. If you find more Florida local charities that need donations for hurricane relief, don't be hesitant to spread the word about them via social media.
Still, if you want to get rid of some old clothes for a good cause, there may be some craft projects you can do to help victims. T-shirt quilts can be pretty easy to make with a good template. You could also create pillows or teddy bears out of hand-me-downs with surprisingly little effort. Old clothes can also serve very well as rags, which may come in handy if you or your community is going to be cleaning out flooded houses in the coming weeks.
There are other ways to physically donate, which is especially helpful if you are in the immediate area. The Diaper Bank of Central Florida accepts physical donations of any size or brand diaper, and you can maximize your donations by hosting a drive in your community first. Food and tools are also widely needed after hurricanes as communities start to physically rebuild; you could host a fundraising drive to collect goods, or volunteer your skills in helping to clear out flooded buildings.
There's nothing wrong with donating clothes, and if you're in the affected area, you may have direct knowledge of an organization or family in need of clothing. However, you also want to make sure you're really doing your best to help in disaster situations.
It's crucial to be cognizant of the fact that physical goods need to be transported and organized with local charities, which can take time and money that should probably go directly to the people impacted by the storm. There's no added effort on anyone else's behalf when you donate money, which makes financial contributions the best option.