These 9/11 Charities Still Need Your Help Today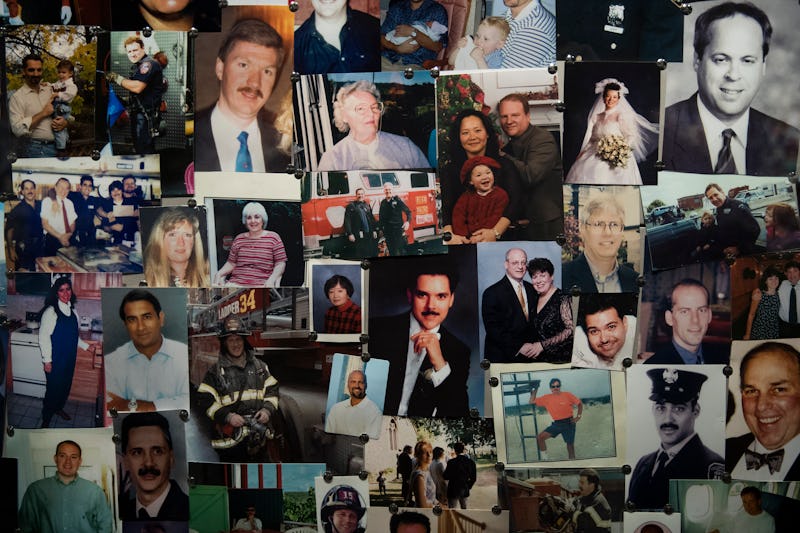 Drew Angerer/Getty Images News/Getty Images
Sixteen years after the 9/11 terror attacks the skyline of New York City has changed. While more than a decade has passed since the attacks, we still remember, and the memory of the almost 3,000 people killed in the attacks remain engrained in our hearts. Today, there are still organizations to donate to that help 9/11 survivors, first responders, and their families today.
It can be difficult to know where your help or money will be best utilized, especially now that more than a decade has past since the 9/11 terror attacks. According to the independent charity watchdog Charity Navigator, some 300 new charities with a focus on 9/11 were approved by the IRS in the immediate aftermath of the attacks. However, over the years, many of those charities appeared to have been shuttered with Charity Navigator reporting at least one third of the charities couldn't be located, and 38 had closed as of 2006.
Even more worrisome, however, was a 2011 investigation by the Associated Press that found a number of the 325 charities identified as having been established with the aim of honoring or aiding 9/11 victims and their families had failed or, worse yet, were involved in dubious or seemingly fraudulent schemes.
Here's how and where you can legitimately help 9/11 victims, their families, and first responders on the 16th anniversary of the terror attacks:
Tuesday's Children
According to TIME magazine, Tuesday's Children is "one of the most visible charities doing work directly related to the families of victims." The organization has reportedly worked with at least three-quarters of victims' families and runs programs that include youth mentoring and career guidance and mental health services for first responders and victims' children and spouses.
They take donations of time and expertise (perhaps you're a certified psychologist or have experience helping children in some other way) as well as financial contributions.
Families Of Freedom Scholarship Fund
School can be expensive. The Families of Freedom Scholarship Fund, which operates as a part of Scholarship America, has provided more than $150 million in scholarships to dependents of those killed or otherwise affected in the 9/11 attacks and subsequent rescue efforts.
HEART 9/11
Healing Emergency Aid Response Team (HEART) 9/11 is a team of volunteers from the Fire Department of the City of New York, New York Police Department, Port Authority Police Department, and the NYC Building Trades. The group seeks to honor the sacrifices of their colleagues who were lost in 9/11 by aiding communities across the country in recovering and rebuilding after natural and man-made disasters. They dispatch volunteer teams to areas affected by tragedies to help in response, recovery, and rebuilding efforts.
Most recently, they have sent a team to Texas to support Hurricane Harvey relief and recovery efforts. You can donate to HEART 9/11 through their website.
FealGood Foundation
Founded by construction worker John Feal, the FealGood Foundation advocates on behalf of 9/11 first responders and other emergency personnel who have been injured on the job. Feal was reportedly inspired to launch his foundation after he was severely injured (8,000 pounds of steel crushed his foot) while working on cleanup and recovery efforts at Ground Zero with a team of construction demolition experts.
Frustrated by the hurdles he faced when he tried to obtain certain health care benefits, Feal launched the FealGood Foundation to advocate for first responders' rights and medical benefits, including pushing for the passage of the James Zadroga 9/11 Health & Compensation Act of 2010. Donations can be made to the charity through the FealGood Foundation's website.
VOICES Of September 11th
VOICES was officially established in 2002 with a focus on providing long-term support services to those impacted by the 9/11 terror attacks, including survivors, victims' families, and first responders.
Over the years, their work has included support groups, advocacy on behalf of the 9/11 community, the 9/11 Living Memorial Project, and launching, "Enroll One More," a national campaign to raise awareness for the World Trade Center Health Program, which serves 9/11 survivors and responders. You can read more about their programs and support their work with a donation at their website.
New York City Police Foundation & FDNY Foundation
If you're interested in making a donation in honor of the tens of thousands of first responders who bravely worked to rescue and treat 9/11 victims, consider giving to the New York City Police Foundation or the FDNY Foundation. Both non-profit charities are rated 4 stars by Charity Navigator and serve to support the men and women who serve and protect New York City.
National Sept. 11 Memorial And Museum
While donations to the National Sept. 11 Memorial and Museum do not go directly to aiding victims or their families, they are used to assist the museum in its efforts to honor the memory of those lost in the attacks. Moreover, the memorial runs a private "family room," which serves as a place of comfort and quiet reflection for victims' relatives and loved ones. You can donate, sponsor a cobblestone or volunteer your time through the memorial's website.
Tunnel To Towers
You can also honor the sacrifice and bravery of 9/11 first responders by running (or walking) the Tunnel to Towers 5k Run & Walk in New York City (or any of its sister events organized around the country) on the last Sunday of September.
The run is meant to symbolize some of the final footsteps of firefighter Stephen Siller. Although off duty at the time of the 9/11 attacks, Siller drove to the Brooklyn Battery Tunnel, which had been closed to traffic, and then proceeded on foot with 60 pounds of gear to Ground Zero where he was killed while working to help others. Proceeds from the runs benefit the Tunnel to Towers Foundation's various programs to support first responders, service members, and communities impacted by tragedy.
Although there are less charities dedicated to honoring and aiding those impacted by 9/11 today than there were in 2001, the need for help undoubtedly still exists.