You Can Donate To These 7 Organizations Helping Mexico's Earthquake Victims Right Now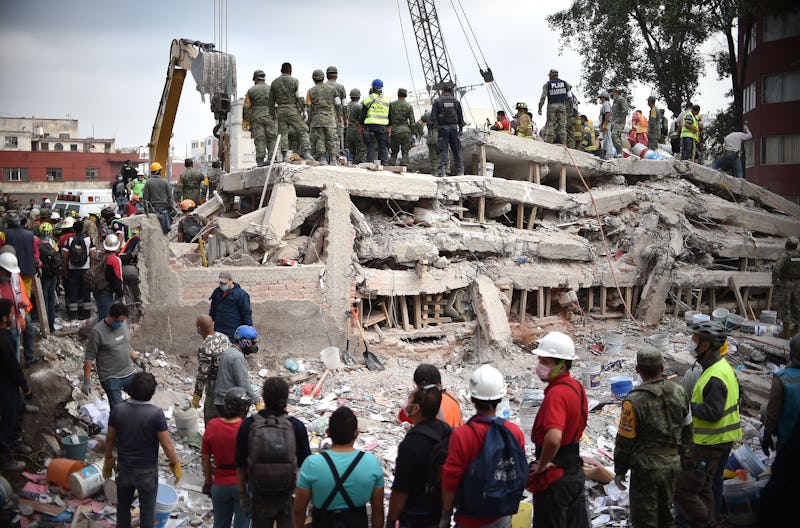 YURI CORTEZ/AFP/Getty Images
The latest in the recent numbingly long series of natural disasters hit central Mexico on Tuesday, a 7.1 magnitude earthquake that has claimed more than 200 lives so far. It's the latest in a string of natural disasters that have rocked the country in the past weeks, from deadly hurricanes to earthquakes. You can donate to these organizations helping Mexico's earthquake victims to get them back on their feet.
The earthquake ripped through the Mexican states of Puebla, Morelos, and Tlaxcala on Tuesday afternoon, while hitting Mexico City the hardest. At least 225 people were confirmed dead throughout the region, at time of writing, the Associated Press reported on Wednesday morning; over 90 of those deaths occurred in the nation's capital. Miguel Ángel Mancera, the mayor of Mexico City, also stated in a press conference that at least 44 buildings were brought down in the city alone.
Between clearing rubble, triaging victims, and beginning a long-term regional recovery plan, there's a lot of work that will need to be done throughout the affected region in the next few weeks. Anything and everything you can give matters, and if you're not in a place where you can financially afford to donate right now, you can still help by spreading the word about the organizations on this list.
The most important thing is getting resources to the people in need as efficiently as possible, so just do whatever you can to make that happen.