How To Donate To One America Appeal & Help Former Presidents Aid Harvey Victims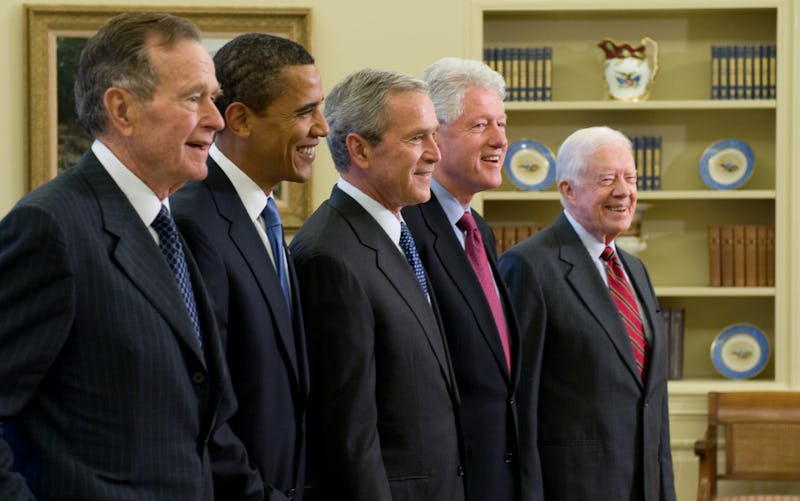 SAUL LOEB/AFP/Getty Images
Hurricane Harvey has finally dissipated, but the damage it caused in Texas and elsewhere will be felt for a long time. To help expedite the rebuilding process, the five living former presidents of the United States are spearheading a campaign to raise money for relief efforts. If you'd like to donate to the One America Appeal, there are a few ways to do so.
Barack Obama, George W. Bush, Bill Clinton, George H.W. Bush, and Jimmy Carter are the public faces of the relief fund, which is being managed by the George. H.W. Bush Presidential Library. In an introductory video posted Thursday, the former presidents urged Americans to come together and help those affected by the hurricane.
"Hurricane Harvey brought terrible destruction," Clinton says in the video. "But it also brought out the best in humanity."
The easiest way to give to the One America Appeal is to click the "donate now" button on the organization's website; you can pledge $25, $50, or $100 with the click of a button, or enter a custom amount. Alternatively, the group also accepts checks, payable to "GBPLF One America Appeal," which you can mail to the following address:
GBPLF One America Appeal
Post Office Box 14141
College Station, Texas 77841-4141
It's not uncommon for former presidents to join forces to raise money after natural disasters. In 2010, after Haiti was hit with a catastrophic earthquake, Clinton and Bush 43 launched the Clinton Bush Haiti Fund to collect donations and help rebuild the country. They did so at the request of then-President Obama, and the effort was a success: The fund raised $54.4 million, much of which was dispersed to funds that focused on long-term economic development in the country.
The money that's given to the One America Appeal will go to two different organizations: the Rebuild Texas Fund, which will assist cities and communities throughout the state, and the Houston Harvey Relief Fund, which will focus on the city of Houston and surrounding areas. There's a good reason why Houston has its own dedicated relief fund: The city was blanketed in so much rain during Harvey that it actually sank 3 inches lower than it was before.
"People are hurting out here," Bush 43, a former Texas governor, says in the One America Appeal video, "but as one Texan put it, we've got more love in Texas than water."